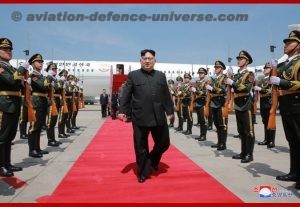 By Suresh Somu
Bangkok. 12 May 2018. There's a refreshing change in East Asia partnership with North Korea, in particular, feeling the pressures to turn over a new leaf.
More positive talks are in the pipeline with the leaders of China, South Korea and Japan making heads turn as US President Donald Trump's hardline diplomacy shakes up relationships in one of the most volatile regions in the world.
The flurry of newly-arranged meetings show that Mr Trump's tough stances on trade and security are prompting a thaw in relations between countries that are usually at odd ends of the diplomatic line.
China, in particular, froze its relations with Japan in 2012 when a territorial dispute erupted over a small uninhabited group of islands, known as Senkaku in Japan and the Diaoyu in China. But now, with Mr Trump threatening to levy billions of dollars in tariffs on China, Beijing has reason to seek at least a temporary rapprochement with Tokyo.
Beneficiaries of global free trade
Hit by US tariffs on steel and aluminium, Japan may also be open to "hedging its bets" in an effort to gain leverage against Washington, suggest observers as China and Japan are two beneficiaries of global free trade.
North Korea, too, has been told to respect the importance of a prolonged peaceful climate after North Korea leader Kim Jong Un recently met Chinese President Xi Jinping at Dalian, near the North Korean border.
Xinhua, the official news agency, reported that the two leaders "took a stroll and attended a luncheon". Mr Kim flew in his official aircraft which is known to be his first international flight since assuming power in 2011 after his stagy arrival in distinctive yellow striped green train, similar to that used by late Kim Jong-il.
China's new tougher stance has made North Korea to wake up, say observers, and they made it clear that they will not fully support the North Korean regime in terms of trade. The recent over-turn in its position when it voted last year for United Nations sanctions which could hurt North's economy, even drew praises from US policy makers.
Importance of sanctions
China's foreign ministry commitment in enforcing UN sanctions even at the expense of losses for China in border region clearly sent strong signals to North Korea. Following suit, Poland and United Arab Emirates enforced sanctions that imposed limits on UN members employing North Koreas.
That had detrimental effect on North Korea's sources of hard currency. However, experts opined it won't starve North Korea of the resources for a nuclear arsenal as they have other means to earn cash through Middle East and Africa activities.
But the question is will this inflicted economic pain coax North Korea leader Kim to change his nuclear strategy?
China's intervention as it attempts to recuperate central role has proved to significantly ease the tension on the Korean peninsula. According to Xinhua, in unusually positive language, Mr Xi said the North Korean leader had come "to meet me again just after 40-odd days" and "at a crucial time when the Korean peninsula situation is undergoing profound and complex changes".
The Korea state media said Kim was "very pleased" that the relationship with China was reaching a high point, and North Korea would cooperate with China more actively as the situation on the Korean peninsula changed. Chinese analysts were quick to speculate that Mr Kim when to Dalian to ask Mr Xi for sanctions relief.
While there had been some other thorny issues, Chinese Premier Li Keqiang meeting with South Korean President Moon Jae and Japanese Prime Minister Shinzo Abe will go on the main agenda to discuss about North Korea's denuclearisation.
North Korea economic woes?
And this has sparked closer China-US bondships, too. Calling the Chinese leader "my friend" on twitter, Mr Trump clearly knows when to enforce and also embrace. Last month at the North-South summit, Mr Kim meeting with Mr Moon was to help North with economic aid. And Mr Kim and Mr Trump are expected to meet soon.
Mr Kim hinted in a New Year's Day speech that sanctions were taking a toll, saying that the economy had encountered "unprecedented impediments". So it appears for now, the North Korea leader, Kim has clearly received the message from both allies and opponents.
Ending North Korea's nuclear programme and promoting free trade will be the two hottest-button issues challenging their region if every party wants to move forward.
"We must lead the ongoing momentum towards complete denuclearisation of the Korean Peninsula and achieve peace and stablitiy in Northeast Asia," Japan's Abe told a joint news conference in Tokyo.
Japanese Deputy Chief Cabinet Secretary Yasutoshi Nishimura said the three leaders are in consensus to work toward two free trade agreeements, a free trade pact among themseves and the proposed Regional Comprehensive Economic Partnership with Southeast Asian nations.
"We are willing to work with Japan and South Korea to jointly maintain regional stability and push forward the development of the three countries," China's Li said.
The leaders have agreed to hold trilateral summits on a regular basis and even set-up a secretariat. Analysts say Japan is trying to showcase improved ties and cooperation with China and South Korea, so its views will be represented in any negotiations with North Korea.
End of the day, its going to be an overall win-win situation in the Korean peninsula and the continued positive harmony of the leaders of China, Japan and South Korea is a powerful gesture of solidarity against the backdrop of historic diplomatic moves by North Korea and a push for the isoloated country to give up its nuclear weapons.
As the South Korean leader said: "Above all, we reached the consensus that complete denuclearisation of the Korean peninsula, a permanent peace settlement and improvement of South-North relations is very important for peace and prosperity of North-east Asia"