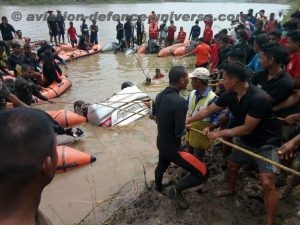 New Delhi. 08 September 2018. Naval Diving Team from ENC successfully located the ill-fated vehicle drowned in Dikhow River in Siva Sagar Distt, Assam after two days of search operations on 05 Sep 18 in extremely challenging and hazardous conditions.
The team confirmed the presence of five dead bodies inside the vehicle and assisted Army, NDRF, SDRF and District Administration personnel in the recovery of the vehicle.
The diving search operations commenced with first light on 04 Sep and had to use side scan sonar for the as the visibility was poor due to strong currents and varying depths ranging from 3 mtr to 15 mtrs. Search was undertaken to almost 3 kms downstream in nil underwater visibility conditions.
The 10 member Naval Diving team was airlifted from Visakhapatnam by IAF AN32 aircraft on 03 Sep at the request from District Administration of Siva Sagar Distt in Assam to locate a vehicle which had been reported drowned along with five members of a family in Dikhow River at Dechial village of Siva Sagar Distt in the night of 01 Sep 18. The diving team is being de-inducted.