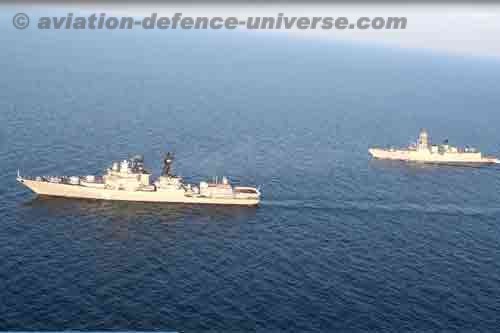 New Delhi. 16 January 2022. Indian Navy's indigenously designed and built guided missile destroyer, INS Kochi, exercised with Russian Federation Navy's RFS Admiral Tributs on 14 January 2022 in the Arabian Sea.
The exercise showcased cohesiveness and interoperability between the two navies and included tactical manoeuvres, cross-deck helicopter operations and seamanship activities.
Admiral Tributs is a Project 1155 Large Anti-Submarine Ship of the Russian Navy. Known in the west as an Udaloy-class destroyer, the ship is named after Vladimir Filippovich Tributs. Launched in 1983, Admiral Tributs serves in the Russian Pacific Fleet, and has taken part in operations alongside the naval forces of other nations like China, India and Japan, and as part of a peacekeeping force in the Middle East between 1992 and 1993.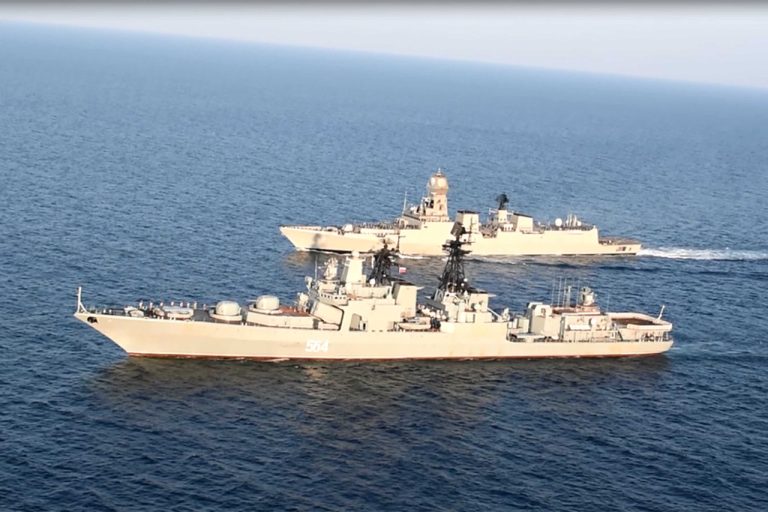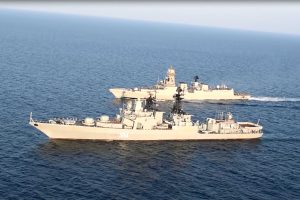 Admiral Tributs is the sixth ship of a class of twelve Project 1155 Fregat (also known as the Udaloy-class). The vessel is designated as a Large Anti-Submarine Ship (Большой Противолодочный Корабль, BPK) in accordance with its primary mission of countering submarines and a destroyer by NATO.
The vessel is 163 m (534.8 ft) long with a beam of 19.3 m (63.3 ft) and a draught of 7.8 m (25.6 ft). Displacement was 6,200 t (6,102 long tons) standard and 7,900 t (7,775 long tons) full load. Power is provided by four 23,000 kW (31,000 hp) hp GTA M-9 propulsion complexes, each comprising a 6,300 kW (8,500 hp) M-62 and a 16,800 kW (22,500 hp) hp M-8KF powering two fixed pitch propellers. which gave a maximum speed of 29.5 knots (55 km/h; 34 mph). Cruising range was 6,882 nmi (12,745 km; 7,920 mi) at 14 kn (26 km/h; 16 mph) and 4,000 nmi (7,408 km; 4,603 mi) at 18 kn (33 km/h; 21 mph).
To combat submarines, Admiral Tributs mounts two quadruple launchers for eight missiles in the Metel Anti-Ship Complex along with two RBU-6000 12-barrel rocket launchers for close in defence. The ship is also equipped with two quadruple 553 mm (21.8 in) CHTA-53-1155 torpedo tubes for 53-65K, SET-65 torpedoes. A hangar aft accommodates two Kamov Ka-27 helicopters for anti-submarine warfare. Protection from aircraft was provided with eight 3K95 Kinzhal missiles mounted in vertical launchers supplemented by 100 mm (4 in) AK-100 DP guns and four 30 mm (1.2 in) AK-630 Gatling guns.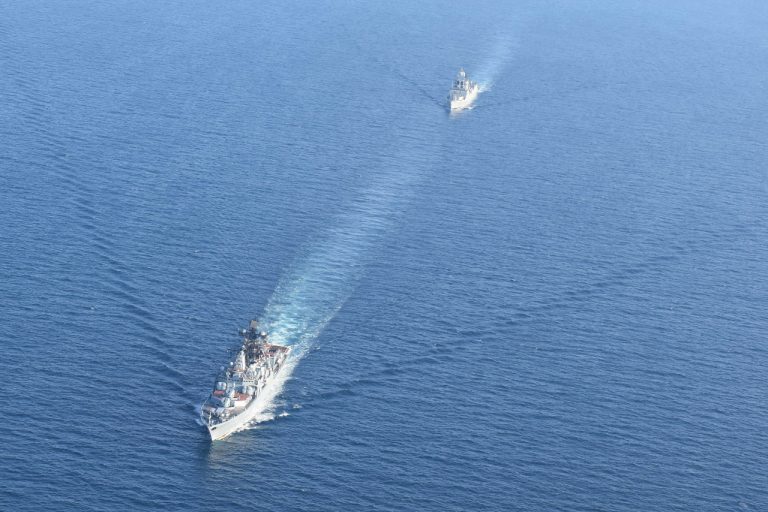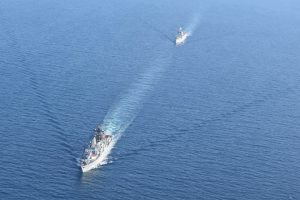 The vessel is equipped with the MR-760 Fregat-MA (NATO reporting name 'Top Plate') air/surface search, MR-320V Topaz-V ('Strut Pair') air/surface search and MR-212/201-1 Vaygach-U navigation radars along with MR-350 Podkat ('Cross Sword') and K-12-1 ('Hot Flash') fire control radars. The MGK-355 Polinom sonar complex (combining 'Horse Jaw' bow mounted and 'Horse Tail' variable depth sonars) is complemented by two MG-7 Braslet anti-saboteur sonars and the MG-35 Shtil-2 underwater communication system.
INS Kochi Commissioned on 30 Sep 15, the second ship of the indigenously designed and constructed Project 15A (Kolkata-class) guided missile Destroyers, . INS Kochi has been built by the Mazagon Dock Ltd., Mumbai.
At the time of its commissioning, INS Kochi was the largest India-made warship. The warship is designed by the Navy's in-house organisation, Directorate of Naval Design. It has displacement of 7,500 tons and it is 164 metres (538 ft) in length and 17 metres (56 ft) at the beam and is propelled by four gas turbines and designed to achieve speeds in excess of 30 knots (56 km/h). The ship has built with advanced stealth features which have been achieved through shaping of hull and use of radar-transparent deck fittings. A bow mounted sonar dome, the second of its kind in an indigenous naval platform, has been introduced to enhance sonar acoustic performance. The ship has a complement of about 40 officers and 350 sailors.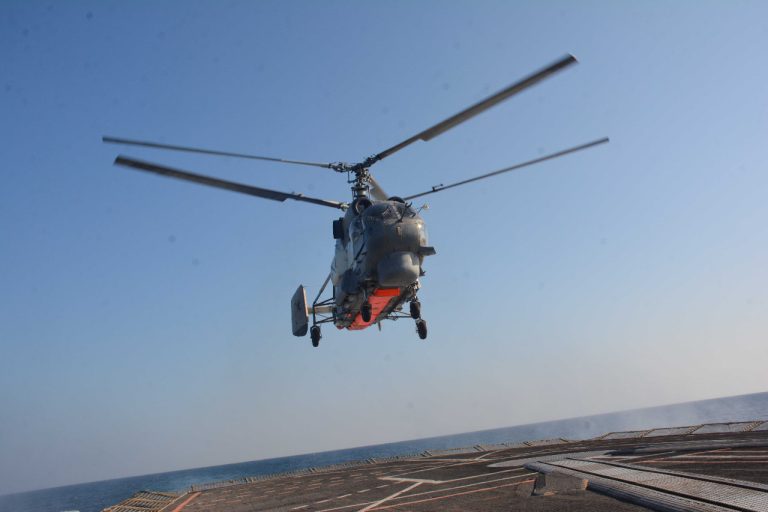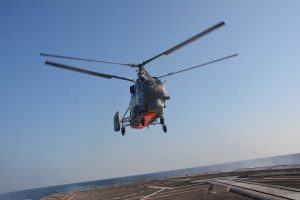 It can contain 32 Barak 8 missiles, 16 BrahMos missiles, one OTO Melara 76 mm naval gun (manufactured by BHEL), four AK-630 CIWS, four 533 mm Torpedo tubes, two RBU-6000 anti-submarine rocket launchers, two HAL Dhruv helicopters and a Dual Enclosed hangar. It has a IAI EL/M-2248 MF-STAR S-band AESA multi-function radar, a Thales LW-08 D-band air search radar, a Garpun Bal (3TS-25E) radar, a BEL HUMSA-NG bow sonar, a BEL EMCCA Mk4 combat management system, a BEL Ellora electronic support measures, NSTL Maareech ATDS and Kavach chaff decoy system.
In the year gone by INS Kochi participated in the 'Zayed Talwar 2021' bilateral exercise with the United Arab Emirates Navy's Baynunah-class guided missile corvette UAES Al-Dhafra on 7 August 2021, off the coast of Abu Dhabi. The ships undertook tactical manoeuvres, Over the Horizon Targeting, Search and Rescue and Electronic Warfare exercises, with extensive use of helicopters. Less than a week later, Kochi arrived at Al Jubail for the Indian Navy's maiden naval exercise with the Royal Saudi Navy, 'Al-Mohed Al-Hindi'. The drill was meant for deeper understanding of each other's operational practices. 2022 started with its exercise with Russian Navy.
In late December 2021, Admiral Tributs, along with cruiser Varyag, left Vladivostok for a long deployment, consisting of port calls in several countries. On 11 January 2022, the warships entered the Indian Ocean and called at Kochi on 14 January 2022.