By Sangeeta Saxena
Goa. 03 June 2016. " Our key mantra for success is delivery before or on schedule. We have never been behind schedule. Time and Cost over runs we have managed to control because of very close monitoring and passion for work and have created a positive image for ourselves in the bargain," said Rear Admiral (retd) Shekhar Mittal, NM, Chairman & Managing Director, GSL in an exclusive interview to Aviation & Defence Universe(ADU).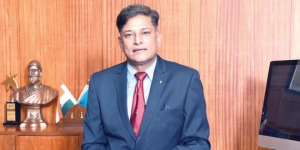 As early as 1947, the policy makers of the just born nation recognized that it would be in the country's best interests to cultivate indigenous warship building as a strategic capability. In 1961, after Goa's liberation, the small shipyard called "Estaleiros Navais de Goa" later renamed Goa Shipyard Limited, started its march to become a defence shipbuilding facility on the west coast and in the process went on to design and build vessels for the defence as well as the commercial needs.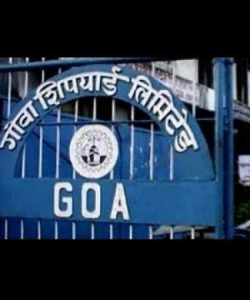 "We are extremely proud that all the four ships in the Presidential column at IFR 2016 were made by GSL. A designated "mini-Ratna" by the Government of India GSL has built Landing craft Mark II, Saryu class offshore patrol vessels, Vikram class offshore patrol vessels, Samar class offshore patrol vessels, Tarantul I class missile corvettes, Extra fast patrol vessels and Offshore Patrol Vessels some for Indian Navy and some for Indian Coast Guard.INS Tarangini a three-masted barque, commissioned in 1997 as a sail training ship for the Indian Navy is also made by us," said Shekhar.
"We have been fortunate to have the Navy's confidence in our capabilities and have been awarded the order to manufacture Mines Counter-Measures Vessels (MCMVs) for its fleet. We don't have the technology. That is why we are going to import it. GSL has a capacity to absorb the technology. The order is of 12 worth 32000 crores under Make in India. We plan to be absolutely on schedule, start the construction in 2018 and the first delivery is scheduled for 2021. " he informed with pride.
Since the interview was conducted, GSL has chosen South Korea's Kangnam Corporation which emerged as a sole bidder in response to a global expression of interest (EOI) floated by GSL to jointly build 12 mine countermeasure vessels (MCMV). GSL had sought special permission from the Ministry of Defence (MoD) to go ahead with selecting the South Korean company as its technology transfer partner.
The MCMVs, which are part of the 'Make In India' campaign would be 50 per cent indigenous but Mittal hopes to increase this percentage and feels that 90 per cent of the benefits should go to local manufacturing components and ancillaries and units in Goa, who will be given first preference.
"Reliability and quality of ships manufactured by us is very high. As one of the few Indian shipyards equipped with an in-house design capability, GSL carries out its own Research & Development, in the process developing an in-house product range that efficiently meets the specific requirements of clients in the defence as well as commercial sectors in the fields of design, construction, repair and modernization of vessels. We are the largest exporter of ships from India and the only one executing export orders. " he added with élan.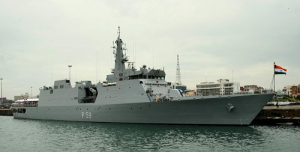 This includes two Advanced Offshore Patrol Vessels being built for Sri Lanka Navy The first AOPV is scheduled to join the Sri Lanka Navy fleet in August 2017 and the second one a year after. GSL has an export order book of over Rs 1200 Cr and has diversified product range including OPVs, FPVs, Missile boats, Survey vessels, LCUs, Tugs etc. As part of further diversification activities, the shipyard undertakes construction and setting up of various kinds of simulators. With major in-house capability enhancements, both at the infrastructure level and knowledge/design based up-gradations, the shipyard is fully geared up to take up construction of high end platforms including Hovercrafts, ASW Shallow Water Crafts and specialised land and sea based training simulators. GSL earns a major foreign exchange through shipbuilding and ship repair.
"We have an unmatchable track record of timely execution and fixed cost delivery of over 215 ships & 125 Fast Interceptor Boats and the company has achieved nearly 40% growth in top line in last 02 years with bottom line turning positive from a loss of Rs 61 Cr in FY 13-14 to Net Profit of Rs 77 Cr in FY 14-15, thereby registering a sharp turnaround," Mittal informed.
"We at GSL maintain high standard of quality through strict quality control measures to the fullest satisfaction of the customer and to build up an image of the Company. Our aim is to improve standards of safety with the help of a sound safety organisation and training personnel at all levels in safety so as to reduce accidents and loss of man hours, " he explained.
An ISO 9001 Certified Company with in-house design capability, world class CAD/CAM facility with Tribon platform, ERP enabled management integrated with design and planning application which enables for effective database management, project monitoring and control makes it a well managed company. GSL has a workforce of over 1700 skilled personnel and over 265. Qualified Engineers and Naval Architects.
Shift Lift facility of 6000 Tonnes and Repair berths, modern steel preparation shop with CNC plate cutting machines, automatic shot blasting equipment & CNC pipe bending machine, modern electronic workshop, ship repair and general engineering services makes it state-of-the-art manufacturing unit.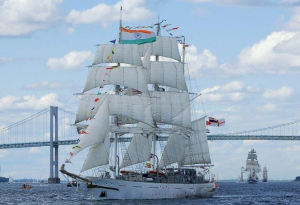 Indeed, GSL is truly at the forefront of offering complete shipbuilding solutions. Today, the shipyard offers the facility of ship modernisation and conversion which is fast gaining precedence over new construction. Services ranging from replacing weapons and sensors to reengineering and installing CCD (Camouflage Concealment and Deception) technology on platforms enabling combatants to increase the role worthiness and punch of existing platforms, exponentially. GSL also undertakes mid-life modernisation and conversion of ships.
GSL boasts of a modern shiplift system (120m x 20m) with capability of 6000t which has 250m long concrete hard stand, providing the best access for inspection and working on Under water hulls, and, providing space for repair facilities to multiple vessels at a time and adequate crainage facilities.
To improve productivity by harmonious industrial relations is the mantra at GSL. It believes in promoting welfare activities to raise morale of the employees. Development of managerial and technical skills of the Company's employees through development programmes and technical training in addition to providing training to a large number of apprentices for absorption in the Company's own unit and in other industries, is the shipyard's strategy to keep employees satisfied professionally.
"We are rated very high on CSR and skills development. 60% goes back to local. CSR- agricultural, cattle, animal husbandry, irrigation, milk and vegetable yield. Skill development courses like welding , state of the art, 70 Lakh rupees. The recruitment of locals in C&D categories is over 80% and also in the last two years employment potential has increased four times," he said.
GSL is also in a drive to promote use of indigenous equipment such as computers, radar, communication equipment, auxiliary machinery, electrical fittings and domestic equipment. Its social objectives are to help build up a strong industrial base through development of ancillaries , to ensure that the ecological balance is not disturbed due to industrialisation, through pollution control, wherever required." We believe in make in India and also believe in use made in India," quipped Mittal.