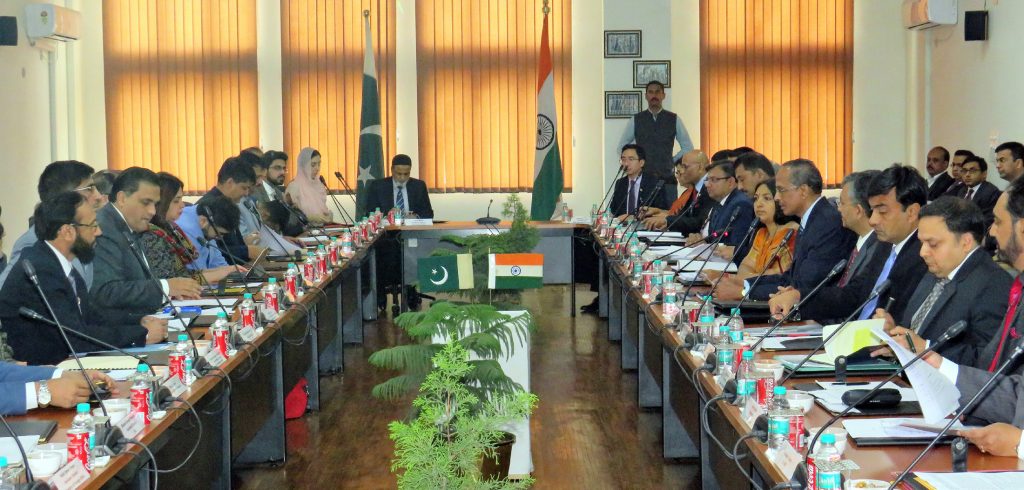 New Delhi. 15 March 2019.  The first meeting to discuss the modalities and the draft Agreement for facilitation of pilgrims to visit Gurudwara Kartarpur Sahib using the Kartarpur Corridor was held at Attari, India in a cordial environment.
The Indian delegation was led by S.C.L. Das, Joint Secretary in the Ministry of Home Affairs. The Pakistan delegation was led by Dr. Mohammad Faisal, DG (SA & SAARC) of Pakistan Ministry of Foreign Affairs.
Both sides held detailed and constructive discussions on various aspects and provisions of the proposed agreement and agreed to work towards expeditiously operationalizing the Kartarpur Sahib Corridor.
Both sides also held expert level discussions between the technical experts on the alignment and other details of the proposed corridor.
It was agreed to hold the next meeting at Wagah on 2 April 2019. This will be preceded by a meeting of the technical experts on 19 March 2019 at the proposed zero points to finalize the alignment. S.C.L Das, Joint Secretary in the Ministry of Home Affairs informed that . This was to discuss the modalities for operationalisation of the Kartarpur corridor.
The meeting was held at 10.30 am at JCP Attari. The Indian delegation comprised of officials from the Ministry of Home Affairs, Ministry of External Affairs, Ministry of Defence, Govt. of Punjab, Border Security Force, Customs, National Highways, Land Port Authority of India etc. The Pakistan delegation was a 20-member team. It was led by Dr. Mohammed Faisal, Director General, Ministry of Foreign Affairs, Govt. of Pakistan.

The decision to develop and operationalise the Kartarpur corridor is one of the key decisions and it has been a long standing demand of Indian Pilgrims that they should have absolutely smooth, easy, convenient and unrestricted access to the historic and Holy Site of Kartarpur where Guru Nanak Dev ji lived for the final 18 years of his life.
The talks held between India and Pakistan, first of its kind, at Attari, were constructive and they were primarily aimed at facilitating the visit of Indian pilgrims to Gurudwara Kartarpur Sahib through a dedicated corridor in a smooth and easy manner. Both sides discussed in detail the various provisions of the draft agreement. Both sides had prepared their own draft agreements, shared, so these were discussed in detail.
#Our side pressed on the need for arranging the visit of at least 5,000 pilgrims per day to begin with, in the phase 1 of the project, the details of which we will shortly share with you also. So we have pressed from our side that at least, to begin with, in the initial phase itself, 5,000 pilgrims should be allowed to visit the holy shrine per day. And this should include not only Indian nationals but People of Indian Origin as well. So that was what we stressed for. And we have also strongly urged them to allow these visits because people from all over the country and all over the world will be coming for all 7 days of the week all throughout the year without any break, particularly provides for a much higher size of visiting pilgrims by another 10,000 on special says, let's say Guru Purab, Baisakhi etc. On special days, we have strongly pressed for the need to have another 10,000 plus and accordingly we have told them also that we have developed facilities for that number in the first phase, to go on further. We have also emphasized from our side that in the spirit of this Kartarpur Sahib Corridor, this corridor should be absolutely visa free. There should not be any additional encumbrances in the form of any additional documentation or procedure so that the basic spirit of allowing very easy and smooth access to a large number of pilgrims on a daily basis is conveniently realised," informed Das.

Not ellaborating he added, "there are several other points which are of consequential nature but these were the strong points and from the Pakistani side, they have assured us that they would consider some of those and revert back. We hope that in the next round of talks they should be able to revert on this. As of now, we can only say that we have from our side very clearly highlighted our own preparedness, keenness and eagerness to operationalise this as early as possible and on as large a scale as can be."

Nidhi Khare, Joint Secretary, Ministry of Home Affairs, "In line with the demand that we are expecting that more than 5000 pilgrims would be visiting Kartarpur on a daily basis, Government of India has decided to build a huge passenger terminal complex building which is going to be a state-of-the-art building. This is going to be a green building; it is going to be building with elderly friendly, disabled-friendly and it will look after the needs of pilgrims from all over the country who want to pay their homage to Kartarpur Sahib in Pakistan. For this purpose we have basically acquired land of 50 acres on the border and we are going to develop it in phased manner. In the first phase the development is on 15 acre and the built up area about 21680 square metres, out of which the passenger terminal complex building would be about 16000 square meters. This building would be fully air conditioned and there will be all protocol regarding security, surveillance and such other functional requirements. Most of the people who are going to handle immigration and who are basically going to facilitate the transit for them also we are keeping some space. We are going to have 54 counters which can very quickly make this facilitation easy and for the pilgrims it should be very comfortable, extremely in-ease they should be able to walk through the Indian side onto the Pakistani Side. Now we have requested them to basically make us know what all structures they are going to construct so that we should be in a position to get back our pilgrims on the same day with safety and with security. So our technical team would be going on the border, on the international border at Dera Baba Nanak where this thing is going to be constructed. We are going to be basically looking on the side; the measurement, the technical issues about the width of the roads and such other things and what all facilities they are going to come out for our pilgrims. The department of MORTH is basically constructing and widening the NH and this road will come up to the passenger terminal complex so that people can come with their vehicles, they can park it on the side and we can also ensure humongous scene to the walk-through. The kind of building, the kind of facilities that we have created for the pilgrims, we expect that Pakistan would also reciprocate and look after our pilgrims for their comfort and for their needs."