By Col NB Saxena
New Delhi . 15 Jun 2016. The First Battalion of the Assam Regiment with the cry 1st Battalion – Always First celebrated its 75th Raising Day (Platinum Jubilee) with ceremonial fervour at Shimla, Himanchal Pradesh. The regiment was raised on 15 June 1941 in Shillong by Lt. Col. Ross Howman to meet the claim of the then undivided State of Assam for its own fighting unit and to counter the threat of the Japanese invasion of India.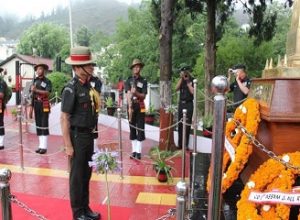 The young regiment soon proved its capabilities within three years of its raising, at the consecutive battles of Jessami, the epic defence of Kohima and the capture of Aradura, all of which were awarded as battle honours (now as pre-independence battle honours) to the regiment. The regiment earned high praise for its combat skills in World War II.
The highlight of the whole occasion was release of 'First Day Cover' by Colonel of the ASSAM REGIMENT & ARUNACHAL SCOUT, Lt Gen Subrata Saha and flagging in of a Motorcycle Rally, led by Brig Charandeep Singh, by Lt Gen PM Hariz, General Officer Commanding -in – Chief of the Army Training Command.
The Battalion was raised on this very day in 1941 and has had an illustrious military history. It is one of the only units in the history of warfare to have been awarded six Battle Honours, namely, JESSAMI (Nagaland), KOHIMA (Nagaland), ARADURA (Nagaland), MAWLAIK (Burma), KYAUKMYAUNG (Burma) and TOUNGOO (Burma) and one Theatre Award BURMA within a short span of three years of its raising.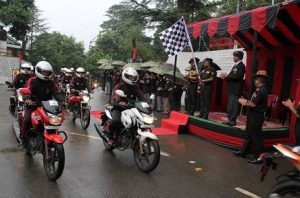 The initial draft of the regiment was drawn from Undivided Assam, consisting of the doughty Ahoms who had proved their martial prowess by defeating the Mughals at the Battle of Saraighat and the hardy, tough and cheerful Nagas, Mizos, Kukis, Garos, Manipuris and other tribals. Later, the Adis, Nishis, Monpas, other tribes of Arunachal Pradesh, domiciled Gorkhas and Sikkimese were also drafted into the regiment and, today, the regiment can boast of being composed of troops of diverse customs, cultures, languages, traditions and ethos belonging to the seven states of the northeast and Sikkim. The Battalion is also proud recipient of Chief of the Army Staff Unit Citation for its role in combating terrorism on Line of Control in Jammu & Kashmir.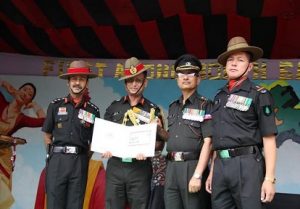 The celebrations were spread over three days commencing from 13 Jun with large number of senior veteran officers, Junior Commissioned Officers and Others Ranks along with a number of civilian dignitaries gracing the occasion. Church Service was organised at Christ Church for the Platinum Jubilee guests on 14 Jun. On 15 Jun, a Wreath Laying Ceremony was organized wherein all serving and retired soldiers and officers paid respect to the Martyrs.