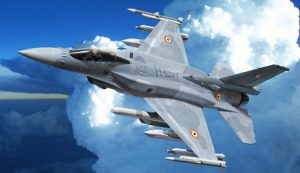 By Sangeeta Saxena
New Delhi. 05 August 2016. F-1 6 production could take off from US and land in India but the catch is if they get a substantial order from Indian Air Force, which is grappling with an aged fleet.  Lockheed Martin's F 16 team  which is on a visit to India currently told the media in the national capital that the US major is ready to shift its  F16 facility to India on New Delhi's nod for procurement.
"The offer we have given to the Indian government is unmatched and from our side unprecedented. We will shift the only existing production facility of F 16 to India and want to make F16-Block 70 for India, from India and export it to the world," proclaimed Randall L Howard, F16 Business Development head at Lockheed Martin.
And this gives fire to the rumour mills puffing that the multi-billion dollar deal was finalised during   last month's hush-hush  visit of Lockheed Martin's Chairman, President and CEO Marillyn Hewson  to India.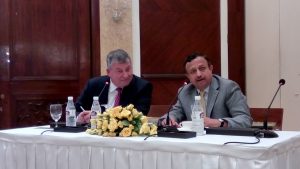 Lockheed's national executive (India) Abhay Paranjape, however, agreed that  the establishing the production line in India was conditional on assured orders from Indian Air Force but was optimistic as they  have not been told to go away.
With 27 customers, 4588 ordered, 4573 delivered and 15 in the backlog  the Fort Worth facility in Texas will be able to finish its commitment by 2017 end and could be shifted to India without any effect on jobs of the staff as the facility will be used to ramp up production of F35 which is the cynosure of all eyes currently and the aircraft of choice for many nations.
Howard was enthusiastic about F 16s 138 versions, more than 1000 upgrades delivered and 55 Follow-On buys from 16 countries. He optimistically stated that the  Block 70 fighters would be the finest combat planes in the region and  building the planes in India would drive down the production cost and increase its demand worldwide.
The version on offer will have improved capabilities like an AESA Radar, new weapons, advanced cockpit, state-of-the-art datalink, and improved avionics, thus making it more interoperable, lethal and survivability.
And if this happens it wouldn't be the first time the F-16 production will be done abroad by Lockheed Martin. During the 1970s a joint U.S./European program produced F-16s for four NATO countries from three assembly lines in the Netherlands, Belgium, and Fort Worth. Assembly lines in Turkey and Korea also produced F-16s under license for their own air forces. But none of these facilities exist now except for Fort Worth. Belgium made 222 and closed in 1991, Netherlands 300 and continued till 1992, South Korea  produced 128 and closed in 2004 whereas Turkey manufactured  308 and closed in 2012. So this leaves Lockheed's facility at Fort Worth which has produced 3616 to date and continues to wrap up the existing backlog.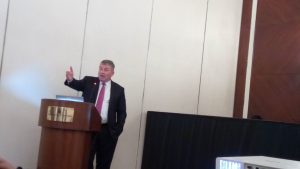 Howards continuous mention to F 16 being better than competitor's products was asked wouldn't establishing facilities for making important parts without a commitment of procurement in India make their chances better he reiterated, " which competitor has offered to shift the complete assembly line to India. We have and are confident that the product we have is most suitable for meeting IAF's needs."
As always it becomes difficult for any official to comment on India's could be objection to sustaining the existing fleet of F16 in Pakistan and supplying to them. Howard though said that these were discussion to happen between the governments of US and India, but the status quo at the moment is that US has refused subsidy to Pakistan to buy eight  F16s recently and has asked them to buy by making the complete payment.
Lockheed already has a joint venture with the Hyderabad-based TASL for making and exporting of the C-130 J empennage. However the officials did not confirm that their partner of choice would be  TASL for the F-16 production. Paranjpe  stated that  they were in talks  with a lot of industry in India.
The F-16s positive point is that being a "fourth generation aircraft,"  it promises complete IAF's  need along with home made Tejas, because the fifth generation aircraft  is already committed to be bought from the Russians  for IAF thus leaving not much chance for the much advanced Lockheed aircraft  F22 Raptor and F 35 and India at the moment is trying to fulfil the gaps in its inventory.