By Sangeeta Saxena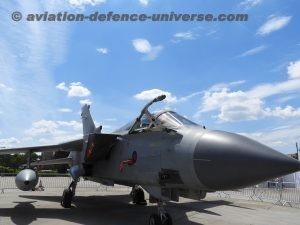 Farnborough. 17 July 2018. The second day at Farnborough belonged clearly to Embraer and the one-upmanship race between Boeing and Airbus seemed to have taken a backseat. Embraer Commercial Aviation announced sales totalling up to 300 aircraft (including options) worth US$15 Embraer and Mauritania Airlines' contract for a firm order of two E175 jets. The contract has a value of USD 93.8 million, based on current list prices. Mauritania Airlines will configure both aircraft with 76 seats in a comfortable dual class layout. Deliveries will take place in 2019.
Helvetic Airways, Wataniya Airways , Republic Airways, Azul Linhas Aéreas Brasileiras S.A, an undisclosed customer from Spain and Nordic Aviation Capital (NAC) all got Embraer at the top of the charts today .
It was also a day for lessors. Air Lease Corporation signed for 3 Boeing 787-9s and 75 737 MAX 8 aircraft, with Belavia to lease four aircraft 737 MAX 8 with options for two more. Aviation Capital Group (ACG) signed a firm order for 20 737 MAX 8 airplanes – bringing their direct-buy order quantity to 100 frames. GE Capital Aviation Services (GECAS) have reached an agreement to take up to 35 additional 737-800 Boeing Converted Freighters split with a firm order for 20 frames and options for 15 more.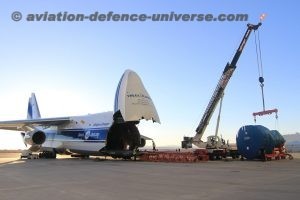 Boeing kicked off the day with a big order for it's Boeing 747-8 with Volga-Dnepr Group and CargoLogicHolding include a letter of intent to acquire 29 Boeing 777 Freighters, confirmation of an order for five Boeing 747-8 Freighters. Xiamen Airlines announced thatthe airline will become the first in China to use Optimized Maintenance Program, a service that improves operational performance, powered by Boeing AnalytX. Boeing, Primera Air announced global fleet care agreement for 737 max and next-generation 737 fleets.
Earl Howe, UK Minister of State for Defence handed over the first of four Airbus H125 helicopters provided to QinetiQ for operation by the Empire Test Pilot School (ETPS), allowing students, both in practical and class-based environments, to test and evaluate aircraft design and performance. Two announcements for Airbus wide body jetliners were made today. One of an undisclosed customer's agreement for the purchase of eight A350-900s; and the second was of an addition of two A330-200s for LEVEL – the International Airlines Group's (IAG) low-cost long-haul airline brand. But the news was that finally, there was movement in the A220 programme today , the erstwhile C Series, with David Neeleman's new US startup carrier "Moxy" carrier putting down a Memorandum of Understanding for 60 Airbus A220-300 (CS300).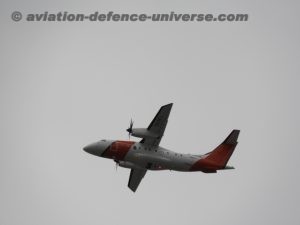 On the Japanese MRJ-90 front it was a start with a bang and an end with a whimper as It performed successfully at the show on Day 1, but suffered ray dome damage from a ground handler. The plane did not fly today. Mitsubishi is deciding to replace the ray dome with one from the US flight testing centre.
ATR handed over its 1000th ATR-72 to Indigo but no announcements came from them on Day 2 also. Bombardier was also celebrating the union of City Jet and Air Nostrum which fly their aircraft but no announcement of orders from the Canadian manufacturer.
On the Chinese front the news was also bleak with COMAC (Commercial Aircraft Corporation of China) and the HNA Group agreeing a Letter of Intent to purchase 20 ARJ21 for Urumqi Air.
Russian which are seeing a lesser presence and denial of attendance by UK, announced that a Sukhoi Civil Aircraft and Peruvian Airlines have signed a Letter of Intent to purchase 10 Sukhoi Superjet SSJ-100 and 10 Irkut MC-21 aircraft.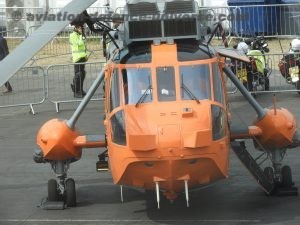 Finmeccanica after having become Leonardo seems to have taken a sales drubbing. No announcements of orders of any of their aircraft . Though technology did make news for them. SEonSE (Smart Eyes on the SEas), Leonardo's geospatial maritime security platform, goes online today. Thanks to the use of cloud computing and of advanced big data analysis models, SEonSE makes it possible to access in real-time, even from tablets or smartphones, customised information on what happens at sea.In what seemed a withen the family agreement, Leonardo and the Italian Air Force launched "International Flight Training School" initiative which will enhance expertise and advanced technology serving military pilot trainees.
Engine Makers led by Rolls Royce all had some news to make at the show. Rolls-Royce has unveiled plans for a flying taxi that could become available by the 2020s. It has designed a propulsion system for an electric vertical take-off and landing (EVTOL) vehicle, which could carry up to five people and travel at speeds of up to 250 miles per hour for about 500 miles. Safran aims to produce approximately 1,100 Leap and 1,000 CFM56 engines, in partnership with GE Aviation. The French engine maker also hopes to announce the first order for its electric taxiing system. CFM's Leap-1 engine family is the second-most ordered jet engine in history, with its orderbook of more than 15,300.
Day two was a better cloudy day though the rain Gods were merciful. The show attracted a little more attention than the Day1.