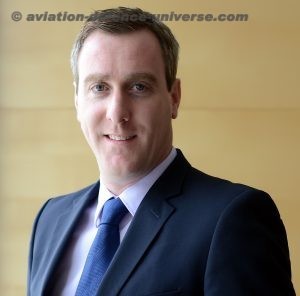 Kuala Lumpur.  18 April 2018. "Our more efficient & cleaner products, position us to play a significant role in India's growing aviation sector, " stated Antony Szafranek, Vice President Customers – Civil Aerospace at Rolls-Royce in an exclusive interview to Aviation & Defence Universe (ADU).
ADU . What are the top trends driving growth in India's civil aviation sector?
AS. The Indian civil aviation industry is experiencing phenomenal growth and this is expected to continue for the years to come primarily for the following reasons:
• Robust economy: India's growing economy which is giving way to a rising middle class.
• Government support: Indian government has introduced several supportive policies and changes in the aviation ecosystem leading to increased travel demand domestically and internationally.
• Emergence of Low-fare airlines: Low-fare airlines have enabled reduction in the overall cost of travel and have also provided travel access to a larger population segment leading to increase in passenger traffic.
ADU. How is Rolls-Royce positioned to support this growth?
AS. With rapid growth in India's aviation industry, we expect a significant demand for widebody aircraft by airlines to meet increased passenger growth and operational efficiencies. Our Trent engines power the leading widebody aircraft and have a strong track record of delivering outstanding performance and reliability. In line with our vision to pioneer the power that matters to our customers, we are well-positioned to offer our strong portfolio of more efficient & cleaner products and solutions and play a key role in India's growing aviation sector.
ADU. How can widebody aircraft benefit India's growing aviation sector?
AS. A competitive environment demands that operating costs be kept low which will bring down ticket costs and attract more passengers. As India's air traffic grows, airlines can deploy widebody aircraft to address the ever-increasing passenger volumes as they provide carriers more revenue per available seat mile and also prove to be a high-yield option. To maximise operational efficiency, airlines can replace multiple flights of smaller aircraft with one optimized flight at the right time, the right size and in the right place. Widebodies also provide significant advantage at airports with restricted infrastructure, enabling airlines to carry more passengers to airports with limited slots. Airlines can also take advantage of their widebodies to free up a substantial amount of narrow-body fleets which can be used on newly opened regional routes.
Additionally, widebody aircraft enables airlines to offer the highest levels of passenger comfort and an optimal experience through better value-added services and more deck space – something that is becoming a deciding factor in passengers' airline choices.
ADU. What benefits do Rolls-Royces' Trent engines bring to the market?
AS. Our Trent engines, powering leading widebody aircraft, offers a combination of fuel efficiency, reliability and environmental performance.Trent 7000 which powers the Airbus A330neo is not only 6dB quieter than the Trent 700, which powers the Airbus A330, it also features a 10% specific fuel consumption improvement.
The latest version of the Trent 1000 incorporates technologies from the Trent XWB and Advance engine programmes contributing to the Dreamliner achieving a 20 per cent greater efficiency than the aircraft it replaces, as well as having half the noise footprint of previous-generation aircraft. The Trent XWB is the world's most efficient large aero engine flying today, and includes advanced materials and the latest fan system technology. It balances fuel efficiency and life cycle costs while delivering weight savings and improved aerodynamics. The Trent XWB is also the fastest selling widebody jet engine ever, with over 1,700 engines ordered by 45 customers.