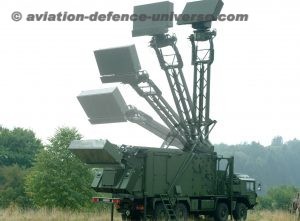 Kuala Lumpur,16 April2017 – HENSOLDT, the leading independent sensor house, presents its broad range of sensor technologies at DSA 2018 in Kuala Lumpur/Malaysia. HENSOLDT has been formed from the security and defence electronics activities of Airbus and develops innovative products for reconnaissance and intelligence, the protection of soldiers and information superiority
"We bring together all the essential sensor technologies providing our customers with information superiority any time," explained CEO Thomas Müller.
In the radar domain, the presentation includes the TRS-4D naval radar, which is at present being installed on the new German Navy frigates and the US Navy Littoral Combat Ship, the TRML-3D land-based air defence radar and the MK11 navigation radar. From the Kelvin Hughes portfolio the company will be demonstrating both its naval radar technology and land based security products. The SharpEye™ Doppler radar is at the heart of these solutions which provides small target detection in clutter environments.
The protection of helicopters, wide-body and fighter aircraft is the main purpose of the portfolio of self-protection devices including the MILDS and MILDS F missile approach warners, the laser warner ALTAS and the self-protection suite AMPS. Furthermore, the latest threats by small drones can be countered by means of the XPeller counter-UAV system comprising a number of sensors from radar through optical to acoustic sensors.
A powerful combination of optronic devices provides the SERO250 submarine periscope constituting an optimal solution for retrofit programs. The ARGOS-II HD is a multi-sensor system for airborne Intelligence, Surveillance and Reconnaissance (ISR) missions which can be fitted with High Definition (HD) infrared and daylight cameras as well as laser range finders and laser illuminators. Also on display is Sferion, the most advanced pilot assistance system, which protects helicopters in restricted visibility conditions and prevents the most significant causes of non-hostile losses.