Long Range WideBody Commercial Aircraft to be developed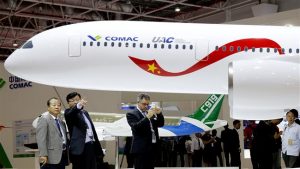 Shanghai. 23 May 2017. Commercial Aircraft Corporation of China, Ltd (COMAC) and United Aircraft Corporation of Russia (UAC)held an establishment ceremony for the Long Range WideBody Commercial Aircraft Program joint venture—name as China-Russia Commercial Aircraft International Co., Ltd. (CRAIC).
The main responsibility of CRAIC is to develop a new generation long range wide body commercial aircraft and take charge of its commercial operation. Chairman of COMAC Jin Zhuanglong, President of COMAC He Dongfeng, President of UAC Yury Slyusar, the vice president of UAC Vladislav E. Masalov attended the ceremony.
Under the depth development of China-Russia comprehensive strategic cooperative partnership, the long-range wide body commercial aircraft is a major strategic and pragmatic cooperation between Chinese and Russian enterprises in the field of high-tech development.
On June 25, 2016, under the testimony of President Xi Jinping and President Putin, COMAC and UAC have signed a joint venture contract. After the full consultation between the two companies, we agreed to establish a joint venture for project cooperation in accordance with the equivalence principle. At present, the two companies have completed the industrial and commercial registration process with a business license. The name of this joint venture is China-Russia Commercial Aircraft International Co., Ltd. (CRAIC), based in Shanghai.
Chairman Jin Zhuanglong indicated that "the establishment of CRAIC marking an important progress for the Long Range Wide Body Commercial Aircraft Program. COMAC and UAC shall cooperate and unit as one, try our best to make the program to be the great model in the corporation history between China and Russia; in accordance with international mainstream airworthiness standards, we will develop a competitive long range wide body commercial aircraft, provide a better service to the airlines and more contribution to the global aviation market."
President Yury Slyusar emphasized that "I am fully supporting to the establishment of CRAIC. It means the long-range wide body commercial aircraft program took the most important pragmatic movement, it also witness the cooperation determination and the succeed expectation by both sides. We would like to develop the wide body aircraft together, ensure the performance of manufacturing, operation, after sale's service, marketing and sales, etc."
As the long-range wide body aircraft program operator and main manufacturer, CRAIC is responsible for product and technology development, manufacturing, marketing, sales and customer service, consulting, program management and other related field. During implementation process, CRAIC will take full advantages from both sides for the development of wide body series.
CRAIC shall also adopt a modern enterprise governance structure, sets up the board of directors and the board of supervisors. The first chairman Vladislav E. Masalov, the vice president of UAC and president of OAK, was appointed by UAC. The first general manager Guo Bozhi, AP of COMAC, was nominated by COMAC. The board of directors consists of four directors from both sides.
The supplier selection of CRAIC shall base on a market-oriented and standardized principle. CRAIC will carry out global bidding and provide priority to suppliers that are more experienced, can provide competitive product and willing to share the risk during development. CRAIC welcomes and encourages more suppliers to consider manufactured localization by the local investment or joint ventures.
At present, both sides have determined the development strategy of the stretched and shortened series of the long-range widebody commercial aircraft, formulated initial technical plan, confirmed the basic range of 12000 km and 280 seats for typical 3 classes. All the information will be clarified to the domestic and airborne suppliers in RFP. Final assembly shall be completed in Shanghai.
According to 9 years innovation and entrepreneurship development, COMAC explored a specialty of China in civil aviation industry, built up 6 platforms in civil aviation industry development phase, established a technology innovation system and industry system in civil aviation, basically acquired the capability of the whole industry chain in aircraft development and product manufacturing, etc. COMAC accumulated abundant experiences of important program development and operation, possessed the core competencies in large passenger aircraft program of China.