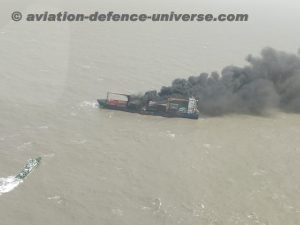 New Delhi. 14 June 2018. Indian Coast Guard ships sailed in the wee hours today morning from Haldia, Paradip and Visakhapatnam to douse major fire onboard Indian flag vessel MV SSL Kolkata off sandheads. The container carrier was on coastal voyage from Krishnapatnam to Kolkata with 22 crew (all Indians) and 464 containers. Whilst on passage the fire broke out due to explosion in one of the container and gradually the fire spread over to 60 containers and became out of control despite efforts by ship's crew.
Due to major fire and inclement weather conditions the vessel started losing stability and Master of the vessel decided to manoeuvre ship in shallow area off sandheads for shelter. Later the Master planned to abandon the ship. Coast Guard Dornier aircraft was launched from Kolkata and ICGS Rajkiran from Haldia reached area at about 0830 hrs for rescue of 22 Indian crew. Despite inclement weather and rough sea condition the rescue operation is being undertaken by Coast Guard units.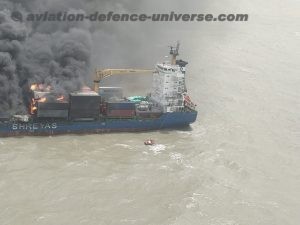 Coast Guard ships with external firefighting systems are already on their way to scene of incident to douse the major fire. Since the vessel is manoeuvring in shallow area off sandheads, the grounding and consequent oil spill from its fuel (211 MT) cannot be ruled out.  The ships from Visakhapatnam and Chennai are embarking pollution equipment for controlling possible oil spill threat.
Coast Guard authorities are in liaison with Kolkata Port Trust, Haldia Dock Complex, Dhamra Port and owner/agent of the vessel for coordinating firefighting and search and rescue operation.
The latest information received from ships at sea indicates rescue of all 22 crew by Coast Guard ship Rajkiran.