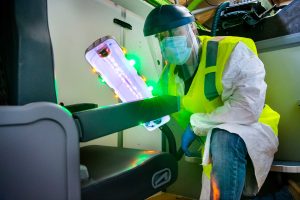 Trial on Etihad Airways' ecoDemonstrator
To add another layer of protection against COVID-1
New Delhi. 28 August 2020. US aerospace major Boeing is all set to combat COVID-19 with a vengeance by developing a mobile, hand-held UV disinfecting wand that can access compact spaces and can successfully disinfect flight decks, lavatories and cabins. UV light can be scanned inches away from aircraft interior surfaces, disinfecting areas and surfaces where the light reaches. A single operator can treat a flight deck in less than 15 minutes with a UV wand.
A webinar organized by Boeing recently drew the curtains from its latest initiative to get the world back to travel with confidence and without fear of the corona virus infection. It was led by Boeing's Confident Travel Initiative Engineerig Director Dan Freeman and Product development Engineer Kein Callahan.
The UV wand is a continuation of Boeing's work using ultraviolet disinfection in the lavatory. Testing is ongoing to fully validate its effectiveness and safety (for operators and materials). UV light has been shown to be effective at neutralizing pathogens. Testing against the COVID-19 virus is ongoing.
Responding to the questions both the Boeing engineers clarified that trained personnel will be operating the device and it will be available with the commercial airlines by this fall by the fourth quarter. They started working on this in April 2020. According to them 222 nanometer UV light is less impactful on materials in cabin hence UV Wand is safe for skin and eyes but they are waiting for confirmation.
There is a research from Columbia University Medical Center which demonstrated that single- wavelength far-UVC photons can kill bacteria and viruses while it cannot penetrate either the human stratum corneum (the outer dead-cell skin layer), nor the ocular cornea, nor the corneal tear-film layer, nor even the cytoplasm of individual human cells. In particular, the results tested both in vitro and in vivo have shown that several far-UVC wavelengths (such as 207 and 222 nm) are as efficient as conventional mercury containing germicidal UV lamp in inactivating both drug-resistant bacteria (e.g. MRSA) and viruses (e.g. H1N1), but these two far UVC wavelengths induce no damage to skin or to eyes, for a wide range of clinical endpoints, in contrast to a conventional broad-spectrum germicidal lamp. This might be of some respite to Boeing's validation process.
The officials also informed that certification of the UV wand will not be necessary. The UV wand is undergoing testing by airline partners, including Etihad Airways. Etihad has been an early adopter of testing this technology and partnered with Boeing in April, providing valuable feedback for the second-generation prototype which is now being tested on Etihad's 787 Dreamliner ecoDemonstrator. The teamwork on the ecoDemonstrator is an element of Boeing and Etihad's ongoing partnership to test various technologies to make aviation safer and more sustainable now and for the future.
The UV wand is being deployed as part of Boeing's Confident Travel Initiative, which provides leadership in the global effort to provide passengers and crew a safe, healthy and efficient travel experience, as well as identifying the most effective methods to disinfect the interior of an aircraft. Ultraviolet technology is a promising addition to measures already in place.
Boeing officials stated that the estimated cost to airlines will be established but will be competitive. Only 15 minutes will be needed to disinfect the flight deck and it takes only seconds to treat an area. Boeing is partnering with universities and government laboratories to continue to study and evaluate the safety of any UV wand device and application in the airplane. As for compatibility with airplane interiors, we continue to evaluate how materials respond to UV exposure. Customer airlines have received guidance regarding the location and number of UV disinfection operations.
A study published on 24 June 2020 in Nature titled Far-UVC light (222 nm) efficiently and safely inactivates airborne human coronaviruses by Manuela Buonanno, David Welch, Igor Shuryak & David J. Brenner stated, "A direct approach to limit airborne viral transmissions is to inactivate them within a short time of their production. Germicidal ultraviolet light, typically at 254 nm, is effective in this context but, used directly, can be a health hazard to skin and eyes. By contrast, far-UVC light (207–222 nm) efficiently kills pathogens potentially without harm to exposed human tissues. We previously demonstrated that 222-nm far-UVC light efficiently kills airborne influenza virus and we extend those studies to explore far-UVC efficacy against airborne human coronaviruses alpha HCoV-229E and beta HCoV-OC43. Low doses of 1.7 and 1.2 mJ/cm2 inactivated 99.9% of aerosolized coronavirus 229E and OC43, respectively. As all human coronaviruses have similar genomic sizes, far-UVC light would be expected to show similar inactivation efficiency against other human coronaviruses including SARS-CoV-2. Based on the beta-HCoV-OC43 results, continuous far-UVC exposure in occupied public locations at the current regulatory exposure limit (~3 mJ/cm2/hour) would result in ~90% viral inactivation in ~8 minutes, 95% in ~11 minutes, 99% in ~16 minutes and 99.9% inactivation in ~25 minutes. Thus while staying within current regulatory dose limits, low-dose-rate far-UVC exposure can potentially safely provide a major reduction in the ambient level of airborne coronaviruses in occupied public locations."
In a Japanese study titled Long‐term Effects of 222‐nm ultraviolet radiation C Sterilizing Lamps on Mice Susceptible to Ultraviolet Radiation by Nozomi Yamano Makoto Kunisada Sachiko Kaidzu Kazunobu Sugihara Aiko Nishiaki‐Sawada Hiroyuki Ohashi Ai Yoshioka Tatsushi Igarashi Akihiro Ohira Masaki Tanito Chikako Nishigori first published on 29 March 2020 the conclusion stated, "we suggest the safety of 222‐nm UVC lamps for the sterilization of human skin, with no evidence of skin carcinogenesis on long‐term exposure, even for highly skin photocarcinogenesis phenotype mice, in addition to no inflammatory reactions and no harmful effects on mouse eyes."
But World health Organisation (WHO) very clearly states on its website that, " Ultra-violet (UV) lamps should NOT be used to disinfect hands or other areas of your skin UV radiation can cause skin irritation and damage your eyes."
So Boeing is on the right track of disinfecting the surfaces in the aircraft with it's UV Wand and as the officials stated it would be done prior the boarding and take off , when the aircraft is being cleaned and fuelled at the terminal. This definitely does not expose passengers to the UV light. It will make the traveller confident of infection free travel and in any case the fear of corona is so strong in humans that they will keep themselves as sanitized as possible with the alcohol based sanitisers and frequent washing with soap and water.