Oxygen concentrators and PPE kits donated to Government Health Centers in Telangana
Part of larger relief efforts by Pratt & Whitney and Raytheon Technologies companies that included 1000 oxygen concentrators, mobile oxygen trucks and 1.2 million PPE kits
Will continue to match employee donations and drive relief-work throughout 2021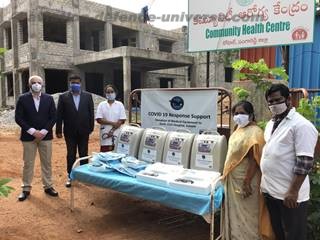 Hyderabad/New Delhi. 24 June 2021. As part of its larger efforts to rapidly support India's COVID-19 response and relief – Pratt & Whitney (P&W), a unit of Raytheon Technologies Corp. (NYSE: RTX), today provided oxygen concentrators and Personal Protective kits (PPE) kits to the Community Health Center in Marpally, and the Government Civil Hospital in Koheer, Telangana.
The much-needed oxygen concentrators and PPE kits will augment hospital oxygen supply lines and help prepare for future contingencies. The equipment is being distributed in partnership with the Government of Telangana and United Way India.
"Pratt & Whitney is committed to supporting India's recovery from the COVID-19 second wave, on several fronts" said Ashmita Sethi, President & Country Head, Pratt & Whitney. "We are proud to partner with the government of Telangana, to accelerate mitigation efforts, especially where our employees and their families are located – while our larger vaccine drive and CSR efforts are being deployed strategically, along with the Indian government, healthcare institutions and charitable agencies".
"The Government of Telangana appreciatesthesupport offered by Pratt & Whitney. The oxygen concentrators and PPE Kits will provide immediate relief to those affected and help maintain the safety of our frontline health care workers," said Jayesh Ranjan, Principal Secretary, Industries & Commerce (I&C) and Information Technology (IT) Departments, Telangana Government.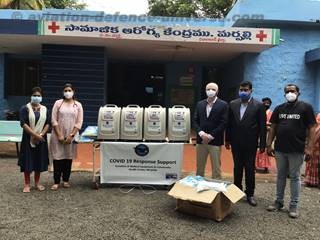 The donation to the government health centers in Telangana is aligned to a larger COVID-19 relief effort by Pratt & Whitney and other Raytheon Technologies companies in India. As part of the first tranche of aid – the companies donated 1,000 oxygen concentrators, 1.2 million pieces of PPE and retrofitted mobile oxygen trucks that can transport nearly 270,000 liters of oxygen. These mobile oxygen trucks were brought into the country by the Indian Air Force, on a Pratt & Whitney powered Boeing C-17 Globemaster III aircraft.
"With our state-of-the art training center in Hyderabad, aerospace skill development programs with local universities and ongoing innovation projects with T-Hub, Hyderabad – Pratt & Whitney has had a strong, long-term partnership with the state of Telangana. We are invested in ensuring the health and safety of our local communities, and will continue to collaborate with key stakeholders here," said Amit Pathak, General Manager, Pratt & Whitney India.
The company is also matching employee donations to numerous nonprofits supporting COVID-19 relief efforts, and its local teams will continue to drive relief-work in India throughout 2021.
With over with over 1500 engines and APUs in service on more than 680 aircraft across commercial, military, business, helicopter, general and regional aviation – Pratt & Whitney has one of the largest installed bases amongst aerospace engine OEMs in India. Pratt & Whitney's state-of-the-art Training center in Hyderabad is building a robust talent pipeline of engine maintenance engineers and technicians from India, and the world.