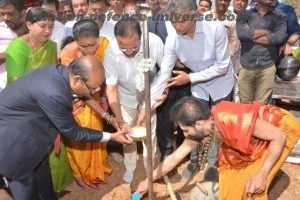 Bangalore. 19 February 2018. Defence PSU Bharat Electronics Ltd (BEL) is setting up a 10 MLD (million litres per day) Sewage Treatment Plant to rejuvenate the Doddabommasandra Lake at a cost of Rs. 13.5 crores. BEL has taken up this initiative — a first-of-its-kind — as part of its Corporate Social Responsibility activities, in collaboration with the Karnataka Lake Conservation and Development Authority (KLCDA), BBMP and the Revenue Department.
The Doddabommasandra Lake contributes to recharge of ground water in the Doddabommasandra watershed region. The lake covers an area of 50.31 hectares (124.35 acres). The Doddabommasandra watershed region replenishes the ground water table of Vidyaranyapura, Govindayyanapalya, Doddabommasandra and Thindlu areas.
Rainfall is the only source of water for this lake, which is presently running dry. Even the water collected during the monsoons is lost due to percolation and evaporation. The lake is fast being depleted of its biodiversity and socio-ecological balance.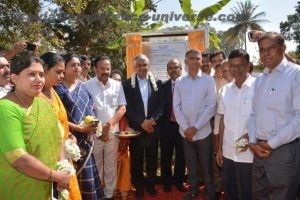 BEL proposes to replenish the lake with waste water treated at the proposed plant and create a large water body,rich in biodiversity.
The Sewage Treatment Plant will be designed on the latest 'Sequential Batch Reactor Technology' (SBR). This is an advanced version of the well-established 'Activated Sludge Process' of the Central Public Health and Environment Engineering Organisation (CPHEEO).
The sewage is fed into the SBR Units for biological treatment involving organic matter degradation, nitrification, de-nitrification and phosphorous removal. The oxygen required for the process is supplied through 'Fine Bubble Diffused Aeration System' with auto control of oxygen levels in the basin. The complete operation, including filling of sewage, aeration, sludge recirculation and decanting will be SCADA/PLC-controlled.
The treated water, after meeting Pollution Control Board norms, will pass through the wetland comprising aquatic plants before flowing into the lake.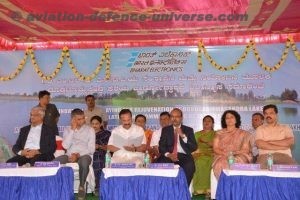 BEL will construct the sewage treatment plant in the next 18 months and will maintain it for a period of 20 years.
The benefits of such a plant include recharging of ground water, reduction of sewage load on the BWSSB treatment plant, improved ground water table in areas in and around the lake which is home to a population of about 3 lakhs, prevention of pollution due to untreated sewage, favourable conditions for the growth of fauna and flora, improved micro climatic conditions leading to a balanced ecological system, new recreational opportunities for fishing, bird watching and educational visits.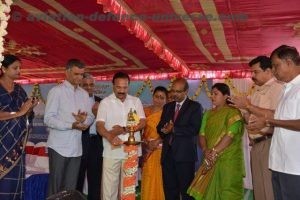 The foundation stone for the installing and commissioning of the proposed Sewage Treatment Plant was laid today (Saturday, February 17, 2018) by the Chief Guest D V Sadananda Gowda, Union Minister for Statistics and Programme Implementation, Government of India Krishna Byre Gowda, Minister for Agriculture, Government of Karnataka, presided over the function. Sampath Raj R, Mayor, BBMP, Gowtama M V, CMD, BEL, and Nataraj Krishnappa, Director (Other Units), & Chairman, CSR Apex Committee, BEL, were also present.