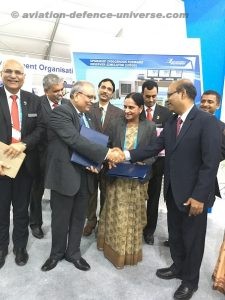 CHENNAI, April12, 2018:  Bharat Electronics Limited (BEL) and Larsen & Toubro signed an MoU today (April11, 2018) in Defexpo 2018 at Chennai to share their expertise in design, development, engineering and manufacturing to develop and produce products and systems to meet the requirement of the defence services as well as for export markets.
Mr.M.V.Gowtama, CMD, BEL, and seniorofficials from both the organizations were present on the occasion. Mrs.Anandi Ramalingam, Director (Marketing), BEL, and Mr.J.D.Patil, Whole Time Director and Senior Executive Vice President (L&T Defence), L&T, signed the MoU.
BEL and L&T have agreed to explore and address defence products / systems for the Indian Defence Services as well as export opportunities. BEL has expertise in design, development, engineering, manufacture of Radar & Weapon Systems, NCS and Communications systems, Electronic Warfare & Avionics, Naval Systems, Electro-optics products, Tank Electronics & Gun Systems, Satcom systems, Strategic Components and Civilian products,  while L&T has expertise in design, engineering and manufacture of Defence systems, Platforms and Weapon delivery, Armoured platforms and Fire control systems, Military Communication, Naval Equipment, Warships & Submarines.
The MoU sets to define the roles and responsibilities of both the Companiesto co-operate and work in partnership mode for select programmes and thus give a boost to indigenous defence production. This collaboration will support the Make in India mission.