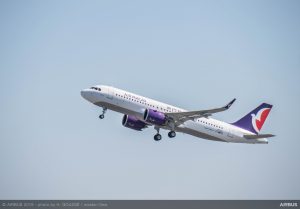 MACAU, April 30, 2019 – Pratt & Whitney, a division of United Technologies Corp. (NYSE: UTX) and Air Macau celebrated delivery of the airline's first Airbus A320neo aircraft powered by Pratt & Whitney GTF™ engines. The delivery was celebrated during a ceremony in Macau hosted by Air Macau and attended by representatives from Airbus and Pratt & Whitney.
"The Airbus A320neo aircraft deploys the more advanced Pratt & Whitney's GTF engines, the newly designed sharklet wingtips and the innovative cabin. It provides better fuel consumption, a more comfortable cabin experience and enables us to develop longer flight routes. It's a perfect strategic fit for Air Macau's future development," Mr. Cheng Hong, Chairman of the Executive Board & General Manager, Air Macau expressed, "I would like to thank Airbus, Pratt & Whitney and BOC Aviation. Thank you for bringing Air Macau such an exceptional addition to our fleet. Your advanced technical support and comprehensive and professional services provide us the strong assurance in our fleet expansion as well as our flight safety."
Air Macau, founded in 1994, is a subsidiary of Air China and currently operates a fleet of 20 Pratt & Whitney V2500-powered A320ceo family aircraft. The airline currently has on order nine GTF-powered A320neo family aircraft.
"We are honored to extend this long and successful partnership with Air Macau as they enter service with the GTF-powered A320neo aircraft," said Rick Deurloo, Chief Customer Officer and senior vice president, Customers at Pratt & Whitney. "Pratt & Whitney and Air Macau share a commitment to environmental sustainability and passenger comfort, and the selection of the fuel-efficient, quiet GTF engines is a reflection of that."
Since entering into service in early 2016, the GTF engine has demonstrated its promised ability to reduce fuel burn by 16 percent, to reduce NOx emissions by 50 percent and to lower the noise footprint by 75 percent.