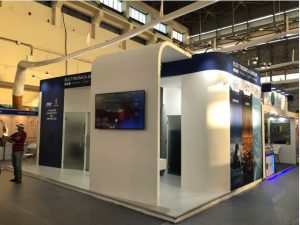 Yelahanka, Bangalore. 21 February 2019. Elettronica Group is showcasing its top-of-the-range systems at Bangalore's Aero India Show, from February 20 through 24. This year's catchphrase, "The Runaway to a Billion Opportunities", aims at promoting India's commitment to take full advantage of the endless opportunities the Aerospace and Defense sectors have to offer. Elettronica is ready to take up the challenge, displaying its capabilities in the Homeland, Cyber and Security domains. The group's excellence in the avionic sector is witnessed by its cutting-edge products for aircrafts and helicopters protection:
PRAETORIAN: currently aboard the Typhoon Eurofighter, the Praetorian Defensive Aids Sub-System (DASS) guarantees protection against air-to-air and air-to-ground threats, monitoring the operational environment and reacting promptly. The integrated ESM/ECM system is equipped with solid state transceiver, electronic scanning antennas DRFM (Digital Radio Frequency Memory) and missile-warning and radar decoys to analyze and hinder attacks.
VIRGILIUS: developed to keep up with growingly complex and compact electronic warfare solutions, Virgilius is an integrated system that includes all the main EW functions in a single rack: ESM, ELINT, ECM and EWM coexist in the same compact case. It is capable of managing various alert, surveillance and jamming functions, ran by a software that allocates the resources dynamically, according to prearranged needs and priorities. Virgilius marks the beginning of a new era in EW, and its name pays homage to Dante's encounter with Virgiulius, which represents the poet's transition from youth into adulthood.
SUITE CSAR: The hardest challenges in developing countermeasures for helicopters reside in the very nature of their defense equipment. Different alarm systems for missiles, radars and lasers, in addition to infrared and electro-optical sensors, provide crews with information they have to extract, select and comprehend before acting accordingly. The EW Manager (ELT/950) implements sophisticated algorithms capable of matching datas coming from all the sensors and reacting automatically, identifying the best countermeasure to deploy in any specific operational situation.
Furthermore, the Show will be an occasion to illustrate Cyber Intelligence and Security products developed by the Group's subsidiary CY4GATE, with particular emphasis on D-SINT, a cutting-edge platform able to support the Intelligence Cycle (planning, analysis, collection, production, dissemination) in achieving its goal: turning collected datas into tactical and strategic knowledge. Based on an open, modular and scalable architecture, D-SINT allows to collect and analyze in real time considerable amounts of structured and unstructured data streams coming from various types of sources: open, deep and dark web, local or already existing databases, producing, as an output, predefined templates to provide strategic decision makers with editable reports and texts.
Elettronica Group: based in Rome, has been on the cutting edge of Electronic Warfare for more than 60 years, supplying strategic surveillance capabilities, self-defense and electronic attack systems for naval, airborne and ground use to the Armed Forces and Governments of 30 Countries. Privately controlled, both Thales and Leonardo own important minority stakes in the Group, which is composed by Elettronica S.p.A, headquarter leader in full EW capabilities, CY4GATE, specialized in Cyber EW, Cyber Security and Intelligence, and Elettronica Gmbh, the German subsidiary specialized in EW signal processing design and production and Homeland Security solutions.