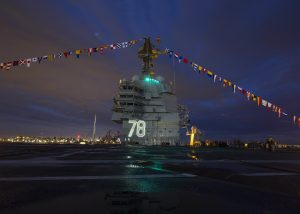 Nimitz-class carriers to get phased out
Washington. 21 July 2017. US Navy is all set increase its biting power. Its latest aircraft carrier, USS Gerald R. Ford (CVN 78), will get commissioned on July 22, at Naval Station Norfolk. This ship will have advances in technology such as a new reactor plant, propulsion system, electric plant, Electromagnetic Aircraft Launch System (EMALS), Advanced Arresting Gear (AAG), machinery control, Dual Band Radar and integrated warfare systems. Compared to Nimitz-class carriers, which will get systematically phased out, the Gerald R. Ford-class carriers have more than 23 new or modified systems.
The Navy plans to spend $43 billion developing and building the three new Ford-class ships—Ford, the future USS John F. Kennedy (CVN 79), and the future USS Enterprise (CVN 80). Built by Huntington Ingalls Industries, the Gerald R. Ford class is designed with significant quality-of-life improvements and reduced maintenance. These innovations are expected to improve operational availability and capability compared with Nimitz-class carriers.
"The nation's going to be very proud of USS Gerald R. Ford," said Chief of Naval Operations Adm. John Richardson. "I am incredibly thankful for the shipyard workers and sailors who worked amazingly hard to bring this mighty ship to life. This Saturday will be a huge day for our Navy and our nation. The new technology and warfighting capabilities that Ford brings will transform naval warfare, making us a more lethal Navy. The increased combat power will enable new ways to combine information, ships, aircraft and undersea forces, changing how we operate and fight."
CVN 78 honors the 38th president of the United States and pays tribute to his lifetime of service in the Navy, in the U.S. government and to the nation. During World War II, Ford attained the rank of lieutenant commander in the Navy, serving on the light carrier USS Monterey (CVL-26). Released from active duty in February 1946, Ford remained in the Naval Reserve until 1963. Ford was elected to the U.S. House of Representatives in 1948, where he served until President Nixon tapped him to become Vice President in 1973. Ford became president in the aftermath of the Watergate scandal and served in the country's highest office from 1974-1977.