New Delhi. 16 June 2017.
The aerospace and defence industry in India  is now face to face with a  new reality. There will be fierce competition and fierce rivalry as the Strategic Partner policy has been announced.
Till now
the private sector was making only minor and sub-systems. "The strategic partnership policy will explicitly identifying the private defence companies which can forge a joint venture with foreign companies to build major equipment. So we get an integrator and will be at par with the best in the world," said Ankur Gupta, Vice President, Aerospace & Defence – Ernst & Young, in an exclusive interview to ADU.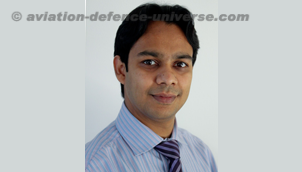 ADU.
Will the announcement of strategic partnership be a great fillip to Make in India?
AG.
The SP model has been two years in the making and there should be no further delay in its full implementation. Yes, it is very much a policy in progress and will get fine-tuned as we progress. Thus the sooner we get a couple of the selected programs underway, any shortcomings will be addressed. The critical aspect is that the Indian Pvt sector will get a taste for truly large programs and keep themselves occupied for over three decades.
ADU.
How do you see the interest of the SME's being catered to under the SP model?
AG.
The SP will be an integrator, that is what the SP has to (as per the MoD) and should do (as per the company). In addition to this, there has to be 50% (expected) indigenization. Thus there is sufficient scope for the SME's to have a meaningful participation and role in the SP model.
ADU.
How should the foreign OEMs tackle the SP paradigm?
AG.
The OEMs have now re-strategize in order to remain relevant in one of the most exciting global defence markets. Any relationships forged over time could be leveraged as well new one's need to be formed really fast in order to be able to address the issue at hand.
ADU.
Have the steps taken by the current govt. really panned out as planned?
AG.
The current regime has taken several steps to encourage pvt sector participation in the defence sector. What we now need is some quick movement in the decision making cycle so that the various programs that re meandering within the MoD have a quick turnaround. This will result in orders to the sector and a growth in confidence in terms of business case and over-all recognition of the new regime.