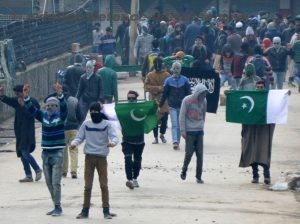 By J.K.Verma
New Delhi. 08 August 2018. It is the hottest debate in the country at the moment making the earlier uninitiated millions now experts on the problem of Kashmir and its constitutional solution by repealing the till now lesser known sibling of Article 370-Article 35A.
On August 6th the Apex Court adjourned the crucial hearing of Article 35A and declared that the hearing will commence from August 27. A Delhi based NGO "We the Citizens" has filed a petition that Article 35A and Article 370 are discriminatory to other citizens of India. The NGO claims that article 35A is "unconstitutional" as the Article was included in Constitution on May 14, 1954 through a Presidential Order and the article was never presented before Parliament prior to its promulgation.
The J&K legislature under Article 35A is empowered to classify "permanent residents" and permanent residents of Jammu & Kashmir are given special privileges which are denied to the other citizens of India. The special privileges include purchase of immovable property, getting a job in state government or avail a state scholarship or permanently reside in the state. The article mentions that if a Kashmiri woman marries outside Kashmir then she loses the right in her hereditary property. The NGO claims that Article 35 A is an impediment in the all-round progress of the state.
The migrants who came from West Pakistan at the time of partition in 1947 and residing in J&K from last 70 years and became citizens of India but are still second class citizens in J&K. They cannot buy any immovable property, cannot have employment in state government, cannot start industry or purchase a motor car. He/she can vote for Lok Sabha (Lower House of Parliament) but cannot vote for state legislature elections. The paradox is that if a person comes from Pakistan Occupied Kashmir (POK) he or she is entitled for all the rights.
The NGO claims that it is a falsehood that Article 370 provides a special status to J&K as it is a temporary arrangement and should be abrogated. Nonetheless residents of J&K are habituated of availing extra privileges hence when they found that there is a danger and the additional benefits can be withdrawn separatists, Kashmiri political leaders including National Conference (NC) and Peoples Democratic Party (PDP), Bar Associations, Transporters, businessmen, traders, state government servants all criticised the withdrawal of privileges given under Article 35A. The Joint Resistance Leadership (JRL) which includes separatist leaders like Syed Ali Shah Geelani, Mirwaiz Umar Farooq and Mohammed Yasin Malik gave a two days strike call for August 5 &6. The security forces arrested Mirwaiz Umar Farooq, Syed Ali Shah Geelani and several others as precautionary measures.  However Yasin Malik escaped from his house and went in hiding.
Omar Abdullah Vice President of National Conference and former Chief Minister of J&K tweeted on August 5, 2018 that "Protecting Article 35A is a tacit acceptance that J&K's future lies within the Constitution of India otherwise how would it matter if it were struck down or diluted?"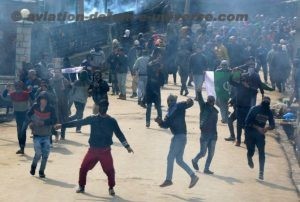 Chief of Peoples Democratic Party and former Chief Minister Mehbooba Mufti also tweeted that there is lot of anger in the people of J&K over the hearing of Article 35 A in the apex court. She also mentioned on twitter that "Even though the deferment of hearing on Article 35A is not a solution, it has brought interim relief to the people of J&K. But with uncertainty looming over its status, it has unleashed a wave of anxiety and panic amongst the people of J&K."
A Bhartiya Janta Party (BJP) leader of J&K differed from the party line and supported the retention of Article 35A and stated that the residents of Jammu fear the influx of outsiders in Jammu area. BJP is in favour of repeal of Article 35A. The separatists spread the rumor that there will be revolt in J&K police if Article 35A is repealed but Director General of Police Shesh Paul Vaid categorically mentioned that there is no possibility of revolt in the police force and the order of Supreme Court will be honoured by all . An IAS officer of 2010 batch who is doing a masters course in United States also stated that abrogation of Article 35A would be similar to breaking the ties between J&K and rest of India. He is already facing disciplinary proceedings about a tweet on numerous rapes in the country.
A team comprising of eminent lawyers of J&K High Court Bar Association also reached Delhi to defend article 35A. Large number of state government employees went on one day leave. Shops, petrol stations, educational institutions and business centres also remained closed during the shutdown call.  Train services between Banihal (Ramban district) and Baramulla (Baramulla district) remained suspended.
The effect of strike was more visible in south Kashmir region as five terrorists including a commander of Lashker-e-Toiba namely Umar Malik were killed by security forces on August third and fourth in an encounter at village Killora in Shopian district.  The operation was launched after getting the pin-pointed intelligence about the location of terrorists.
Rallies and demonstrations were held at several places including Ghataghar, Rambagh, Khanyar Zadibal, Karfali Mohalla , Rainwari, Anchaar, and Dalgate, etc. Most of the places the demonstrations were peaceful and only few incidents of stone-pelting occurred. The weekly Karwan-e-Aman bus service between Srinagar and Muzaffarabad and the ongoing Amarnath Yatra were suspended.
The State Government of J&K also filed an application for the postponement of the case under the pretext of forthcoming urban and Panchayat local body and Municipal elections in the province.
If some analysts' claim is to be believed then the strength and hold of separatists on the residents of valley is diminishing as they are tired of shutdowns, bunds and strikes. The main industry of the valley is tourism and it is in doldrums because of terrorism. The Kashmiri youths are suffering because of unemployment while the older generation fears that their children may not join terrorist outfits. Now several educated Kashmiris claim that the so called Kashmiri leaders have settled their children outside Kashmir and as they themselves have government security so they are safe while common Kashmiris and their young children are vulnerable, they are allured to join terrorist outfits and later they are exterminated by security forces.
Large numbers of Kashmiri youths who have taken the path of terrorism were eliminated under Operation All Out which is a joint Operation launched in 2017 by Army, Central Reserve Police Force, Jammu and Kashmir Police, Border Security Force, Intelligence Bureau and Research & analysis Wing to arrest or exterminate terrorists. In 2017 security forces eliminated 213 terrorists while 82 misguided Kashmiri youths left terrorism and joined the mainstream. In 2018 security forces killed 116 terrorists up to July in the joint operations.
Under Operation All out as all forces are working jointly the stone-pelters have also became less effective and are not able to disrupt the operations. The basic object of stone-pelters is to disturb and disrupt the operation and assist terrorists so that they can escape from the encounter sight.
The security forces have also enhanced the vigil at Indo-Pak borders consequent upon the infiltration of terrorists is lessened and several infiltrators were killed while they were crossing the borders. The National Investigation Agency (NIA) which was especially constituted to eradicate terrorism has also tightened the grip on businessmen who were financing the leaders of diverse terror outfits. Few traders were involved in India Pakistan trade and were generating funds to finance terror outfits through over and under invoicing.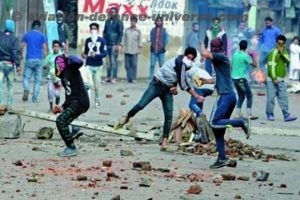 The influence of terrorists is mitigating in the valley and sinister Inter Services Intelligence (ISI) is finding it difficult to infiltrate terrorists, smuggle weapons and finance the terrorist outfits hence the terrorists are looting the banks and snatching the weapons of the security forces. In last few months the terrorists have looted six banks and snatched firearms including AK-47.
The sway of separatists is declining hence they are propagating that if Article 35A is removed or diluted several privileges enjoyed by Kashmiris would be snatched and not only this there will be a demographic change in the state. The separatists forcibly evicted non-Muslims from the valley hence now they do not want non-Muslims to come and live.
The separatists also publicising that Article 35A is in favour of Duggar region and Ladakh region more than the valley so that residents of these areas also oppose repeal of Article 35A. But it is all malicious propaganda if peace is restored in the region more tourists will come and if Article 35A is removed, more industries will be established which will not only generate employment but there will be overall development of the state.
The separatists want to separate J&K from India hence retention of article 35A is not the solution of problem. Giving few concessions are also not enough as separatists either want to merge with Pakistan or want a separate country. Government should wait the decision of apex court and if the Supreme Court repeals Article 35A both central and state government machinery must implement the judgment with full force.
(Jai Kumar Verma is a Delhi-based strategic analyst and a retired senior intelligence officer. He is also member of United Services Institute of India and Institute for Defence Studies and Analyses.The views in the article are solely the author's. He can be contacted at editor.adu@gmail.com)