"India is one of the largest defence spenders in the world and he sees India as a lucrative ground for expansion," said  Steve gerber, SVP & Global Industry Head- Aerospace And Defence, Quest in an exclusive interview to ADU conducted by Ms. Chaitali bag, Chief of Bureau, Aviation & Defence Universe.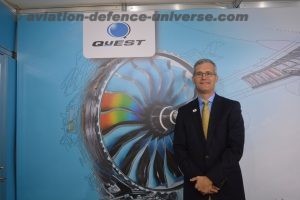 ADU: Please tell us more about your company and what solutions do you provide to your customers?
SG: Quest is an engineering services company with over ten thousand employees across seven different world offices including space and defence, power generation, oil and gas, transportation, hi-tech and industry. Amongst those 35% of our businesses in aerospace alone. We service companies in aero engines, air frames as well as systems companies, as an engineering only company our differentiator is really our good at understanding our customers challenges and problems and actually adapting our full product life sect solutions to their needs. Really there are no two solutions that are alike, they are all very unique and add transformational value to our customers.
ADU: How different is Quest's role in the Indian markets as compared to European and American markets?
SG: so let me tell you little bit more about Quest specifically in India, with over 6500 employees just in India, also we have 2000 in North America 2000 in Europe but in India we do everything from non conformance management to high end aerial structures analysis from FNDET and GDNT as well as in-service repairs. We do manufacturing engineering, we do embedic controls and  software as well as we have invested recently in digital pervasive technologies along with enterprise solutions and software, so we have really got in this aerospace domain with array of solutions along the product lifestyle.
ADU: How does Quest see contributing or catering to the Indian subcontinent?
SG: We have a lot going on in India, supporting mostly global customers, our solutions reach not only their locations in North America and in India or in Europe but also we support their local centres in India. Often times an extension of their team there providing a transformational solution to help do things that they are just not capable of doing. In addition we have setup Quest Global Defence because we know there's India, they are one of the largest defence spenders in the world but also big acquirer of airlines as well and growing so we have made India an offset opportunity for large OEMs that are selling to India. We've set up Quest Global Defence so we can support those companies with offset credits. Today we do it for two major OEMs and we are well positioned to help others with our array of services that we already do in India, we are well positioned to help the airframers, the system suppliers as well as the engine providers as well, in other words tier 1s and tier 2s.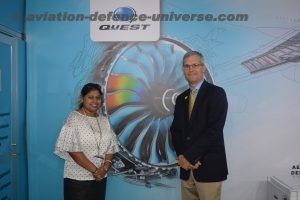 ADU: What are the expansion plans of Quest especially on Aerospace 4.0?
SG: Our global expansion plans for Quest in the aerospace sector, I really send it along a continuing to expand the value that we perform for our existing customers. In addition with our recent acquisitions in the digital space and the enterprise space we are now ready to take those services that we have been offering and really connect them to the digital world that will bring aerospace 4.0, model based enterprise, a digital forehead taking the master model all the way to manufacturing, all the way to supply chain as well as to the aftermarket. In addition bringing augmented reality, artificial intelligence as well as deep learning and other cloud tech related technologies to the work we already do but also they help our customers again answer the question on aerospace 4.0 and get them where they are trying to go.
ADU: What are your expansion plans?
SG: So let me tell you more about our expansion plans, if we stand back, Quest has really transformed itself over the last 20 years, from being a specific service provider to actually supporting a lot of other research and development and product development which goes on to our customers which extends to them so we plan to grow that area as well as grow some new technologies that we've acquired recently in the digital space  and really continuing to grow and develop the services that we have in place, they are in range across the product life cycle from new product design to aftermarket to manufacturing engineering to supply chain, again further developing those would also looking additionally at acquisitions in organic growth as well. So if there's an organic really growing and expanding at the surfaces that we offer today applying digital growth would also looking at the organic growth to give us access may be to serve regions with customers with poor capability,so all those are in play in our plans.
ADU: How do you see India as a growth opportunity?
SG: For India expansion we are engaging our customers because there's such a lack of engineering graduates in both EU and North America, they are more and more interested in building teams in India so we're going to continue to work with our customers to build those already best solutions and build what we have already done in India. In addition, in India, we look to expand again more in the digital space and bring those high capability solutions in advance analytics deep learning artificial intelligence as well as the cloud and other technologies, even cyber security, we're looking to expand those in India, we've got the talent and a large workforce there already and we're going to grow that by servicing our aerospace customers who are all trying to figure out this aerospace 4.0
ADU: What are your growth plans in India ?
SG: Lets talk about our growth plans in India, along with growing our current services and really looking at aerospace 4.0, and leveraging our new acquisitions. We also think we're in a great position to help those customers and satisfy both make in India requirements as well as offset requirements. For example we set up Quest Global Defence for offset credit, we've actually been doing this for the last three years and helping two existing OEMs to get offset credits in India, so as OEMs go out for this lucrative defence business in India, India is one of the largest defence spenders In the world, they're also acquiring a lot of airlines as well and as those folks were to satisfy those requirements we're in a great position to help them grow.