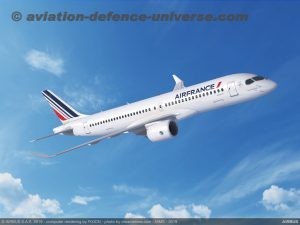 East Hartford, Connecticut. 01 February 2021 . Pratt & Whitney announced that Air France-KLM Group has finalized an order for more than 120 GTF engines to power a fleet of 60 Airbus A220-300 aircraft. These engines will be supported by Pratt & Whitney through a long-term comprehensive service agreement, with engine maintenance planned to be carried out by AFI KLM E&M.The first aircraft is scheduled to be delivered in September 2021.
"Thanks in large part to Pratt & Whitney GTF engines, we expect our A220 fleet to deliver significant economic and operational benefits to Air France — and far lower noise and emissions, which will benefit our customers, communities and planet," said Angus Clarke, Air France Chief Commercial Officer, responsible for Fleet Strategy. "We look forward to working alongside Pratt & Whitney to serve our customers."
"We're honored by the confidence that Air France has placed in our GTF engines and services, and we're excited to welcome Air France back as a customer," said Rick Deurloo, chief commercial officer at Pratt & Whitney. "We look forward to supporting them with their A220 fleet for years to come."
The A220, powered exclusively by GTF engines, offers significantly lower operating costs compared to previous generation aircraft. The engines deliver double-digit improvements in fuel and carbon emissions. They also provide a significant reduction in noise footprint and produce NOx emissions 50% below the International Civil Aviation Organization (ICAO) CAEP/6 regulation.