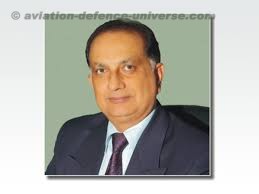 "The Indian Navy has an ambitious modernisation programme and Naval Group would like to support that vision by helping build modern platforms. Apart from offering HWT Torpedo F-21 and future advanced submarines, Naval Group is interested in supporting the Indigenous Aircraft Carrier (IAC) 2, which is at the design stage with Indian Navy, and other future naval platforms with high end military requirements and performances," said Rear Admiral RK Shrawat, Chairman & MD, Naval Group in India, in an exclusive interview to Aviation & Defence Universe (ADU), to commemorate the Indian Navy Day 2018. 
ADU. Has the change of name from DCNS to Naval Group affected the company's popularity?
NG. In a world of profound changes, with the acceleration of innovation cycles and a growing competitive landscape in the global military market, it is necessary for our group to assert its identity through the creation of a powerful brand.
This was the right time, after the success achieved in 2016 with our selection by Australia as its preferred international partner for the design and build of 12 future submarines.
It only seemed natural to take advantage of the unprecedented level of visibility we achieved as a result of this to further enhance company's profile.
Today the new name is well acknowledged internationally and successfully exporting its know-how to support the sovereign interests of its international partners at sea".
ADU. Under the new Strategic Partnership policy has Naval Group decided on a company it can partner with? Apart from DPSUs?
NG. We understand the future submarines are to be procured as per SP guidelines and the submarines are to be built by a shipyard that will be chosen by Indian Government as strategic partner. In this process, our first action has been to answer to requests from Indian Navy to Naval Group as OEM and then we look forward to follow the guidelines of the SP model to answer to any shipyard, who Indian Navy would like us to get associated with as per the process.
Naval Group is in position to offer a submarine fully in line with Indian Navy's expectation for enhanced capabilities.
ADU. What is the stage of the P28 Corvette being made at GRSE with a major contribution by Naval Group?
NG. GRSE has made fantastic progress in building and delivering of P28 ASW corvettes. The last of the series is under construction and will be delivered to IN soon. For this project, Naval Group has delivered Raft Mounted Gear box with high stealth features. Three out of total four sets of such gearbox were built in India with our industrial partner. It is a major achievement especially in the Float category of indigenous content expected by Indian Navy.
ADU. In the overall context of recent pronouncements on 'Make in India' and Skill India where do you see yourself?
NG. Naval Group celebrated its 10th year of robust and constructive business in India on 18 September this year. Starting with humble 10 professionals – we are proud to have a committed team of more than 50 at this moment in India.
The main purpose of Naval Group to be in India has been to support the Indian Navy for the 'Make in India' activities of indigenization for Scorpene® submarine equipment, to develop the Indian defence eco-system, as well as to develop design services in India with talented Indian engineers.
Naval Group in India has displayed continuous efforts of participating in various defence and renewable energy endeavours for the Indian Navy by empowering Indian industrial partners to cater to the requirements of the Indian shipyards and the Navy. Self-reliance, empowerment and innovation are the driving force for Naval Group in India to better serve the rich Indian coastline.
The endeavour of Naval Group in India is to be a visionary and to further its involvement in empowering more and more industries by creating a robust eco-system that can cater to the varied defence needs of the country.
ADU. Have you got Indian MSMEs in the ecosystem for your ship building and do you find them capable of such high technology production?
NG. As part of the P75 programme, MDL is in cooperation with Naval Group to build six P75 submarines through transfers of technology. Naval Group India is working with a range of MSMEs under this program. The TOT has been for transferring manufacturing capabilities and expertise in quality control for several tasks including the safety dive, resulting in training and qualifying skilled man power.
It was quite an ordeal that Naval Group, under patronage of MDL and Indian Navy started in 2009 by identifying more than 500 companies, visited and flash audited more than 100 of them. Based on such dedicated efforts, only 22 were contracted under Indigenisation program. Beyond these 22, there are 21 more companies who are also considered fully qualified for further indigenous manufacturing and services. So easily we can boast of a strong sound industrial ecosystem of 43 Indian companies, which is still growing keeping in mind future projects (not limited to submarines).
Naval Group is so satisfied with the quality standard adhered to, that they have taken a step further and outsourced procurement of certain equipment for the French Navy's latest submarines (under construction) to these Indian MSMEs.
ADU. What is the status of construction of the submarines at MDL?
NG. Following up on the prestigious commissioning of INS Kalvari by PM Shri Narendra Modi on 14 December 2017, launch of Karanj on 31 January 2018 was a historic event, as MDL achieved another significant milestone in submarine building program. For India, this was the first time a third submarine of a series was entirely constructed in India.
The second submarine is undergoing sea trials and getting ready for commissioning soon. Karanj will also enter the stage of sea trials soon. Remaining three submarines are also in advanced stages of building at MDL and will be delivered to navy as per ensuing time.
ADU. How near are you to getting the Air Independent Propulsion (AIP) technology for submarines to India?
NG. AIP is an urgent requirement of the Indian Navy. Its development in India is in line with Naval Group's objective to continuously increase the indigenous content of the P75 submarines. Naval Group has always been supportive of the indigenous AIP being developed at NMRL / DRDO.
We are indeed keen to have the DRDO AIP integrated in the P75 submarines sooner or later. Naval Group is advising NMRL on the safety requirement so that they can adapt their design technology accordingly. Also, as the designer of the Scorpene submarine, we have been requested by the DRDO to study the functional and physical integration of DRDO AIP into the Scorpene submarine. Integrating DRDO AIP technology will require increasing the hull by several meters.
The decision of fitting the AIP in one or all of the Kalvari class submarines will be decided by the Indian Navy and we are available to support the integration as and when it is implemented.
ADU. What are your plans for Naval Group apart from P75 program in India?
NG. Taking into account Indian Navy's experience and existing infrastructure at its naval bases, Naval Group is proposing to assist Indian Navy to support the P75 submarines through an onsite team comprising of Indian and French engineers to ensure optimized operability and sea time of Indian Navy's P75 submarines.We are also training our local teams under supervision of experts from maintenance domain to perform critical tasks on-board the submarines.
We have partnered with Indian companies to propose propulsion system for future warships of IN. Also, for developing simulators for future projects we have partnered with GSL. The Group is committed to the Indian Navy and Indian Government for 'Make in India' approach of doing business – hence we see a lot of opportunities in the future.