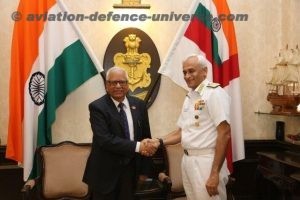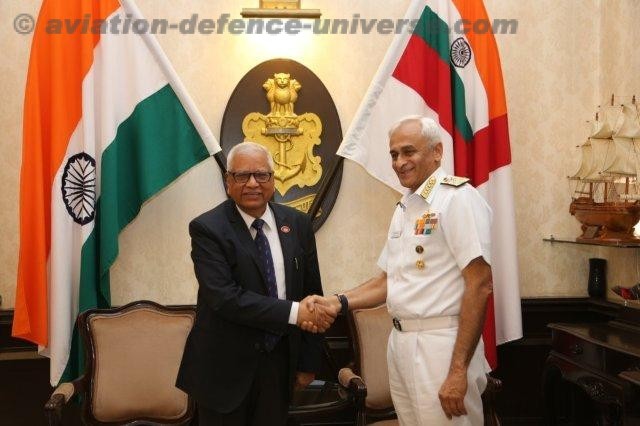 New Delhi. 03 December 2018. Chief Of The Naval Staff, Admiral Sunil Lanba, PVSM, AVSM, ADC spoke to ADU on Indian Navy's maritime interests IOR, South China Sea and Western Pacific Ocean.
ADU. Is Chinese investment in Pakistan and Sri Lanka ports thereby maintaining its presence in India's vicinity a challenge for the Navy? Also Maldives' recent behaviour with India make Indian Ocean vulnerable to adverse forces. Will Indian Ocean and South China Sea become Navy's main beat areas?
CNS. Indian Navy's areas of maritime interest encompass the entire Indian Ocean Region (IOR) as well as the Western Pacific Ocean. In recent years, China has established a significant strategic footprint in the IOR through financial investment, large-scale infrastructure projects and military sales. At the same time there has been a gradual increase in China's military presence in the IOR, particularly the PLA(N). The Indian Navy is seized of the security implications of these trends and also maintains a constant and close watch on all extra-regional naval deployments in the region.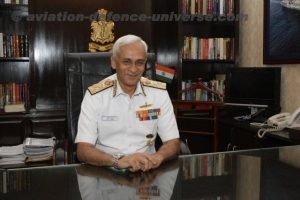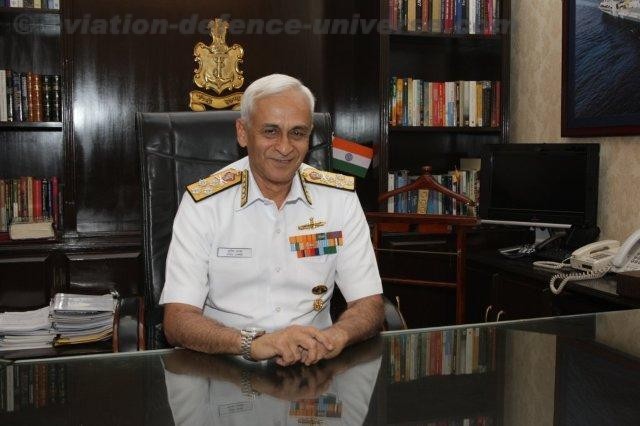 Development of infrastructure projects by China in Sri Lanka and Pakistan have been in accordance with their respective economic goals and policies and as per their strategic requirements. Economic development in the neighbourhood, which may be catalyzed by some of these projects would be very welcome to India. However, we are cognizant that use of these ports for strategic advancement, is a possibility in future, and our plans do cater for such an eventuality. In Sri Lanka however, due to our deep traditional friendship and mutual understanding, we are hopeful that such developments are very unlikely.
A significant component of India's maritime interests also lie in waters beyond the Indian Ocean, particularly the Western Pacific and the South China Sea.  The security of our interests in these regions are largely addressed through our close relations with members of ASEAN and East Asian countries, which have been grown stronger under the 'Act East' policy. Notwithstanding these considerations, the Indian Navy will maintain adequate presence to secure our maritime trade and Sea Lanes of Communication wherever such need exists. The Indian Navy's inherent reach, sustainability and flexibility provide it with the capability to deploy wherever our national interests would need to be secured.
ADU. Navy's indigenisation plan has definitely made it the trailblazer in the forces. But the fight component is very heavily dependent on imports. How do you plan to change that? And along with this how do you plan less dependency on PSUs and involve the private sector more?
CNS. Weapons and weapon systems require large investments for procurement, production as well as maintenance. These high cost equipment also tend to have limited life with continuous technological advancements required to keep them 'competitive'. Consequently, unless the technology is niche and proprietary, or adequate export orders can be secured, financial viability remains uncertain. Consequently, Private Sector involvement in the 'fight' category has been limited in the past.
While it is true that the indigenous content in the fight component is comparatively low at 30-40%, efforts are in hand to increase this figure. A three pronged approach is being followed for the development viz. through DRDO, through manufacture under ToT by Public Sector Undertakings (PSUs)/ Defence Public Sector Undertakings (DPSUs), or through licenced production. PSUs like BEL have created a great ecosystem for ancillary industries to participate in indigenous development of electronic components for sensor and communication systems. The ecosystem should enable co-existence of both private and public sector and that has been the focus of the Government and the Indian Navy. 
In recent times, the Private Sector has started showing interest in this field, and progress has been made in some areas. DRDO has been proactive and has taken up some projects requiring heavy investment. There is a need to restructure our processes as well as trials procedures so as to minimise time for technology induction, to ensure that economic viability is preserved and the equipment is made available in the field before its technology becomes out dated.
Several other policy reforms such as the introduction of 'Indigenously Design Developed and Manufactured (IDDM)' category under the Buy Indian Category of Defence Procurement Procedure 2016, Strategic Partnership model, etc are complementary to the 'Make in India' vision. The Navy has been constantly interacting with the DRDO, PSUs and private industry to align the developmental work with the Navy's priorities. We are confident that our scientists and industry together, will be able to overcome technological challenges in modern systems and make the Indian Armed forces free of import dependency in the days ahead.
ADU. Diminishing submarine strength has dogged the Navy for some time but Arihant and Scorpene both seem a step too far. When and how can we have an underwater force to reckon with?
CNS. Our existing underwater warfare capability is quite potent. The indigenously built nuclear powered ballistic missile submarine (SSBN) Arihant has put India in a select league of nations capable of operating SSBNs.
The Indian Navy has a strength of 15 submarines, which includes the nuclear-powered submarine Chakra (SSN), the 1st Kalvari class Scorpene submarine, 9 Sindhughosh class submarines and 4 Shishumar class submarines. The 2nd and 3rd Kalvari class submarine are undergoing sea trials at present and are likely to be commissioned by end 2019. While there have been delays in procurement of new generation P 75(I) submarines, the submarine force levels have been maintained through life extension of in-service platforms. Our current submarine strength provides the Indian Navy with formidable combat potential.
ADU. What is the status of IAC I under production?
CNS. Significant progress in construction of IAC-1 has been made in recent months. The construction and outfitting activities are at an advanced stage and ship construction has entered into the trial phase with commencement of trials and testing of various equipment and machinery. We must appreciate that this is the largest indigenously designed warship and also the first ever aircraft carrier that is being built in the country. Therefore, the trials will be extensive and would take time. We expect IAC-1 to join the Navy as a fully combat worthy platform in 2021.
ADU. What is the strategy you have for information exchange with the littoral states?
CNS. Maritime Domain Awareness (MDA) is a primary enabler for ensuring maritime security. The Indian Navy, therefore, makes every endeavour to maintain continuous and seamless surveillance cover across the maritime region of the IOR through various means. We have reworked our deployment philosophy to maintain presence of our ships and aircraft over the vast expanse of our areas of maritime interest. We have also set up a chain of coastal radars and Automatic Identification System (AIS) stations all along our coast to achieve better coastal MDA. All these stations are integrated through the National Command Control Communication and Intelligence (NC3I) network.
We have also provided assistance to several Island and coastal nations in the IOR to set up a similar coastal surveillance network. In addition, several international cooperative measures such as the White Shipping Information Exchange arrangements with friendly countries have resulted in qualitative improvements in MDA build up. Though the density of traffic in the IOR, through which some of the busiest shipping lanes pass, does pose a challenge, we are actively working towards operationalisation of information exchange of White Shipping Information with various littoral states, while also offering state-of-the-art technological solutions to them, which will help mitigate the challenges and enhance our collective MDA.
ADU. Naval Aviation needs to be very much looked into with Sea Kings upgrades pending, MRH helicopters still needed in good strength, MiG 29Ks on INS Vikramaditya needing tropicalisation, need to have at least two more squadrons of UAVs and LCA Navy still awaited. How do you plan to solve all these problems and by when so that the arm gets strengthened?
CNS. Induction of aircraft, both rotary as well as fixed wing, is very high on our capability building and force modernisation agenda. The planned procurement of 24 MRH, additional KM 31 and ALH as well as 111 NUH & 123 NMRH under Strategic Partnership model would cater to the requirements of operations of various types of helicopters, with most of these operating from ships. The Indian Navy is also planning to procure High Altitude Long Endurance (HALE)Remotely Piloted Aircraft (RPAs) and Medium Altitude Long Endurance (MALE) RPAs to augment the RPA fleet.
MiG 29Ks have been in operation with Vikramaditya since 2013 and have achieved operational status by day as well as by night in their intended roles. Additionally, Multi Role Carrier Borne Fighter are planned to be inducted to meet the requirements of IAC-1 and the follow-on
IAC-2.
As these programmes fructify, Naval Aviation would gain optimal capability to meet assigned operational roles and tasks and would add to the combat power of the Indian Navy.