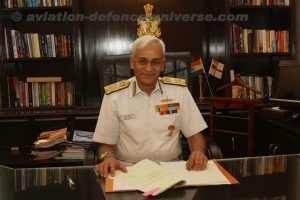 ADU.  There has been a satisfying realisation of our Navy having grown to be an effective force, which can ensure security of our maritime borders. Could you elaborate on this steady though silent growth of our Navy's strengths and effectiveness to meet national security requirements?
CNS. Yes, the Indian Navy has, indeed, come a long way since its inception. We were a small force of a little over 30 vessels at independence. Today, the size of our Navy has grown to 139 ships and submarines and 224 aircraft. But it is not just the numbers that count. Our worthy predecessors kept their focus on developing capabilities required for modern naval warfare. We owe it to their vision that today the Indian Navy is a multi-dimensional force capable of operating across the full spectrum of naval warfare – not just surface, sub-surface and air, but also cyber and Space. Through this journey over the last 70 years, self-reliance has been the foremost guiding principle of the Indian Navy. It is a matter of significant achievement that our focus on indigenous warship design and construction has transformed the Indian Navy from being a 'Buyer's Navy' to a 'Builder's Navy'. All 34 ongoing construction projects for naval platforms are being progressed in Indian shipyards. Let us also appreciate that the Navy is not known only by the platforms it has in its inventory. Equally important are the men and women behind these formidable machines and the whole ecosystem of training, maintenance and logistics support. The Indian Navy has taken conscious steps to ensure the highest standards in all these aspects in order to maintain a highly combat worthy force.  We remain conscious of the expectations of the nation from its maritime military force and would continue to strive for excellence to play our role effectively in the overall national security construct. 
ADU.   It has been a year and half since you came to head the Indian Navy. When you look back what do you think have been your major achievements?
CNS.   The Navy itself is very much like a ship whose performance is entirely dependent on team work. It would, therefore, be inappropriate to attribute the progress made till date to one individual, irrespective of rank and position. As a proud member of this fine team, I am certainly satisfied with where we stand today; but I am also cognisant of the fact that there's much more which can be done. The achievements of the Indian Navy over the last year and a half, on the operational front as well as in the field of capability accretion are indeed credible. There has been a steady improvement in our maintenance standards as also human resource management practices. An ocean free of maritime threats, secure coastline, unimpeded movement of vessels through piracy prone areas and our outreach to provide humanitarian relief far from our shores have been demonstrative of our capabilities and resolve. The Indian Navy is increasingly being recognised as a predominant maritime force in the Indian Ocean and beyond. Our outreach to the Indian Ocean littorals for capacity building and capability enhancement, joint patrols and operational deployments for enhancing maritime security and facilitating constructive dialogue through the IONS forum have all been well received. It is particularly significant that India's endeavours in the Indian Ocean have earned much appreciation for their genuine spirit of equality, transparency as well as respect for sovereignty and international laws. This, I believe, is the most important achievement; an outcome of several years of efforts and genuine commitment to regional security and well-being.
ADU.   What is your message to the all-women Indian Naval Crew who is out to circumnavigate the world?
CNS.   Our best wishes are with the brave young women who have embarked on the challenging feat of circumnavigating the globe. The women onboard Tarini represent not just the Indian Navy, but the entire country. Their mission would be a testimony to the strength and courage of Indian women. In the past few years, these officers have undergone rigorous training and taken part in many sailing missions, within and outside the country, which have helped them to emerge as skilled seafarers who can take on any challenge associated with ocean sailing. With thorough dedication, professionalism and hard work, they have taken up a challenge of achieving a historical and unparalleled milestone. I am confident that they will not only do the Navy and the country proud but will also be a source of inspiration to our future generations. 
ADU. How do you prepare personnel for other career options post retirement? 
CNS.  The period of engagement of Short Service Commissioned (SSC) officers and most of the sailors is limited. It is, therefore, our responsibility that their post retirement prospects are well looked after. You must be aware of the three agencies that facilitate various professional courses for retiring personnel to ensure a smooth transition to civil life port retirement – the Directorate General of Resettlement (DGR), the Directorate of Ex-Servicemen Affairs (DESA) at the Naval Headquarters and the Bureau of Sailors at Mumbai. This year alone, 118 officers and 161 sailors have availed resettlement courses in various premier institutes. We also interact regularly with DG Shipping and several other stake holders in the shipping industry to resolve issues such as certifications required for employment in the Merchant Navy. As part of the 'Skill India' mission, the Navy has taken many initiatives to facilitate skill development of retiring personnel. One such initiative aims to facilitate certification of skills acquired by naval personnel during their naval service under the concept of 'Recognition of Prior Learning' (RPL). This is being undertaken in coordination with the Ministry of Skill Development and Entrepreneurship (MSDE) and National Skill Development Corporation (NSDC). We are also following up with the National Institute of Entrepreneurship and Small Business Development (NIESBUD), NOIDA for facilitating entrepreneurship training. The Navy itself operates the Indian Naval Placement Agency (INPA) to assist retiring/ retired naval personnel, Veer Naris and their dependents in finding suitable placement. INPA is also using various social media platforms to reach out to more employers. You will appreciate that a naval professional accumulates a lot of experience and qualifications by the time he or she retires. Our intention is to do our best to help him or her settle in the new career as early as possible after retirement.
ADU.   What is the present status of in-service experience and training imparted to sailors being duly recognised with appropriate certification, which would enable them to match and meet employability stipulations for re-employment? What other initiatives and measures is the Navy taking to enhance re-employment prospects for its retiring sailors?
CNS.  Like I mentioned earlier, the Navy is facilitating skill certification courses for retiring naval sailors in collaboration with National Skill Development Corporation (NSDC). This process amply complements the 'Skill India' initiative of the Government, wherein the skills acquired by naval personnel through their in-service courses and career are certified by various Section Skill Councils of NSDC, under the concept of 'Recognition of Prior Learning' (RPL). Towards this, retiring sailors undergo a short training capsule, which aligns the existing skills towards the needs of commercial employment. As on date, over 2,000 sailors have been certified, and it is planned to certify approximately 2,900 sailors by early next year. This would account for 70% of retiring naval sailors during the current year. Further, a MoU has been signed between the Indian Navy and Jamia Millia Islamia (JMI) University for recognition of in-service training of sailors for award of graduation degrees. We will keep building upon these initiatives to make the retiring person feel confident and capable of being gainfully employed post retirement. 
ADU. What mechanism does the IN have to interact with their retired community?
CNS.  Of the three agencies that I mentioned earlier, the Directorate of Ex-Servicemen Affairs (DESA) at Delhi provides a single window interface for retired personnel to maintain two-way communication with the Navy on all his concerns including professional and welfare issues. In addition to standard email and toll free helpline service, communication with our esteemed veterans is facilitated through various channels including its own website which hosts a repository of important documents, a veterans' grievance portal, discussion forum, etc. Information pertaining to various welfare activities coordinated by the Directorate such as Naval Regimental System, Navy Foundation, Veteran Sailors' Forum, Pre-Release Courses, Indian Naval Placement Agency, etc, are also hosted on this website. DESA also operates a blog which keeps the veterans updated regularly with latest information. DESA publishes an e-newsletter on a quarterly basis, which contains consolidated information on matters of relevance to the veterans and widows. In addition to all these electronic forms of communication, the Directorate organises meetings of veterans and Veer Naris through Navy Foundation, Veteran Sailors' Forum and Naval Regimental System. In addition, the Directorate also takes part in the ESM Melas organised by other Services. I myself try to make use of every opportunity to interact with the veterans to gain first hand inputs. As a Service, we deeply value our association with the veterans and remain committed to addressing every concern that any of them may have. 
ADU.  What measures are being taken to resolve difficulties being experienced by retired personnel in their pension related issues?
CNS.  I appreciate that timely commencement and hassle free receipt of pension forms is one of the most important factors which contribute to the sense of security of a retired person. To make this possible, the Navy has set up a Naval Pension Office (NAVPEN) at Mankhurd, Mumbai which handles all pension related issues of officers and sailors. There have also been several e-Governance initiatives which we are making good use of. Case in point is the Pro-Active Governance and Timely Implementation (PRAGATI) initiative. Under this initiative, we have already commenced generation of e-PPOs and seeding of Aadhaar data in the records of retired personnel on the Jeevan Pramaan portal. This will obviate the need for physical presence of pensioners for rendering of annual life certificate. Digitisation of data has already been completed for about 95 % of retired officers and about 67 % of retired sailors / family pensioners. We are trying to reach out to our retired community to complete this process at the earliest and we are hopeful that correct and timely disbursal of pension would cease to be an issue of concern hereafter. 
ADU.   In the event of death of Naval personnel how does Navy look after the interests of the NoK?
CNS.   Death of a family member while in Service is certainly an irrevocable and inconsolable loss for the entire family. What the Navy can do is to look after the survivors as best as we can. To this end, a Naval Regimental System (NRS) was established in Jan 2011 to institutionalise the support system and provide proactive and extended support to Widows or the nominated Next of Kin. Under this system, seven Command Regimental System Officers (CRSOs) and their teams reach out to every family after the demise of a naval colleague, immaterial of whether the individual was in Service or retired. These teams ensure their welfare and disbursal of all entitled dues in time. Regimental State Units (RSU), which have their footprint on ground, reach out to the widows and educate them on related welfare issues like family pension, identity card, canteen card, ECHS membership etc. When the person is in uniform, he is part of a larger naval family. Our efforts are directed to ensure that his death does not change this relationship. His family will continue to remain very much a part of the larger naval family and we would continue to look after even the smallest of their requirements throughout.
ADU.   What is your message as the Navy Chief and Chairman Chiefs of Staff Committee (COSC) for the Indian Armed Forces and countrymen on the occasion of the Navy Day?
CNS. As the Nation moves steadfastly on the charted course for fulfilling its rightful aspirations of all-round development, the Armed Forces have a major role in ensuring that a stable and secure environment, conducive for sustained economic growth prevails. Given the evolving security situation in our neighbourhood and around the world, this is no easy task by any means. We have recently witnessed intense activities on the land borders and the need to maintain a relentless vigil cannot be over emphasised. The maritime medium is also coming under increasing focus not only with regard to its immense potential for resources, trade and connectivity, but also due to our vulnerability to the conventional and sub-conventional threats originating from the seas. The Armed Forces, therefore, need to remain prepared at all times and continuously assess the situation so as to remain ahead of our potential adversaries. Every man and woman in uniform is not only aware of his or her role towards nation building but is also extremely proud of it as reflected in this year's theme of Navy Week – 'A Combat Ready Force for National Security'. With that confidence, I would like to re-assure my countrymen that our Army, Navy and the Air Force are fully prepared to deal with any threat, anywhere and anytime.