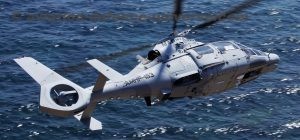 By Sangeeta Saxena
New Delhi. 03 December 2017. Airbus Helicopters has awarded a contract to Mahindra Aerostructures to make airframe parts for the AS565 MBe Panther. These parts will be produced at the Mahindra facility in Bengaluru. They will be shipped directly to the Airbus Helicopter production line in Marignane, France where they will be integrated with the rest of the airframe assembly and will form a critical part of the Panthers sold worldwide. The AS565 Panther has participated in tender for 100 naval utility helicopters for the Indian Navy and the French major is waiting for the decision with fingers crossed.
Xavier Hay, president of Airbus Helicopters in India told ADU on the sideline of the recently concluded Aero Expo in New Delhi that , "The Indian Navy requires 110 units of twin-engine medium-sized utility helicopters to serve the Indian waters, for which Airbus is pitching the Panther military chopper. This will be under the Make in India and  the global hub for 'Panther' manufacturing –producing Panthers in India, for the domestic market as well as for exports. We are waiting for the MOD to take a decision on the Naval Utility Helicopter programme."
Airbus is  currently collaborating with Gujrat government  to develop an aerospace ecosystem at Dholera about 150 kilometres from Ahmedabad city  which is being developed as a Special Investment Region (SIR). This should have the manufacturing line for Panther. But Xavier did not confirm it.
AS565 Panther is the military version of the Eurocopter AS365 Dauphin medium-weight multi-purpose twin-engine helicopter. The Panther is used for a wide range of military roles, including combat assault, fire support, anti-submarine warfare, anti-surface warfare, search and rescue, and medical evacuation (MEDEVAC).
Recognised as one of the world's most capable light/medium anti-submarine warfare platforms, the AS565 MBe is equipped with two Safran Arriel 2N engines, which enhance the helicopter's performance in high and hot conditions, while enabling it to achieve a top speed of 165 kt and a range of 780 kilometres. It also boasts a new main gearbox, the latest-generation tail rotor and a 4-axis autopilot that reduces crew workload and makes the most demanding missions easier to perform.
He reiterated that India's requirements for National Utility Helicopters (NUH) and Reconnaissance and Surveillance Helicopters (RSH) will be a great opportunity to generate sufficient critical mass to enable its long-term sustainability.
Airbus Helicopters has been selected as preferred bidder by ICG with the H225M. The EC725, now marketed globally as the H225M has  as part of the offer, a MRO facility to structure the Performance Based Logistics support package for these helicopters which is proposed in Goa. All 14 EC725 will be re-assembled and flight-tested there. It is going to be a green-field project. The facility will include intermediate and depot level maintenance.