Contract to cover a fleet of three H125 helicopters for five years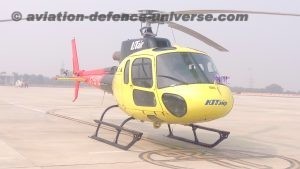 New Delhi.06 November, 2017. Airbus Helicopters has signed an HCare Smart contract with UTair India Private Limited. Under the contract, three H125 helicopters operated by UTair will be covered by Airbus' HCare Smart program for a period of five years. The contract covers both scheduled and un-scheduled events providing all necessary support to the operator to carry out its operations safely, efficiently and cost-effectively.
Airbus Helicopters enhances its commitment towards Indian customers through its HCare program. More and more Indian customers are now subscribing to this material support program that reduces the operating cost and improves the availability of the helicopter.
Anshul Bhatt, CEO UTair said, "Airbus has been our enduring partner in India and we are proud to take this relationship forward with the signing of the HCare Smart contract. With an aim to improve the customer experience and meet the growing demand for helicopter services in India, we chose this program that provides an unparalleled servicing experience. Through this collaboration with Airbus, we hope to set a new benchmark in terms of safety, customer satisfaction and operational availability."
"Airbus Helicopters is proud of its long-standing collaboration with UTair," said Xavier Hay, President, Helicopters, Airbus in India. "We now have one-third of the single engine fleet in India covered under this program. Our aim in the medium term is to have most of the Indian fleet covered by the HCare Smart program. It's a win-win situation. The program offers comprehensive services that provides maximum helicopter availability and also ensures safety and reliability," he added.