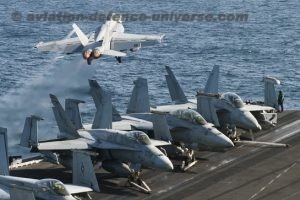 New Delhi. 04 December 2017. "When I think about next generation carrier aircraft that operate off US or Indian Navy carriers, I think about two key attributes – networked and survivable.The future carrier air wing will need to do it all… find – target – track – engage – and assess  in a kinetic and non-kinetic manner," said Pratyush Kumar, President, Boeing India, in an exclusive interview to Aviation &Defence Universe(ADU).
ADU.What has the Indian Navy's feedback been on the performance of the P-8I? We understand that they have ordered an additional four aircraft. When do deliveries for the additional P-8I's begin?
PK.The Indian Navy's order for the four additional P-8I aircraft are a testament to the success of the platform in service. The Navy has been very pleased with the operational capability and the mission readiness exhibited by the P-8I. The Indian Naval Air Squadron 312A, which operates the P-8I has completed 10,000 flight hours since induction in 2015 and was recently awarded a Chief of Naval Staff Unit Citation.For delivery schedules, please check with the Indian Navy.
ADU. How will Boeing continue to support the high mission readiness rates of the P-8I fleet?
PK.In June this year, Boeing received a three-year contract for continued support to the Indian Navy's P-8I fleet.
In addition to field and logistics service representatives, the contract includes engineering, support and planning.
The scope will also include robust material support, including a 737-based component services program, which will be executed in conjunction with Boeing Commercial Aviation Services' Fleet Services division.The contract continues the service Boeing provides under the program's current initial production contract, scheduled to expire in October.
ADU. The Indian Navy's RFI for carrier borne fighters was recently issued. As the Indian Navy looks to modernize its carrier wing, what do you feel are the key attributes of the future carrier air wing?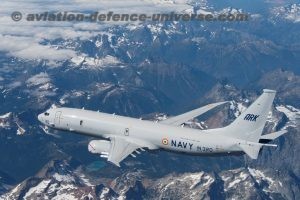 PK.India is looking to protect its 7,000-km coastlineand island territories and vast area of interest in the Indian Ocean region. For this it will need a carrier borne fighter fleet that is not only mobile but easy to maintain with low operational costs. The future naval carrier borne fighter will also need to be compatible with current and upcoming aircraft carriers of the Indian Navy.
The importance of carrier aviation cannot be understated – in particular to a country like India with a large coastline covering more than half its borders. The Indian Air Force is focused on protecting the north, but with coastlines covering much of India's east – south – and west, the need for a strong carrier air wing is clear.
Mobility is key for both the current and future fight. No one needs to tell this audience how important this is in this region, which is likely to grow only more complex.
The carrier air wing of today and tomorrow has become a mobile network that houses aircraft that can serve as extended nodes on an integrated network. The future fight is about who is best networked to gather and share the intelligence to carry out the most effective mission quickly – efficiently – and effectively.
ADU. So according to you, what should the governing factors be for any next-gen carrier aircraft?
PK.The next generation of aircraft, will need to connect into a network, plugging into an information stream shared across its fleet. This means integrated and varied sensors, large computers, big data networks, and advanced displays to help aircrew manage all of the available Information.
Survivability is often confused with stealth, but stealth is just one element. Next generation aircraft will need to balance stealth with lethality – rails at range.  Future fights will require increased magazine depth and sophisticated air to air sensors to deal with advanced threats.  Survivability means that future fighters need to have increased range to push the threat further away.
Another aspect of survivability is be reliability, especially in a ship board environment. Carrier aircraft need to be tough, easy to launch, easy to land, and easy to maintain. This is increasingly important in a time when deployments are longer and farther away than ever before.  Ease of maintenance will only become more important as sensors and systems continue to grow in sophistication and complexity.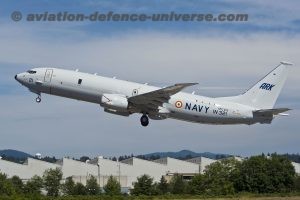 ADU. Keeping these attributes in mind, how does the F/A-18 Super Hornet answer the Indian Navy's requirement for 57 carrier borne fighter aircraft?
PK. With multi-role capabilities, advanced technologies with room to grow and low acquisition and sustainment costs, the F/A-18 Super Hornet should be able to meet and exceed all of Indian Navy's requirements. With designed-in stealth, an AESA radar and many other advanced technologies that are ideal for mission requirements of the naval aviator, the F/A-18 Super Hornet is the most advanced aircraft of its kind in operation today and will provide operational benefits to the existing and future force structure of the Indian armed forces.
ADU. The Super Hornet is already the main carrier borne fighter for the U.S. Navy. How far into the future do you see the Super Hornet operating off U.S. Navy carrier decks?
PK.Boeing's Super Hornet is combat proven and defined to meet the U.S. Navy's flight plan so that it continues to evolve to outpace future threats. The Super Hornet will be on the Navy's carrier decks for decades to come.
On May 23rd, the President of the United States sent his 2018 fiscal year budget to Congress, and included in that budget was a requirement for 80 Super Hornets over the next 5 years to address its strike fighter shortfall. Also in that budget request was funding for Block 3 capabilities to ensure the air wing has the capabilities needed to win in the 2020s and beyond.
The next generation of Super Hornet aircraft comes into the U.S. Navy and potentially international customers to fulfill its role as the next-gen airplane in a complementary way with the F-35. Those two airplanes are going to work together on the carrier decks for the U.S. Navy for decades to come.
ADU. How will the Super Hornet prove to be a force-multiplying asset to the Indian Navy, if inducted?
PK.The F/A-18 Super Hornet Block II is the world's preeminent carrier capable aircraft and best suited for India's naval fighter requirements.  The F/A-18 Super Hornet was designed from day one for carrier operations and is the world's preeminent carrier capable aircraft.  It is a combat proven, supersonic, all weather multirole fighter jet with a defined U.S. Navy flight plan to outpace threats for decades to come. Every Super Hornet to the U.S. Navy has been delivered on cost and on schedule
Every Super Hornet has a buddy refueling capability that can extend time on station, range, and endurance. Additionally, the Super Hornet can provide close and deep air support through the Active Electronically Scanned Array (AESA) radar targeting data and reliable data links.
Additionally, the Super Hornets are fully compatible with the Indian Navy's aircraft carriers. Extensive simulation has shown that the Super Hornet is capable of conducting STOBAR operations with a meaningful weapons and fuel load.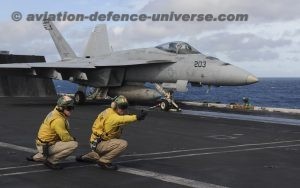 ADU. You mentioned ease of maintenance and operations as being a key attribute for carrier borne fighters. How does the Super Hornet answer to these attributes?
PK.TheSuper Hornet costs less per flight hour to operate than any other tactical aircraft in U.S. forces inventory. Part of its affordability is because the Super Hornet is designed to need far less maintenance; this translates into high mission availability. Ease of maintenance (supportability) results in lower maintenance man-hours per flight hour.
Plus, the Super Hornet does not require any scheduled depot-level maintenance and the engine does not require any scheduled maintenance between overhauls.
This low cost of operation, low maintenance requirements and twin-engine based survivability allow the Super Hornet to fly to and back from harsh environments.
ADU.Is there a sustained upgrade plan in place to enable the Super Hornet to face future threats in the battlefield?
PK.The Super Hornet is a platform that is continuously evolving to outpace future threats. Every two years Boeing and its industry partners along with the U.S. Navy work on delivering new capabilities to the fighter. Critical mission systems such as the radar, mission computers and sensors continue to evolve to match up to the mission profiles of the future.
To address the capabilities needed in the air wing as early as the 2020s, Boeing has also developed the Block III Super Hornet to complement existing and future air wing capabilities.  Block III is the same aircraft as Advanced Super Hornet.  The Advanced F/A-18E/F Super Hornet's multi-mission capabilities include battle-space situational awareness, counter stealth targeting, greater range and increased acceleration, improved survivability and reduced signature and room for growth.
ADU. What is planned time-frame for the Block III Super Hornet to enter service? How will it fit into the U.S. Navy's order of battle along with future fighters?
PK.The Block III Super Hornet will come online at the same time as the F-35. In the 2020s, three Super Hornet squadrons and one F-35 squadron may form the airwing of carrier fleets. Currently, in the U.S. Navy three out of four, and in most cases all four squadrons based off aircraft carriers, are Super Hornet squadrons.
These advanced capabilities can be both built into new aircraft and incorporated into existing aircraft, allowing maximum ability to field these capabilities quickly and affordably.  Block III Super Hornet is built from the same airframe as Block II, providing low risk development and maintaining the lowest operating costs of any U.S. tactical fighter.  While Boeing demonstrated advanced Super Hornet capabilities in flight in 2013, the package of upgrades has evolved to best complement F-35, EA-18G and E-2D as they will be operating together in the air wing well into the 2040s.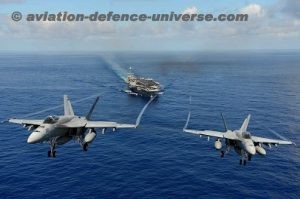 ADU. What are the improvements that the Block III bring over the Block II in terms of systems, avionics and design?
PK. The key improvements brought to the Super Hornet by Block III include enhanced network capability, longer range with low-drag, stealthy conformal fuel tanks, long-range detection with Infrared Search & Track, enhanced situational awareness with a new Advanced Cockpit System, improved signature with low observable next generation radar cross section for increased survivability and 9,000+ hour life for reduced life cycle costs by incorporating design changes into production aircraft based on lessons learned from the Service Life Analysis Program.
A significant design evolution is the addition of Conformal Fuel Tanks. Mounted on the shoulder of the Block III, conformal fuel tanks extend the range of the Block III by 100 nautical miles which is significantly larger range when compared to the Block II. Conformal Fuel Tanks also free up the space occupied by a centerline drop-tank. This means that the Air Force and the Navy have an additional hard-point to carry more air-to-air or air-to-ground weapons.
Modern and next-generation aircraft have a large amount of data available through their sensors. The Super Hornet Block III comes equipped with Distributing Targeting Processor Network (DTP-N) and Tactical Targeting Network Technology (TTNT). These are basically a computer and a big data platform that work together to aid in even more efficient movement and management of data within assets.
The Advanced Cockpit System is a next-generation use interface, which simplifies the interpretation and projection of a large quantity of information for the aircrew – both in the front and rear cockpit – making it easy to interface and manage an information network.
The Block IIIs sensors along with the APG-79 AESA Radar coupled to DTP-N and TTNT systems plots information on the Advances Cockpit System making it easy for aircrews to view and manage information.
Even though the Super Hornet Block II is a stealth aircraft, Boeing has made a few signature improvements to reduce the Radar Cross Section (RCS) of the Block III to make it even stealthier.
ADU. What is Boeing's underlying premise for the Super Hornet 'Make in India' offer?
PK.Boeing's proposed 'Make in India' plans for the Super Hornet are not about moving a production line but rather building an entirely new and state-of-the-art production facility that can be utilized for other programs like India's Advanced Medium Combat Aircraft (AMCA) program.
Boeing is prepared to bring its global scale and supply chain, its best-in-industry precision manufacturing processes, as well as the company's unrivaled experience designing and optimizing aerospace production facilities to bear in both expanding India's aerospace ecosystem and helping realize the Make in India vision. The approach addresses the infrastructure, personnel training, and operational tools and techniques required to produce a next gen fighter aircraft right here in India.
Boeing will work closely with India industry to ensure they have the very latest technologies, applying lessons learned from the current Super Hornet production line. The program envisages transitioning airframe and subsystem manufacture to Indian industry in a deliberate way, representing extraordinary opportunity for technology insertion and growth within India's aerospace industry.