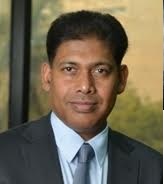 New Delhi, 25th April 2016: At the 24th Annual General Meeting of the American Chamber of Commerce in India (AmCham India) held in New Delhi on 22nd April 2016, Pratyush Kumar, President, Boeing India, was elected as the Chairman of AmCham India. United States Ambassador to India, Richard Verma, is the honorary President of the Chamber.  Richard Rekhy, Chief Executive Officer, KPMG in India and Gulshan Kumar Sachdev, Managing Director, Quaker Chemical India Limited, were elected as the Vice-Chairmen of the Chamber.
AmCham India will be celebrating Silver Jubilee year in 2017.  Over the past 24 years, it has been at the forefront of supporting growing trade between the United States and India which topped a record $108 billion during 2015.
Pratyush Kumar, also well known as Prat Kumar, said "My goal will be to steer the Chamber towards strengthening the U.S. industry engagement in focus areas of the Government of India such as manufacturing, digital connectivity, smart cities, infrastructure build, skill development, entrepreneurship, and innovation.  Given India's strong growth outlook and compelling demographics along with converging strategic interests with the United States, the Chamber is well positioned to partner with the Indian and the United States governments to help realize the full potential of Indo-US cooperation in the coming years."
Kumar has been a key contributing member of AmCham India for the past decade initially serving as the Chair of AmCham India's Infrastructure Committee and subsequently as member of its National Executive Board.  He brings two decades of business leadership experience to this role. He is Boeing's most senior in-country leader. Before joining Boeing in 2012, Kumar served in various leadership roles at General Electric (GE) for close to a decade in the United States (US) and in India.  He started his career as a consultant with McKinsey & Company in the U.S. In-between McKinsey and GE, Kumar was an entrepreneur founding a Boston-based biotech company. Kumar earned a bachelor's degree in mechanical engineering from the Indian Institute of Technology Delhi (IIT Delhi) and a doctorate in Materials Engineering from the Massachusetts Institute of Technology (MIT).