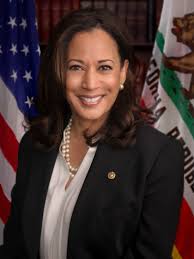 New Delhi. 08 November 2020. She will have many firsts to her credit. She will be the first Indian-American, the first African-American, the first female vice president in U.S. history, and thus, the highest-ranking female elected official in United States history.
Kamala Devi Harris  born on October 20, 1964, is an American politician and attorney who is the vice president-elect of the United States. A member of the Democratic Party, she is set to assume office on January 20, 2021, alongside president-elect Joe Biden, having defeated incumbent President Donald Trump and Vice President Mike Pence in the 2020 presidential election. Harris has served as the junior United States senator from California since 2017.
Her political journey started from here. After 24 years as California's junior senator, Senator Barbara Boxer (D-CA) announced her intention to retire from the United States Senate at the end of her term in 2016. Harris was the first candidate to declare her intention to run for Boxer's senate seat. Harris officially announced the launch of her campaign on January 13, 2015. Harris was a top contender from the beginning of her campaign: weeks after she announced her campaign, a survey by Public Policy Polling showed her leading in a hypothetical match-up against Los Angeles mayor Antonio Villaraigosa, 41 percent to 16 percent. Current and former statewide elected officials John Chiang, John Garamendi, Bill Lockyer, Gavin Newsom, and Alex Padilla declined to run.
In February 2016, the California Democratic Party voted at its convention to endorse Harris, who received nearly eighty percent of the vote. Three months later, Governor Jerry Brown endorsed her.
In the June 7 primary, Harris came in first with forty percent of the vote and won by pluralities in most counties. On July 19, President Barack Obama and Vice President Joe Biden endorsed Harris.
Harris faced congresswoman and fellow Democrat Loretta Sanchez in the general election. It was the first time a Republican did not appear in a general election for the Senate since California began directly electing senators in 1914. In the November 2016 election, Harris defeated Sanchez, capturing over sixty percent of the vote, carrying all but four counties. Following her victory, she promised to protect immigrants from the policies of President-elect Donald Trump and announced her intention to remain Attorney General through the end of 2016.
In May 2019, senior members of the Congressional Black Caucus endorsed the idea of a Biden–Harris ticket. In late February, Biden won a landslide victory in the 2020 South Carolina Democratic primary with the endorsement of House whip Jim Clyburn, with more victories on Super Tuesday. In early March, Clyburn suggested Biden choose a black woman as a running mate, commenting that "African American women needed to be rewarded for their loyalty." In March, Biden committed to choosing a woman for his running mate.
On April 17, 2020, Harris responded to media speculation and said she "would be honored" to be Biden's running mate. In late May, in relation to the death of George Floyd and ensuing protests and demonstrations, Biden faced renewed calls to select a black woman to be his running mate, highlighting the law enforcement credentials of Harris and Val Demings.
On June 12, The New York Times reported that Harris was emerging as the frontrunner to be Biden's running mate, as she is the only African American woman with the political experience typical of vice presidents. On June 26, CNN reported that more than a dozen people close to the Biden search process considered Harris one of Biden's top four contenders, along with Elizabeth Warren, Val Demings, and Keisha Lance Bottoms.
On August 11, 2020, Biden announced that he had chosen Harris; she is the first African American, the first Indian American, and the third woman after Geraldine Ferraro and Sarah Palin to be picked as the vice-presidential nominee for a major party ticket.
Following the election of Joe Biden as President of the United States in the 2020 presidential election, Harris will assume office as the vice president of the United States on January 20, 2021. She will be the first female in the office, as well as the first person of color to be vice president since Charles Curtis in 1929.