Women in Aviation International UK Chapter marks Futures Day at Farnborough International Airshow with its 'See her, be her' event, aimed at encouraging young girls to follow a career in aviation.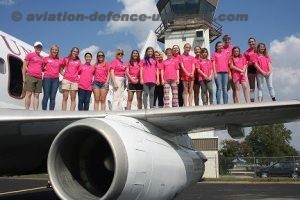 15 July 2018. London, UK – Women in Aviation International (WAI) UK Chapter, is delighted to announce its 'See her, Be her' networking morning on Friday 20th July, at this year's Farnborough International Airshow, UK.
School girls and girl guide groups with interests in aviation are being welcomed at the event – running from 10 am to 12 pm, as part of ADS Group's Futures Day.
Blazing a trail for women everywhere, Amelia Earhart, the first female pilot to cross the Atlantic, once said: "The most difficult thing is the decision to act, the rest is merely tenacity. The fears are paper tigers. You can do anything you decide to do."
With this mantra in mind, the newly formed WAI UK Chapter, supported by ADS, Farnborough International and a host of other international women's aviation associations, is looking to inspire girls in their formative years to consider a career in aviation.
The 'See her, be her', event will be held in Hall 1 in the Lloyd and Navigate Rooms.   Young attendees, aged between 11 and 14, are encouraged to take part in some interactive sessions and hear from an influential line up of speakers in a variety of aviation sectors, led by Dr. Shini Somara, a leading science, tech and innovation broadcast personality.
Get to know speakers include Tess Naran, First Officer with Titan Airways and aspiring astronaut.  (Tess starred in the recent thrilling BBC2 series Astronauts – do you have what it takes?)  Katherine Bennett, Senior Vice President, Airbus UK,  Debbie Elliott, Training Manager, TAG Global Training and Aoife O'Sullivan, Partner at The Air Law Firm.
They will be able to ask questions, practice their interview skills, and learn about the far- reaching industry with visits to table-top booths from associations and companies including Air BP, NATS and the UK Civil Aviation Authority.
ADS Chief Executive Paul Everitt said: "Inspiring young women to pursue careers in aviation is important to our industry as we look to establish a more gender equal sector. The 'See her, be her' event at Farnborough International Airshow is a great way for them to get to know more about the industry and work towards making aviation a more diverse sector, with equal opportunities for all."
Liz Moscrop, President, WAI UK stated: "Women in Aviation International is committed to getting the younger generation, and particularly girls, engaged and excited about pursuing a career in aviation. We are delighted to be hosting our 'See her, be her' and can't wait to share our experiences and those of the women on our panel with the next generation of female aviation pioneers!"
Alison Chambers, Vice President, WAI UK added her enthusiasm for the event. "We believe wholeheartedly in celebrating female pioneers and role models in the industry. Women continue to be in the minority when it comes to careers in aviation and educating young girls about the opportunities available to them and what they can achieve within the sector is something we will never tire of."
Ballot to Wingbox and new Women's Charter
The theme complements the Ballot to Wingbox event  on the Thursday at the show led by Airbus, Cobham, the Royal Aeronautical Society with Women in Aerospace, the IAWA, Women in Defence and Women in Aviation International.  Coinciding with the centenary year for the RAF and women's suffrage, this event will be held on Thursday morning 10 am to 11.45 am at the New Exhibition Centre.  Farnborough Airshow will also be the launch platform for a new Women's Charter to support women's progression in the sector.