Shaesta Waiz the Afghani American Female Pilot Seeks to Inspire Young Women in India through STEM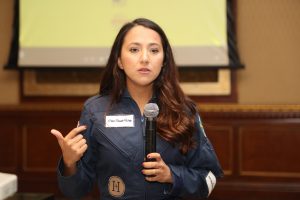 Mumbai. 20 July 2017. Women in Aviation International (India Chapter) welcomed pilot ShaestaWaiz to promote STEM curriculum in India & to encourage the next generation to take aviation as a preferred career at The Leela Mumbai.
ShaestaWaiz became an inspiration for women around the world when she started Dreams Soar, that aimed to let women feel liberated to achieve their dreams regardless of the challenges and traditions they face. Dream Soar is a registered on-profit organization in United States which was inaugurated on 9th of July, 2016. This initiative has been taken to embrace the solution for motivating and empowering women to pursue careers in STEM (Science, Technology, Engineering and Mathematics). Shaesta addressed the gathering consisting of NCC cadets and motivated them to pursue their dreams. She talked about her journey from a refugee camp till a cockpit and encouraged all girls to aim for the skies.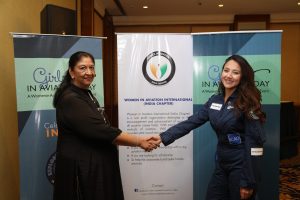 "My time in India has been very inspiring! Being greeted by the WAI India Chapter, the youth, leaders and professionals from the aviation industry, I feel very humbled and honored. I am excited to return soon, and do more positive work for STEM and aviation here in India. Thank you for this warm welcome to your beautiful country," she said.
The gathering was addressed by Radha Bhatia, President WAI(India Chapter),Noopurr R Chablani, Secretary, WAI (India Chapter),along with Kiranjeet Jain, Commercial Director Air Asia India. Bhatia serves as the Chairperson of Bird Group, the largest and diversified travel conglomerate which specialises in aviation and hospitality.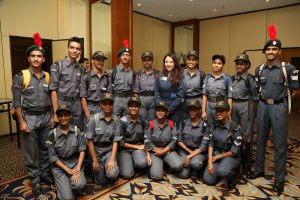 She is also the force behind The Bird Academy an IATA and DGCA approved travel & aviation institute formed in the year 1998. Since its inception the institute creates a pool of talent for aviation and travel industry and has constantly enriched and enlarged its activities and offered more than 20,000 trained professionals who are gainfully employed in India & abroad.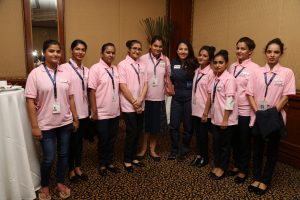 Radha Bhatia stated, " through dreams soar and WAI India chapter,we want to reach out to more and more girls and encourge them to pursue aviation as a career with our slogan- Beti ki udaan Desh ka swabhman,we want to spread one idea prime minister Naraendra Modi's message to support the girl child".