By Sangeeta Saxena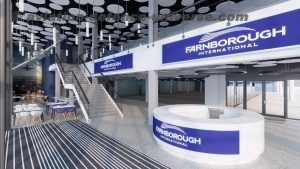 Farnborough. 15 July 2018. "Dump Trump, hey, ho, Donald Trump has got to go , Donald Trump, go away, racist, sexist, anti-gay" and many such more protest chants greet us in London streets after we landed enroute Farnborough to cover the airshow. Yes it is Farnborough time once again but during exciting London times.
In precisely twenty four hours the show will be underway and the excitement is palpable. With the Royal Air force celebrating its hundred years and having just flown 103 aircraft over Buckingham Palace representing the forces' history, the flying display over Farnborough skies promises to be an audience's delight. Whilst Boeing and Airbus have their aircraft in good strength, aircraft from Antonov, ATR, Bell, Dassault, Embraer, L3 Technologies, Piaggio Aerospace and Pilatus to name just a few will also be there. The much-anticipated Mitsubishi MRJ will be making its flying display debut at the show.
With nearly fifteen hundred exhibitors and thirty four different aircraft types on both static and flying display, FIA 2018 will be a truly global event, with 29 national pavilions confirmed from countries including Mexico, Turkey, the US and Japan alongside a significant European presence from Germany, France and Spain. The show will also see the largest presence yet from China with 25 participating companies. The number of international exhibitors is expected to exceed the 71% achieved in 2016.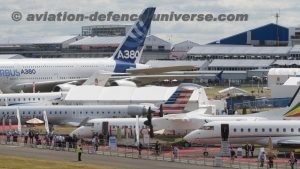 As always business aircraft will be present in good strength at the show. Gulfstream will be bringing a large selection of executive aircraft, including a G280, G500, G550 and G650. In addition to its commercial and military aircraft, Embraer will be bringing the Phenom 300E and Legacy 500 business jets while it is also reported that the Legacy 500 will be flying as part of the air display. Other business jets on show will include the Dassault Falcon 900LX and Dassault Falcon 8X. Pilatus, meanwhile, will be displaying its PC-12NG, as well as its new PC-24 utility jet, fresh from rough field trials. Textron will be showing some of the possible options in a mission-equipped version of its Cessna Citation CJ4 and will be exhibiting special mission-equipped versions of the Beechcraft King Air 350i and Cessna Grand Caravan EX featuring flexible interiors designed to adapt to a wide range of applications. There are also expected to be a number of additional King Air 250s brought by other operators.
Diamond Aircraft will be showing off a range of single and twin-engined aircraft using for transport, training and special missions, including a DA42MPP, Dart 450, DA62 and DA42MPP Geostar. Making its first air show debut from Diamond is the company's new DART 550, a civilian/military aerobatic trainer. Cranfield University will be displaying two aircraft in the static park from the National Flying Laboratory Centre – a BAE Jetstream 31, together with a Scottish Aviation Bulldog.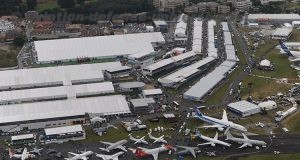 Flying cars appearing at Farnborough for the first time will be the PAL-V Liberty – a three-wheel car crossed with a gyrocopter. Another aerial innovator set to appear at Farnborough is Cranfield-based Sama Aerospace, which will be revealing its 20% scale demonstrator of its hybrid-electric Starling Jet. The company has already flown flight tests with this prototype and is now beginning work on a 50% scale manned demonstrator. Originally conceived as a high-speed VTOL bizjet, Sama Aerospace has now received over 100 LoI for the Starling Jet, with approximately half of these from EMS operators interested in the capability of this aircraft to save lives in the 'golden hour'.
This year's show will feature a unique flying display by Richard Browning, who has ditched fuselage and wings completely to create the Gravity suit – a real-life 'Iron Man' style jetpack.
UAVs from world over will be both a part of static and flying display at the show. Elbit Systems, Airbus, Boeing Northrop Grumman and many others will showcase their unmanned systems .
Engine makers, Communications & Signal equipment producers, Avionics industry , missile makers, rotary and fixed wing manufacturers and all ancillary industry of aerospace will be showcasing their best at FIA, thereby creating a buyer-sellers platform for the world.
Cargo will also be the buzz word at this year's Farnborough International Airshow with a 1,000sqm village centred around a static display of 'giants of the sky' including 747s and an Antonov. For the first time there will be a dedicated cargo conference programme curated by IATA.
The Innovation Zone is a unique opportunity for research & technology and skills providers to showcase their latest technological advances and develop new partnerships with businesses, government and academia from around the world. The Zone also acts as a focal point for Futures Day – the industry's single largest STEM (Science, Technology, Engineering, Maths) and outreach activity, attracting the next generation of scientists and engineers to drive our sectors forward.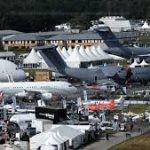 Also another first will be the Live Product Demo Area at the FIA2018. We shall discover ground-breaking and innovative aerospace and defence technology in the replica Air Force Command Centre and shall see products come to life in a specialised and simulated environment.
With just 24 hours to go all eyes are on Farnborough and fingers crossed that the show under the shadow of Brexit turns out to be a success as always.