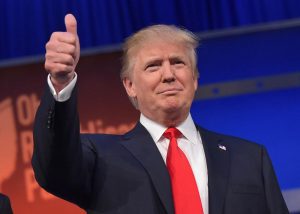 By Sangeeta Saxena
New Delhi. 09 November 2016. It is unexpected, historic, fight to the finish but true. Donald Trump is the going to take the oath as the 45th President of the United States of America. Republicans won the US Senate and they also won the US House. It was an anti-incumbency sentiment creating one of the most implausible political debacles in US history of Presidential elections.
The message which clearly worked was America First. Despite a seasoned politician in the opposition he did not get bogged down. Probably this attitude and the jobs in America for Americans mantra made the country sit up and vote for a change. But the question is what will he do with the awesome power he has now in his hands? He won a landslide, shocking victory and White House is no longer a dream for him. Will he be able to make US an economic giant and a recession free society? Will he ensure citizens of all origins to get an equal opportunity in the America of today?
In the most unconventional of political campaigns where expenditure was more on hats than on pollsters, travelling to states like Wisconsin and Michigan which seemed were out of reach, holding massive rallies instead of focusing on door-knocking and get-out-the-vote operations, pro-Hindu anti-muslim stand, Iran, the world's largest state sponsor of terrorism, is now flush with $150 billion in cash released by the United States of America —he has finally done it. The electorate liked his unconventionality.
Every body was wrong and predictions all gone haywire. Including the pundits and the press. Trump's victory is the biggest political upset . America has chosen a President not only for itself but for the world and lets hope the common man's common sense works out well for both US and the world.