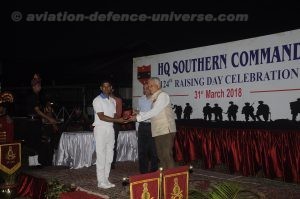 Pune. 03 April 2018. Indian Army's 
Headquarters Southern Command celebrated its 124
th
 Raising Day with gaiety and splendour. Southern Command which is the oldest field Army, has not only been successfully maintaining the sovereignty of its area of responsibility but has also relentlessly contributed towards nation building during this glorious journey. The Command has proved its mettle in various Operations and has also contributed immensely in various Humanitarian Assistance and Disaster Relief (HADR) missions in Southern India, more recent ones being relief operations during Chennai floods of 2015, Gujarat/Rajasthan floods of 2017 and building of the Foot-Overbridges at three locations in Mumbai in a record time which was inaugurated on 27 February 18.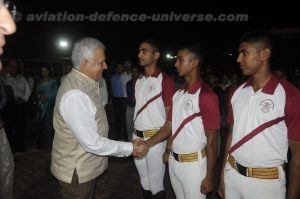 On the occasion of the Raising Day, a solemn wreath laying ceremony was held at National War Memorial to pay homage to the brave sons of Southern Command who laid down their lives in service of the Nation. The final wreath during the ceremony was laid by Lt General D R Soni,
PVSM, VSM, Aide-De-Camp, General Officer Commanding-in-Chief of Southern Command on 01 April 2018.
Southern Command organised a Military Tattoo show for all Puneites for two consecutive days on 31 March & 01 April 18 to commemorate the occasion. The event was conducted at General Parade Ground with a host of spectacular shows to enthrall the spectators. The Equipment Display was organised to familiarise Puneites with the latest equipment of the Indian Army. The event began with a thrilling Combat Demonstration which included Combat Free Fall by the brave Para Commandos, followed by a Horse Show, Dog Show, Motorcycle Dare Devil Show and Martial Arts Display of Kalaripayattu, Gatka and Malkhamb. The spectacular show culminated with a band display by various military bands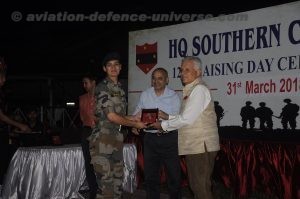 from Southern Command who mesmerised the audience with captivating tunes.
The event was graced by prominent dignitaries from the Armed Forces and the civil which included school/college students from Pune. Lt General DR Soni presided over the event on 31 March 2018. The Army Commander felicitated the participants on conclusion of the event and appreciated their daring efforts which made the occasion memorable.