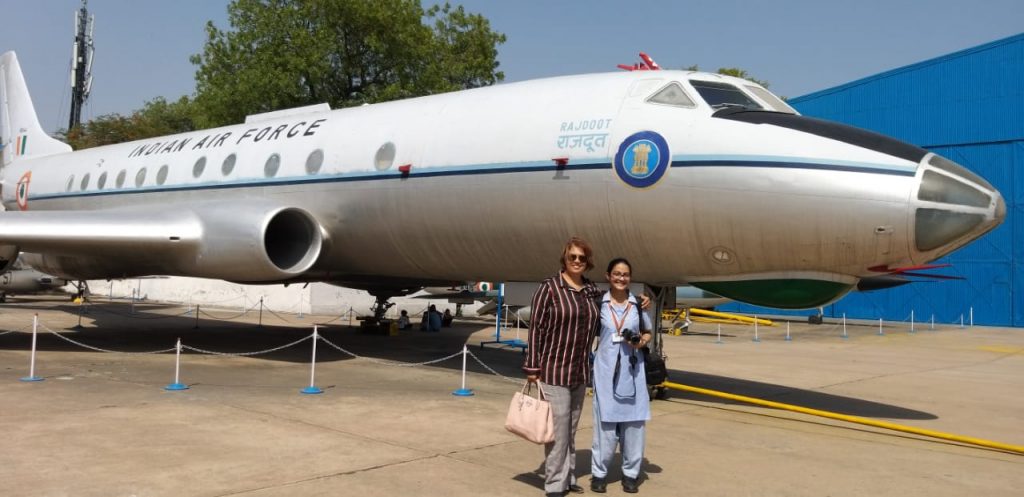 An aspiring woman pilot interviews a former woman pilot of the Indian Air Force.
ADU's special interview where the interviewer for the day is a Class Xth aspiring girl pilot from a school of NCR.
The venue was the Air Force Museum
New Delhi. 04 October 2020. For a CEO & ED of the an upcoming brand of electric vehicles Evolet India, Squadron Leader Prerana Chaturvedi who is a veteran and a former helicopter pilot sharing the memories of her journey from NCC to IAF with Aviation & Defence Universe (ADU) and the interviewer for the day is Raghini Kapur an aspiring pilot who is a Class Xth student, was the Day's surprise from ADU which believes in woman power of all ages . So for the day we added this budding journalist to our team and enjoyed the fresh ideas and enthusiasm.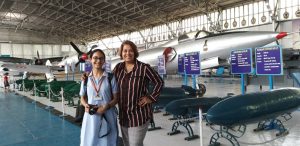 RK: Which was the first aircraft or helicopter that you had flown?
PC: I was not a aviation and fighter opty. It was the first time in TV that I saw an American film about helicopters and I saw a helicopter take off, I was awestruck and amazed by it. Then I was sure in my heart that this the machine which I want to fly although I was not even close to it. Lucky for me I was the first woman in my course to be a pilot. Fortunately I ended up flying Chetak and Cheetah. Luckily I did get to see MIG and it is like a treasure and lifetime memory. Later in service I got to see Saras, manufactured in India. It is the most glorious aircraft ever seen in the world and what a thrill it was to see inter-meshing rotors of two choppers. I am glad that I made this decision to be a pilot.
RK: What was your first flying experience ? Were you nervous or excited?
PC: When I joined Air Force my fellow counter parts were ahead of me by a month and a half by the time I joined I hadn't even felt the skin of an aircraft before. I wasn't nervous but I was all geared up and excited. I couldn't sleep the day before I had to fly although I got instructions to sleep and rest well. As a woman you wanted to prove a point that being a woman you can do anything. I wanted to erase the thought of people that women are here only for display and show but for proving themselves. That day when I entered the aircraft I was itching to get a control but my instructor walked me to the craft buckled me into by seat and told me everything about the craft. I felt like I was in a dream world. As I was itching to fly the plane my instructor told me that if you want to enjoy the flying the rest of your life, sit back and enjoy this experience because from tomorrow morning this will be your profession. I can never forget that day.He let me play with the craft like I dreamt of; going into deep dive, spiral, hammer stall. I was getting a kick out of it. It is what feels like getting your dream fulfilled its going to stay with me as long as my heart is beating. It was an amazing experience.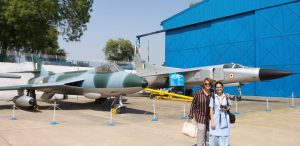 RK: What were the places you have flown to ?
PC: I got the opportunity to visit restricted area like Leh, we were always treated at par and as an individual. I was also posted to places like Jammu, Srinagar, Jamnagar in Gujarat( during mission Parakram).Luckily we were not handled with a kiddie glove which is a blessing. Going by the country we live in, going by the standards with which women are judged , I was really blessed to be in such an environment and between open minded people.My instructor, my fellow mates, my parents were all very open minded and also were very supportive.
RK: What were your hobbies at that time and did you got the time to peruse them?
PC: Interesting question, I used to love painting. Formally I didn't touch a paint brush but when the craft was on a standby, when we waited for the commitment to clear or for the weather to clear I used to follow my hobby at that time. I have painted a lot of workplaces with some aircraft's pictures. I guess now I only paint with my daughter but I have seen other pilots, who take out sometime from their busy schedule and persue their hobby. But my music has always stayed with me.
RK: What were the number of hours you spent in flying in a day?
PC: Generally the flying hours are restricted to 6 or 7 hours in a day. This limit is decided by the Directorate of Civil Aviation (DGCA). You fly something in the morning and something at night, we even did night flying . The time restriction is same for both men and women.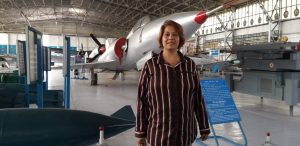 RK: Any practical advise you want to give to the students who want to pursue this career?
PC: I would like to tell them that they should be focused from the day one and should be ready to take up challenges. They should keep working hard and strive for perfection and should remember that there is no lift or escalator for success, one has to take the stairs and should do hard work step by step.
RK: What inspired you to take up this profession and what lit the spark in you?
PC: I love this question. I never dreamt of becoming a pilot . Watching movie and fantasying it is another thing, no one thought of women in defence services. I was a hard core medical opty but then after watching this movie I really started to like this profession. So I joined NCC and I was blessed to live in such an environment. The NCC played a pivotal role in my life. I was blessed that I got fantastic instructors and teachers. I participated in youth exchange programme and I won best cadets in Lucknow and then in U.P and also participated in national shooting competition. I started to get the taste of the uniform. It is nothing but a uniform that can pump adrenaline in your blood. I soon realised that the army couldn't offer women executive roles. Coming from NCC background I wanted frontline job. As you matured, you realised that army couldn't offer such roles that women, but the Airforce was the first to open the gates for women for flying. And after that we started knocking the doors of Army, Air force and other such organisations to allow women to work in this domain. Luckily we were there at the right time and right moment, doing the right door knocking and finally the door opened and we grabbed the opportunity.
RK: In case of any medical emergency what measures do pilots take?
PC: It actually depends on what type of aircraft they are flying. As every aircraft has different procedures. Transport aircrafts have a large crew so in case of medical emergency the crew members help each other and helicopters are multi crew. But the possibility of medical emergencies are very rare as every cadet are checked if they are medically fit or not to undertake the flight or not and it is very essential to test this.We have pre set procedures. We have first aid kits and medical team who are also present in the aircraft, tend the injured.