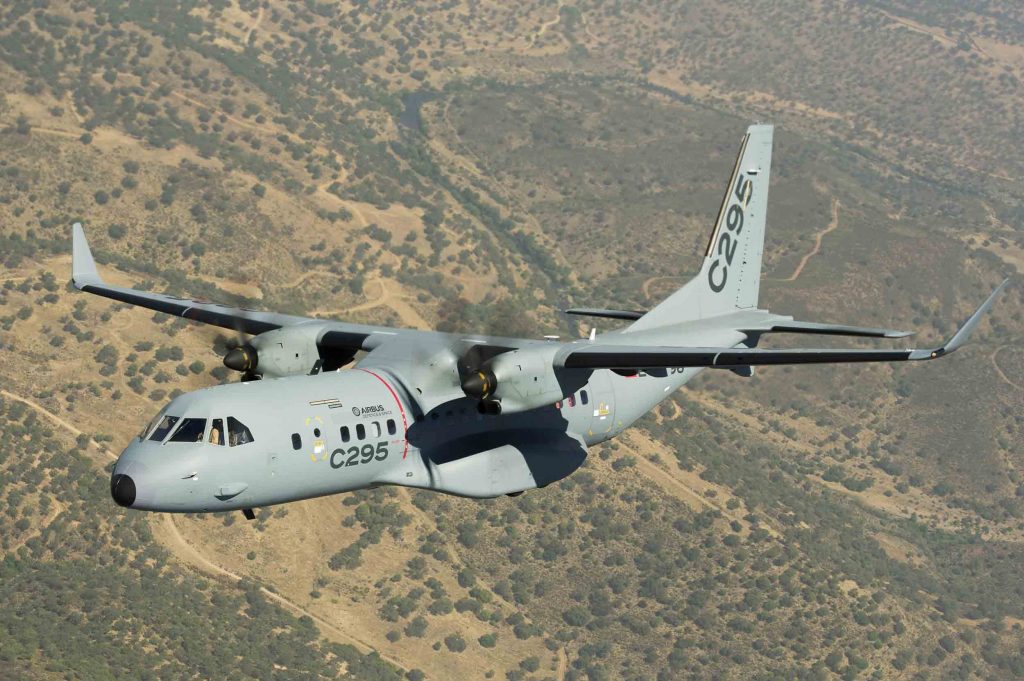 New Delhi. 08 October 2020. Indian Air Force had selected the C295 as the replacement for its ageing fleet of Avro 748 transport aircraft and the Defence Acquisition Council had cleared it. The first 16 aircraft were supposed to be built at the Airbus facility in Spain, and the remainder by Tata Advanced Systems Limited. As Airbus waits to ink the deal lets see why C295 will be just the transport aircraft India needs.
C295 is a multi-role transport aircraft that can carry a maximum payload of 9.25 tonnes. Since its dimensions are smaller than the IAF's fleet of C-130Js, C-17s and IL-76s, C295s can take off and land at many air strips and airports where the larger ones can't.
The C295 aircraft is combat-proven and has successfully completed military missions in all types of environments. It routinely operates in the hot and humid environments of the Brazilian jungle and Colombian mountains, in the dusty and very hot deserts of Algeria and Jordan, and in the extremely cold winters and icy conditions of Poland and Finland. India has all the three climatic terrains in which the Air Force operates.
The C295 has been successfully used during long deployments (up to two years, flying up to 90 hours per plane per month) in remote areas, such as Chad, Iraq and Afghanistan. The C295 has become the most trusted airlifter in its category, being used either as single transport type, or as a versatile and efficient complement to heavy airlifters and transport helicopters. Humanitarian relief supplies are unloaded by military personnel from a C295 transport aircraft. IAF has just the same roles chalked out for itself.
Tactical transport of troops and the required logistic supplies (water, food, ammunition, medical supplies, spare parts) from the main operating base to the forward bases and among forward locations. The C295 can use short unprepared airstrips not accessible to heavier aircraft.
Paratroopers are deployed from an in-flight Airbus C295 transport aircraft. Airdrop of paratroops and loads, with the use of 88in-width platforms and container delivery system (CDS) A22 bundles.
Activities related to antiterrorism, border control and homeland security, thanks to its integrated surveillance systems, including the Fully Integrated Tactical System (FITS) make C295 most needed.
A view inside a C295 transport aircraft cabin equipped for medical evacuation missions. Casualty evacuation (Casevac) and medical evacuation (Medevac) using either basic litters or mobile intensive care units (ICU) with life support equipment.
The C295's ability to serve as an aerial tanker brings additional flexibility to this tactical transport – further increasing its already-proven versatility and opening new mission opportunities.
The first demonstration was performed in 2016, when a C295W medium transport conducted multiple contacts with a standard Spanish Air Force C295. A few months later in early 2017, the C295W successfully conducted refuelling contacts with a H225M Caracal helicopter.
In 2020, the C295 achieved its first wet contacts during an air-to-air tanker flight test campaign – utilising a 100-ft.-long deployable hose with a "basket" at the end, which enables the transfer of fuel to receiver aircraft equipped with a probe.
In addition, the C295 also offers special versions such as Gunship (close air support to ground troops, convoys, facilities, etc.) and optional self-protection equipment, which are already in service in hostile environments like Iraq and Afghanistan: cockpit armour, radar warning (RWR), missile warning (MAWS), laser warning (LWS), and chaff/flares dispensers.
The Airbus C295 is a new-generation tactical airlifter in the light and medium segment. It is robust and reliable but also highly versatile in terms of the number of different missions it can perform.
The C295 conducts multi-role operations worldwide under all weather conditions. It is fully certified and routinely operates day and night in combat missions in all weather extremes, from desert to maritime environments, from extremely hot to extremely cold temperatures.
With the new C295W version equipped with winglets, the aircraft is capable of transporting more payload over larger distances in the hot and high conditions, resulting in fuel consumption savings of around 4% and increased safety margins in mountainous regions.
Today's armed forces have increasing demands for various air transport missions. And no matter what the requirements for an operation are, the C295 stands ready to conduct its mission successfully.