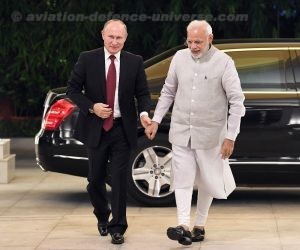 Putin-Modi give Indian Air Force the anticipated gift
By Sangeeta Saxena
New Delhi. 05 October 2018. The wait got over for the IAF and the force got a birthday gift two days in advance. India and Russia have inked the deal for 5 S-400 The Triumf missile deal with Russia will give India's military a much-needed shot in the IAF's sagging arm.
And the interesting news is that China also has them infact deliveries of units have begun in January 2018, and are being inducted.
At the annual press conference  two days ago the Chief if Air Staff Air Chief Marshal BS Dhanoa had called the S-400 missile defence system from Russia a game changer and  a booster dose to shore up capabilities. "The CNC (contract negotiation committee) has sent the papers to the government," the Air Chief had  said. "I don't think CAATSA (Countering America's Adversaries through The Sanctions Act) is going to come in the way, " he had added.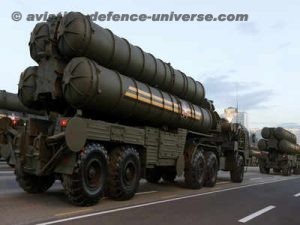 Indian government went ahead with the bold step and  signed the deal worth $5.43-billion to buy five Russian S-400 Triumf missile shield systems at the 19th India-Russia annual bilateral summit in the presence of Russian President Vladimir Putin and Indian Prime Minister Narendra Modi. And this was despite the United States having  warned that any such agreement between India and Russia could attract sanctions under the US law.
The S-400 Triumf can track, intercept and destroy virtually anything that flies including strategic bombers, electronic warfare aircraft, fighter jets, reconnaissance planes and cruise and ballistic missiles of any range. With this multi-functionality in mind, its only opponent is the US Patriot, which boasts much more than their actual capabilities. And it is not a great secret that USA has been trying to sell Patriot to India for quite some time. Post that failure it has shifted focus to sell THAAD to India.
Rostec CEO Sergey Chemezov stated, "The S-400 supply agreement with India is a new landmark in the history of military-technical cooperation between our countries. The deal demonstrates the highest level of trust and understanding between India and Russia. I am sure that this agreement will also be a new impulse for strengthening and deepening our cooperation in civil industry."
It is also known well that Moscow had reduced the final price of S-400 systems for New Delhi taking into consideration the strategic partnership between Russia and India.The contract has gone down to $5,43 billion from  $6.5 billion. Russia has been India's oldest and all weather friend when it comes to defence procurement.