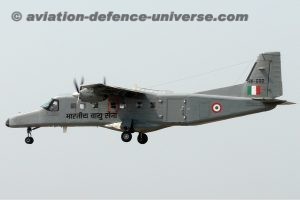 New Delhi. 30 April 2020. A Dornier aircraft was planned to undertake routine flight from Palam Air Base. During the take off roll, aircraft experienced a tyre deflation. The captain of the aircraft took prompt and correct actions of aborting the take off. The aircraft and crew on board are safe and there has been no damage to any property. The aircraft was towed off runway by the technical crew of the IAF promptly.
The Dornier Do 228 is a twin-turboprop STOL utility aircraft, designed and first manufactured by Dornier GmbH (later DASA Dornier, Fairchild-Dornier) from 1981 until 1998. 245 were built in Oberpfaffenhofen, Germany. In 1983, Hindustan Aeronautics (HAL) bought a production licence and manufactured another 125 aircraft in Kanpur, India. In July 2017, 63 aircraft were still in airline service.
In 2009, RUAG started building a Dornier 228 New Generation in Germany. The fuselage, wings and tail unit are manufactured by Hindustan Aeronautics Limited (HAL) in Kanpur, India, and transported to Oberpfaffenhofen, where RUAG Aviation carries out aircraft final assembly.
The Chief of the Air Staff, Air Chief Marshal RKS Bhadauria formally inducted the Flight Information system (FIS) Dornier aircraft into No 41 Squadron, the 'Otters', at a ceremony at Air Force Station Palam last year. The modified Dornier 228 aircraft have been acquired to undertake in-house calibration of Navigational aids available after implementation of Modernised Airfield Infrastructure (MAFI) at IAF bases. While the first aircraft was delivered in Nov 19, the second is expected to be delivered in early 2020.