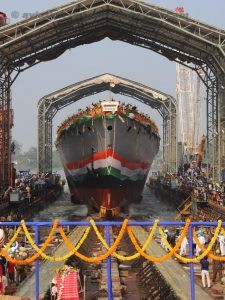 Kolkata. 14 December 2020. Garden Reach Shipbuilders and Engineers Limited (GRSE), Kolkata launched Project 17A of the Indian Navy. It was the launch of the first of three Stealth Frigates, "Himgiri" at 01:30 PM today, upholding the best of maritime traditions, when the ship was "Launched" by Mrs. Madhulika Rawat, wife of General Bipin Rawat, Chief of Defence Staff who was the Chief Guest.
Rear Admiral VK Saxena, IN (Retd.), Chairman and Managing Director, GRSE, Vice Admiral AK Jain, Commander-in-Chief, Eastern Naval Command, Lt Gen Anil Chouhan, Army Commander, Eastern Command and other Senior Officials of GRSE, and Indian Navy and a host of other dignitaries were present at the occasion.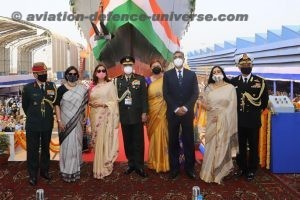 The Launch symbolises the birth of the ship as she makes her first contact with water and is floated out. The ceremony was conducted in true maritime traditions with the application of vermillion, breaking of coconut on the ship's bow and chanting of vedic mantras.
The contract for construction of three Stealth Frigates under Project 17A is the largest ever order awarded to the shipyard by the Ministry of Defence with a value of over Rs.19293 crores.
P17A ships will be the most advanced state-of-the-art Guided Missile Frigates, 149 m long, with a displacement of approximately 6670 T and having an advanced CODOG Propulsion system enabling speed of over 28 knots. These complex weapon platforms are equipped with a powerful weapon & sensor package capable of neutralising threats in all three dimesions, Air, Surface & Sub-surface. P17A Stealth Frigates are being built using Integrated Construction Methodology with enhanced pre-outfitting to enhance quality and reduce build periods. M/s Fincantieri, Italy is the Knowhow Provider for Technology Upgrade and Capability Enhancement in this project. Project 17A also is unique wherein, based on the basic design prepared by the Directorate of Naval Design; the construction is being done in 02 locations, MDL and GRSE concurrently. An intelligent PDM PLM system is being developed to manage the project and aid in its life cycle management.
Speaking on the occasion, Rear Admiral V.K.Saxena, IN (Retd.) brought out the fact that launching of the ship is being done 02 months ahead of schedule. Achievement of this major milestone, despite the challenges posed by the ongoing pandemic situation stands testimony to the commitment and capability of the shipyard. He also stated that GRSE has delivered 105 warships so far to our Maritime Forces, epitomizing the "AtmaNirbhar Bharat" efforts in letter and spirit.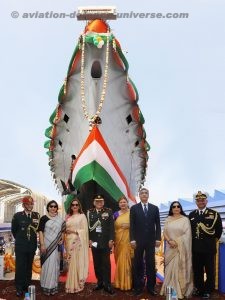 General Bipin Rawat, Chief of Defence Staff during his speech on this momentous occasion appreciated GRSE's service to the nation having acquired vast knowledge and expertise in design and production of complex battle ready warships and for having delivered 105 warships. General Rawat expressed his hope that the final delivery of this ship and the two subsequent ships of this project, shall remain etched as historic events, towards the country's relentless efforts in achieving self-reliance. The General also congratulated the shipyard and Indian Navy for achieving this major milestone despite the adverse effects of the Covid pandemic.
Since its takeover by the Government of India in 1960, GRSE has delivered a plethora of high end warships ranging from Fast Patrol Vessels, Survey Vessels, LSTs, LCUs, Fleet Tanker, frigates and Missile & ASW Corvettes. The shipyard also has the distinction of achieving over 90% indigenous content, onboard ASW Corvettes and LCUs, a significant advancement towards self-reliance in state-of-the-art warship design and construction. Having modernised its infrastructure facilities, GRSE is today in a position to construct large number of warships using Advanced Modular Integrated Shipbuilding Technology in line with the best in the world. This has helped enhance its capacity to the present level of constructing 20warships concurrently.
GRSE is currently executing two more major projects of Indian Navy pertaining to construction of 04 Survey Vessel Large ships and 08 ASWSWC ships. Further, the shipyard has a healthy order book of Rs.26189 Crore for construction of 15 warships of the Navy to be completed progressively by year 2027.