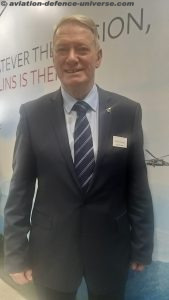 By Sangeeta Saxena
 Chiba, Japan. 20 March 2023. The story of Collins Aerospace in Japan started with US DoD's relationship with Japan MoD and is as old as the first US made fighters in Japan Self Defense Forces (JSDF).
Speaking exclusively to Aviation & Defence Universe (ADU) , Chris Hazeel,  Vice President United Kingdom & Northern Europe for Collins Aerospace,  said, "Japan is an important country and Japan Self Defense Forces a very important customer for Collins Aerospace. Collins Aerospace is present in the fighter jets F-15 and F-16 of the Japan Air Self Defence Force and also on F-2 which is the Mitsubishi made fighter jet and Kawasaki manufactured  T-4 Intermediate Trainers. We are also on the V-22 Osprey tiltrotor aircraft for which Japan is the first international customer."
But the limelight at this DSEI Japan was taken over by the Team Tempest. It may be recalled that Collins Aerospace Systems, a unit of Raytheon Technologies Corp. (NYSE: UTX),  has been awarded a contract by BAE Systems to provide advanced actuation capabilities including for the U.K.'s Tempest next generation combat air system project. Collins Aerospace will support the program from its Actuation Systems facility in Wolverhampton, UK.  Japanese Maritime Self-Defense Force Oyashio Class submarines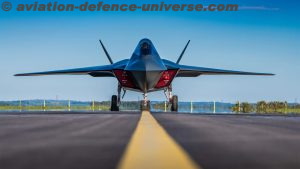 "I think one of the interesting areas is the digital life cycle of this programme. We don't want to have supply chain problems in the future,  so we want a digital backbone running the from beginning of the design right through to the maintenance operations so that components can be easily reproduced and basically produced anywhere. There are a number of models that can a be one considered. Model might be that if this is a SME or Small Medium  Enterprise they may be hosted within a larger organisation and they may be able to then use the tools and the systems within that organisation to help them. So we're looking for people who will supply the best capability also keeping in sync with the digital ethos of the program. The open system architecture is designed as such, that there won't be vendor lock. This way the program in the future stays safe and stays up-to-date as it goes along. Those companies that keep updated and improve their capabilities will probably maintain their position the platform but they can be substituted for a better capability further down-the-line so it keeps everybody honest if you like and ensures that we're always maintaining an optimised platform and also security aspects, which they may not have as a small company ," explained Chris in response to a question on supply chain management in GCAP production.
The first flight of the demonstrator aircraft is set to take place by 2027. The flying demonstrator will be a piloted supersonic aircraft testing a range of new technologies including integration of stealth compatible features. It will provide evidence for the critical technologies, methods and tools, which will be used on the next-generation combat air system.  And Collins Aerospace will be on this demonstrator.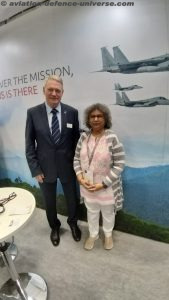 Collins Aerospace also provides the KC-46A's tactical situational awareness system, remote vision system 3-D and 2-D technology for the boom operator, the communications, navigation, surveillance (CNI) system, networking, and flight-control systems. And will be on the two tankers being made for Japan.
Responding to the US major's presence in Japan's naval force Chris explained that maritime tactical equipment of Collins Aerospace is already present in the Japan's naval vessels. Chris informed that the joint venture Japan's Sumitomo Precision Industries had established Silicon Sensing Systems in Plymouth, UK with Collins Aerospace has developed a small 3-axis gyro unit "RMU30".
And ofcourse the most satisfying is the presence of the technology giant in Japanese Maritime Self-Defense Force Oyashio Class submarines. Collins Aerospace has played a key role in the design, development and manufacture of the engine which powers the British Royal Navy's Spearfish heavyweight torpedo. It is a submarine launched torpedo for use against both surface and submarine targets.  Collins Aerospace has  also designed, developed and produced every wire rubber sonar dome used on U.S. Navy ships. The RHO-COR Keel Dome assists the U.S. Navy in anti-submarine warfare. It has a lot in its maritime platter for the Japanese naval needs.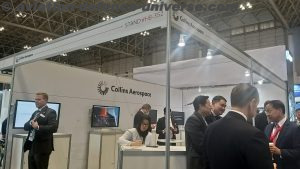 Collins Aerospace is a leading provider of technologically advanced actuation systems for commercial and military fixed wing and rotorcraft platforms around the world. With more than 50 years of experience in the design, manufacture, test and certification of actuation equipment, the company provides a range of solutions to its customers including primary flight controls, high lift systems, nacelle actuation, anti-ice valves, composites, utility actuation and missile actuation.
Chris closed on a very optimistic note, "DSEI Japan has been a great time for Collins and I'm absolutely convinced that we're gonna do some great collaborations and looking forward very enthusiastically to working with Japanese industry for this programme and future programmes and also at the end it means that collaboration is not only with the companies here but also our existing collaborators in the region. When it comes to major programs like GCAP collaboration has to be very carefully chosen because it's not only about compatibility of industry is also about compatibility of a concept of operations so  very important is trust and you know we have built trust now over many years between the UK, Italy and Japan brands and we feel we are the right partners to keep the core of this programme right."