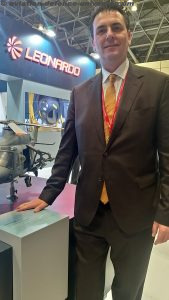 By Sangeeta Saxena
Chiba, Tokyo. 19 March 2023. Italian aerospace and defence major Leonardo's Japan story is not new but has certainly taken a leap ahead with both Italy and Japan joining UK in the Global Combat Air Programme (GCAP). For a company which has been present in Japan for over 40 years, has more than 160 helicopters in use by the Japan Maritime Self-Defense Force, the Japan Coast Guard and departments conducting firefighting and SAR (search and rescue) missions, has been supplying Identification Friend or Foe (IFF) technology to the Japan Ground Self Defense Force (JGSDF), has a helicopter maintenance, repair and overhaul (MRO) capabilities in Mt. Fuji Shizuoka Airport,  Japan is not only a high growth region but also a highly potential market.
Daniele Alzetta Sales Head of Asia-Pacific Rim Leonardo Helicopters told Aviation & Defence Universe (ADU) in an exclusive interview at DSEI Japan 2023, that Leonardo's Japan and Asia-Pacific strong presence stems from the company's philosophy of proximity to the customer.  Leonardo's heritage in Japan stretches back almost four decades. In 2008 the company opened an office in Tokyo to support its growing helicopters business and has since then moved to a new Corporate Office to promote the wider Leonardo product portfolio in Japan.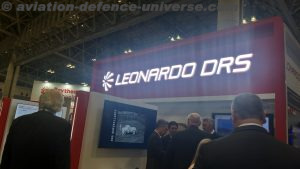 Both Leonardo UK and Mitsubishi Electric have been collaborating since 2018 on the UK-Japan JAGUAR radar technology programme and have developed a relationship of trust and  cooperation, he added. The relationship between countries with the Mediterranean and Pacific Oceans between them has been on a stride since its inception which is proof in the fact that the company has delivered more than 160 helicopters to Japan including the AW101, license-built by Kawasaki Heavy Industries in-country for the Japan Maritime Self Defense Force (JMSDF), as well as the AW139 and AW109 types, informed Daniele.
At the previous DSEI Japan in 2019, Leonardo showcased its rotary-wing products. In particular, the AW101 helicopter, for further expansion with the JMSDF and the potential export of the airborne mine countermeasures capability, and the AW249 for the JGSDF New Attack Helicopter program. It also projected AWHero Rotary Unmanned Air System for JMSDF and JGSDF and the AW609 tiltrotor. Covid created a break and at the DSEI Japan in 2023 the Italian major has a already settled rotary wing business in Japan and hence its focus is now on signals and communication equipment and on display are fixed and mobile multi-domain radars (air, land, sea) incorporating AESA (Active Electronically Scanned Array) technology, used for surveillance and defence tasks. These radars can detect, classify and track multiple targets simultaneously.
He also informed that the visitors are getting to see and understand the IFF (Identification Friend/Foe) systems that allow crew to recognize friendly forces in real time, through an exchange of encrypted signals, and identify potential threats and has already been chosen for the Japan Ground Self Defense Forces.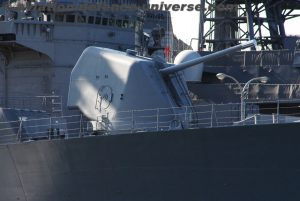 Daniele traced the story of another successful Leonardo-Japan relationship which has been long and strong which  is the Oto Malera gun present on Hatsuyuki-class destroyer, Asagiri-class destroyer, Murasame-class destroyer, Minegumo-class destroyer (JDS Murakumo only), JDS Ishikari, Yubari-class destroyer escort, Abukuma-class destroyer escort and Hayabusa-class patrol boat.  Leonardo is presenting the Vulcano family of ammunition at DSEI Japan, including the 155mm calibre land version and 127mm naval variant. The unguided munition follows a conventional ballistic trajectory with a range of up to 70km, while the range of the guided versions reaches 100km.
He added that Leonardo's role in aircraft development and training services is being represented by the M-346, an aircraft that enables trainee pilots to develop the knowledge, skills and procedures to transition to modern combat aircraft. The M-346 is at the centre of the new International Flight Training School (IFTS), created by Leonardo and the Italian Air Force and chosen by the Japan Air Self-Defence Force to train its student pilots. The M-346 platform is a fully integrated advanced training system. It includes a complete system of simulators and ground training devices, as well as a fully operational Live, Virtual, and Constructive (LVC) environment developed in-house by Leonardo. The M-346 prepares future combat air pilots to face the most complex and demanding operational scenarios they will face while operating current and future generation fighters.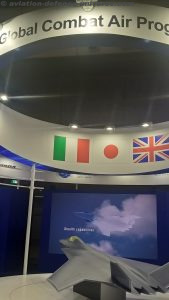 And ofcourse the cynosure of all eyes is the GCAP programme of which Leonardo is a major partner and  the Global Combat Air Programme (GCAP)'s ISANKE & ICS domain (Integrated Sensing and Non-Kinetic Effects & Integrated Communications Systems) will be a collaborative effort of Japan, the UK and Italy who on the Day 1 of the show announced the signing of a collaboration agreement, the next formal step towards a permanent industrial construct.
Day 2 at the show got an announcement from Mitsui Bussan Aerospace (MBA), the authorised distributor for the Leonardo AW139, AW169 and AW189 helicopter models in Japan, that with Leonardo orders recently signed for a total of six AW139s, to meet the requirements of various upcoming opportunities in the country. These latest orders confirm the continuous success of the AW139 in Japan with nearly 70 units currently in operation. The AW139 fleet in the country is rapidly growing with new deliveries following previous and planned orders for end users in the country, which include two aircraft for the Japan Coast Guard (comprising 21 AW139s ordered by this operator) and two for the Japan National Police Agency this year. Moreover, three AW139s will be handed over in 2024 to Ishikawa Prefecture Fire Fighting & Disaster Relief, Ministry of Land, Infrastructure & Transport of Hokuriku, Saitama Prefecture Fire Fighting & Disaster Relief respectively.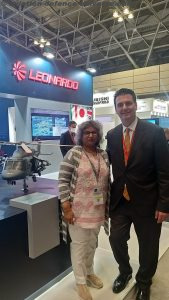 Leonardo at the show definitely seemed very much a part of Japan's partner in security and the two nations are comfortable in planning it's future forces' needs together. DSEI Japan this surely created a platform for this partnership.