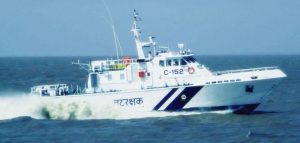 The Indian Coast Guard Region(NE) added more teeth to their fleet in West Bengal today with the commissioning of a high speed interceptor boat C 424 at Haldia.
The ship was commissioned by Inspector General KR Nautiyal, the Coast Guard Commander North East at an impressive ceremony at Coast Guard Jetty in Haldia.
With this new addition, Coast Guard assets in West Bengal now include 02 fast Patrol Vessels, 04 Hovercrafts, 02 Interceptor Boats, Radar Station and ACV forward operating base at Frazerganj.
IG KR Nautiyal said "The ship will add more strength to the Coast Guard's fleet in West Bengal and will patrol the vital bay of Bengal"
The Ship is commanded by Deputy Commandant Mudit Kumar singh. The 27 meters long ship has been built at L&T Surat and achieves 45 knots of speed. The ship is equipped with latest navigational and communication equipment and has a 12.7mm Heavy machine gun as main armament. The ship is also fitted with night vision and infrared devices for day and night surveillance.
The ship will enhance the surveillance and Humanitarian and Disaster Relief operations in Bay of Bengal. The Indian Coast Guard has been constantly increasing its footprint in West Bengal and Odhisa in the last 4 years, An array of ships and aircrafts has been inducted to keep the Bengal and Odisha coast safe.