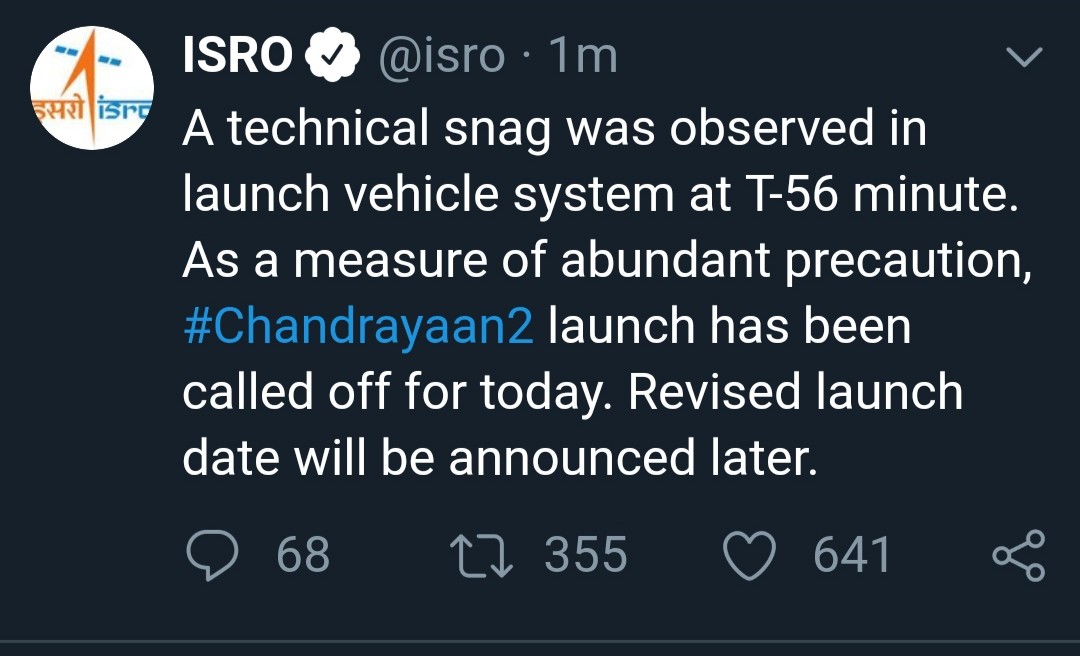 New Delhi. 15 July 2019. This tweet put on a dampner on the spirits of the nation which was waiting with bated breath for the take off of the second moon mission Chandrayaan2.
ISRO sources informed that the rocket functioning was not according to laid down parameters and it was fortunate to have been discovered before the launch.
The launch was to have taken place at 2.51 AM on 15th July 2019 but ISRO closed the clock 56 minutes prior the take off. It should take about a week to identify the the snag and get it repaired. The launch will get rescheduled.
ISRO could also lessen the time and speeden the work which will mean an early launch. Chandrayaan-2 will be launched from Satish Dhawan Space Center at Sriharikota on-board GSLV Mk-III on a new date this July. It will be injected into an earth parking 170 x40400 km orbit. A series of maneuvers will be carried out to raise its orbit and put Chandrayaan-2 on Lunar Transfer Trajectory. On entering Moon's sphere of influence, on-board thrusters will slow down the spacecraft for Lunar Capture. The Orbit of Chandrayaan-2 around the moon will be circularized to 100×100 km orbit through a series of orbital maneuvers.
On the day of landing, the lander will separate from the Orbiter and then perform a series of complex maneuvers comprising of rough braking and fine braking. Imaging of the landing site region prior to landing will be done for finding safe and hazard-free zones. The lander-Vikram will finally land near South Pole of the moon. Subsequently, Rover will roll out and carry out experiments on Lunar surface for a period of 1 Lunar day which is equal to 14 Earth days. Orbiter will continue its mission for a duration of one year.