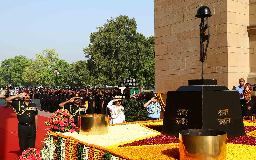 New Delhi. 03 April 2017. The Army Medical Corps with over 253 years of glorious history has been consistently demonstrating professional competence and selfless devotion in providing comprehensive health care to the sick and wounded both in war and peace. 
It has had a long legacy of professionalism, devotion, compassionate care and commitment to health of the troops, families and ex-servicemen of the Armed Forces. The Corps has been on the forefront in providing timely and effective medical relief during natural disasters across the country and has brought succor and solace to the afflicted population wherever and whenever required.
It also has a strong history of supreme sacrifices made by the Officers, JCOs, OR, Civ and Nursing Officers in the past. To commemorate their contribution and to honour the brave martyrs, wreath was laid at AMAR JAWAN JYOTI
 by Lt Gen MK Unni, DGAFMS and Lt Gen Velu Nair DGMS (Army) among others.