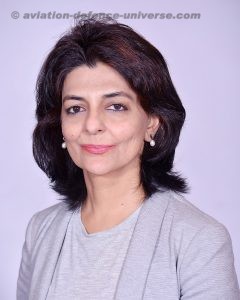 New Delhi. 04 August 2020. "The geared architecture on the Pratt & Whitney GTF™ engines is architecture of the future. We firmly believe that the GTF will drive the next generation of efficient, sustainable air travel – especially as airlines look for fuel efficiency and lowered emissions in the post COVID-19 world. We have and will continue to make substantial investments in shaping the future of India's aerospace ecosystem," stated Ashmita Sethi, President and Country Head, Pratt & Whitney, UTC India, in an exclusive interview with Aviation & Defence Universe(ADU).
ADU. What is Pratt & Whitney's strategy for India?
AS. For seven decades, Pratt & Whitney's engines have powered aerospace growth in India across commercial, defense, regional and general aviation. In fact, in 2005, our V2500 engines on IndiGo's A320 fleet helped usher in the new age of private aviation in India. Now, one in every two people flying in India, fly on Pratt & Whitney engines.
Globally we will be looking to accelerate the adoption of more advanced technology for next-generation designs. We believe India will be a key market in enabling this step-change – from a talent, innovation and aftermarket point of view. Our investment in GTF MRO with AIESL is a significant one and we continue to partner in innovation, research, supply chain and sustainment. We also continue to encourage Indian startups to create next-gen aerospace engine solutions with initiatives like the Innovation Challenge with T-Hub.
ADU. Over the decades, Pratt & Whitney, an aerospace engine manufacturer has firmly established MRO capability in India for its partners' airlines. Could you outline your plan, commitment to innovation and expansion for India?
AS. Over the last five years, we have significantly grown our global maintenance, repair and overhaul (MRO) network with the intent of ensuring timely returns to operators. Our comprehensive engine repair and overhaul services and support is backed by a global state-of-the-art service network of engine OEM-owned and designated facilities.
Our global Geared Turbo Fan (GTF) MRO capacity has increased 6x since 2017. In fact, in the first half of 2020, the Pratt & Whitney GTF MRO network expanded to nine facilities, including Delta TechOps in the United States and EME Aero in Poland. Air India Engineering Services Limited (AIESL) was announced as a provider of maintenance services in support of GTF operators in India and the surrounding region.
Previously, such services were conducted only by international MRO hubs, and we are proud to bring this advanced capability to India. The liberalization in the MRO sector to make it more inclusive and competitive will provide the country with a strong operational ecosystem for both domestic and international players. We remain committed to building on our investments for the success of aerospace in India. We will also continue to build capabilities for high value services that will help airlines get the best from their next-generation products.
ADU. How has P&W contributed to MOCA's Regional Connectivity scheme? What are your future plans for this?
AS. Globally, it has been seen that Remote Air Connectivity supported by governments can overcome barriers such as lack of physical infrastructure, limited economic opportunities and governance challenges. Therefore there is significant opportunity for growth in government's Regional Connectivity Scheme (RCS), UDAN that aims to accelerate air travel penetration in India.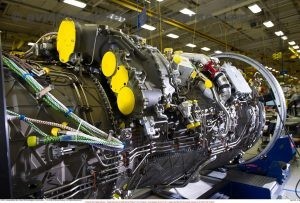 Pratt & Whitney's turboprop, turboshaft and turbofan engines, including the iconic PT6, have powered growth for business and general aviation for decades. Today, with more than 650 engines in service powering Regional, General and Business aviation, helicopters and APUs – we are uniquely poised to power the government's regional connectivity initiatives. We foresee the scheme opening up additional opportunities to serve more than 50 million passengers by 2027, thus requiring an additional 200-250 aircraft. Connecting unserved and underserved airports and affordable flying will drive India's next big aviation growth curve.
ADU. What is the status of the F117 engines on the Indian C-17s and have you been servicing them here?
AS. Our record breaking F117 engines, generating 40,400 pounds of thrust, power the C-17 Globemaster, which is relied upon heavily by both Indian Air Force (IAF) and the United States Air Force (USAF). India's fleet of 11 Boeing C-17 Globemaster IIIs is one of the largest outside of the US, and we take great pride in supporting the IAF as it carries out its military, humanitarian and peacekeeping missions, especially during the current times.
We offer a growing suite of sustainment solutions for engines that support the Indian Armed Forces' mission readiness. In fact, our iconic PT6A engines also power the Pilatus PC-7 trainers and we are committed to serving the demands of our customers in India with cutting-edge innovation. In fact, India's indigenous NAL-Saras, also powered by the PT6A turboprop, is a great example of our partnership with local aircraft development programs.
Additionally, when it comes to modernization, the Indian Air Force (IAF) and Indian Navy (IN) are in the process of upgrading some of their platforms. Few aircrafts in possible consideration for different campaigns include the PW100-powered Airbus C295 light transport for the IAF and the PW210-powered Sikorsky S-76D for the Naval Utility Helicopter program. We are confident that our engines are the best choices to power India's defense aircraft and in meeting its modernization needs.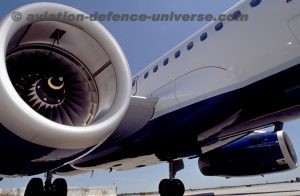 ADU. What is the status of the Customer Training Centre in Hyderabad?
AS. Pratt & Whitney has the largest footprint of any engine maker in the country, and India is an important market for us. We continue to build on our valued relationships in country, aligned to Government's 'Make in India', 'Skill India' and 'Startup India' programs.
Pratt & Whitney's Customer Training Centre in Hyderabad, one of the only two such training centres outside of the US, showcases our commitment to aerospace skill development in India. The world-class centre, which commenced operations in September 2015, has been at the forefront of driving aviation skill development programs for India and the world. With over 10,000 student days of training completed, the Centre has imparted trainings to 30 airline operators representing over 20 nationalities since launch.
The state-of-the-art center is both Directorate General of Civil Aviation (DGCA) and European Aviation Safety Agency (EASA) certified, and provides specialized trainings on PW1100G-JM and V2500-A5 engines to aircraft engineers and technicians from Pratt & Whitney's customers in the region. The Center is equipped with actual aircraft engines, specialized tooling, as well as next-gen audio/visual teaching aids such as Virtual Reality (VR) based demonstration systems.
In fact, the advanced learning technologies at the center have enabled us to support our airline customers and provide seamless training even during the COVID-19 lockdown. We continue to deliver on our 'Skill India' commitment by providing aerospace skill development and specialized short-term training programmes to students across Telangana, Tamil Nadu, Maharashtra, Gujarat and Haryana, through tie-ups with state governments and leading universities. We also offer training for our business jet, helicopter and turboprop engines and APUs through FlightSafety International in Bangalore.
ADU. P&W's PW1100G-JM GTF engine for the Airbus A320neo family is undergoing overhauling, could you tell us about the ongoing progress?
AS. India was a first adopter of P&W's Geared Turbofan Engine, which entered into service in 2016 as IndiGo received its first GTF-powered A320neo aircraft. Since then, the GTF has delivered on its promises; achieving up to 20% better fuel efficiency, 50% lower regulated emissions and a 75% smaller noise footprint.
We have continued to update the engines since 2016, and the current retrofit involves upgrading the low pressure turbine (LPT). All new production and overhauled engines incorporate these upgrades, and the upgrades have been performing flawlessly in service to date.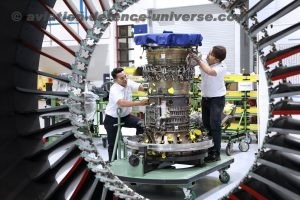 Given that the nation was under an extended lockdown due to the ongoing COVID-19 pandemic, the deadline for the replacement of PW1100G-JM was recently extended by the DGCA to August 31, 2020. Even during the recent pause in air travel due to the pandemic, we continued to work closely with our airline customers, bringing in special charters to upgrade fleets, improving quick-turn MRO capabilities and reducing turn-around times – thereby ensuring that airlines are ready for a well-supported return to demand.
More than 85% of the engines in India already have the modified LPT to support successful return-to-service of our airline customers – IndiGo and GoAir. We have been upgrading these engines through our aftermarket network and all the upgraded engines are performing in line with our expectations and have not reported any issues. We are confident of meeting the new deadline, conditional to no further operational complications due to COVID-19.
ADU. P&W has been talking of sourcing aircraft engine components from India for global operations. Have you started and if so what & from whom?
AS. In India we continue to build on our partnered investments in innovation, research, supply chain and sustainment. We have been working with leading Indian suppliers such as Cyient, Quest, Accenture and HCL for our engineering, software and sourcing needs.
ADU. Do P&W helicopter engines also have an inventory in India?
AS. When it comes to helicopters in India, our PT6T Twin-PAC engines power the Bell 412, the PW200s power the Leonardo AW109s, and bulk of the Airbus Helicopters' H135s in India use the PWC206B3 engines.
ADU. How does P&W plan to match steps with Make in India plans of the Indian PM?
AS. We have a long-standing presence in India spanning seven decades and we firmly support the 'Make in India' campaign which translates the government's vision of making India a global manufacturing hub. We believe that the recent emphasis on 'Atmanirbhar Bharat' or Self-Reliant India by Prime Minister Narendra Modi is another step ahead in energizing the aerospace ecosystem in the country.
With the emphasis on self-sufficiency, we are happy to see the government's plan on making India a hub for Maintenance, Repair and Overhaul (MRO) of aircraft. This will not only strengthen our MRO capacity and capabilities in India, but will also open up future avenues for growth, aligned to the government's "Atmanirbhar Bharat" vision.
Further, we hope to expand our commitment to India with our innovations across commercial aviation, regional aviation, business aviation and military applications, giving impetus to the Government's vision of achieving self-reliance in aviation & defense sector. We already have a tie-up with Air India Engineering Services Limited for in-country MRO.