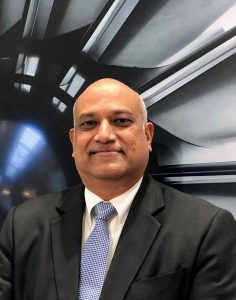 Pandemic cannot deter Rolls-Royce's positive stride in India
By Sangeeta Saxena
New Delhi. 21 July 2020. World orders might change, new norms can become the rule of the day, businesses could be getting temporary sucked into the black hole, airshows might go digital but the relationship between UK and India whether on the diplomatic , strategic or trade front has been growing by leaps and bounds. And the already existing ties are getting stronger.
 What better proof than the fact that Farnborough Airshow 2020 in its new digital avatar, decided to hold the UK India Business Council's Aerospace & Defence Industry Group virtual panel discussion to discuss how to build an integrated UK-India partnership for India's future aerospace & defence platforms, on the first day post the inauguration of the show.
Rolls-Royce one of India's longest standing partner in aerospace and defence   reiterated its commitment to this friendship, when Kishore Jayaraman President South Asia, Rolls-Royce said, " the capabilities of both the countries are brought to the fore and UK- India collaboration  will lead to co-creation. It will be this which will help in  preserving jobs that we integrate in India and  in  the manufacturing we want to build in India. We at Rolls-Royce believe that it is absolutely doable, the climate is very friendly and we look forward to doing a co-creation opportunity in India."
He reflected on the current pandemic which has changed the working of the world completely, " Covid-19 spread has created a burning platform giving us the opportunity to rise like the Phoenix and to evolve into something that has been eluded for quite some time. Rolls-Royce believes that in future ,security is going to be the key in many countries. Globalisation will continue but at a different pace. Security not in terms of border security ,not in terms of cyber security but more in terms of security of supply chains and services and also security of capabilities and IP. Given this situation, the companies during this pandemic have been protecting themselves by immediately securing cash, making sure that operations continue at a certain pace and extent but they have also been in a mode of preserving talent,technology and trust among all the stakeholders."
Companies have started thinking about their positioning for the future. Positioning for the future is going to be looking at the new normal and how well humanity has reacted to this crisis. "Preservation into the future is not going to be just a make model in terms of Indian Defence industry,rather it is going to be a world where we are going to look at Co-creation. Co-creation will provide security because the ability of the companies in India or companies that are partnering with companies in India to have an IP that is created, a product not only for the Indian markets but for the global markets," added Kishore.
In terms of co-creation,it is extremely important for the company to have a strategic partnership . Rolls-Royce is very keen for a partnership like this with India and is in talks with DRDO, GTRE and other relevant organisations in the Indian Aerospace sector .
"We have also been a partner of HAL for more than 6 decades . Our partnership with HAL has evolved from technology transfer to forming a joint venture to now thinking about how we can grow the joint venture . It is extremely important to add projects which are evolved out of the programmes . Between the two governments of UK-India ,there are programmes that have been created and under the umbrella of programmes it's important to create projects. It is extremely important to add academia ,involve industry and involve government and bring these three together not only for a project basis but on a programme basis which is an umbrella of projects. We should be laser focused in creating those programmes and projects so that each country, both UK and India can evaluate themselves and how well the partnership is going and how well they are able to collaborate," he said optimistically.
Rolls-Royce has been working closely to ensure that India is uniquely placed to support both its future requirements and the development of advanced technological solutions across global markets. The Aerospace Engineering Centre in Bangalore has over more than engineers contributing to global aerospace engine programmes and Rolls-Royce's R2 Data Labs, an acceleration hub for data innovation with a facility in Bangalore, develops data applications that unlock design, manufacturing and operational efficiencies and creates new service propositions for customers.
With India's focus on modernisation and indigenisation of its Armed Forces, Rolls-Royce is committed to sharing innovation, capability and knowledge through its enduring and cooperative partnerships. The company feels that this is the right time to step up discussions on its products & technology and fully participate in the evolving sector in the country. In line with their vision to pioneer the power that matters to their customers, Rolls Royce is well-positioned to offer it's strong portfolio of more efficient and cleaner products and solutions and play a key role in India's growing aviation sector. And temporary hurdles like Coronavirus cannot deter it from it's march ahead in cementing its already strong and long ties with India.