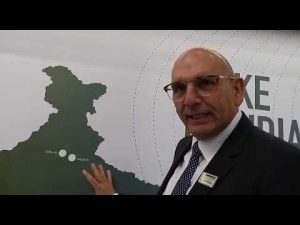 George Kyriakides, Director of International Industrial Cooperation: Recalls decades old MBDA-India ties
By Sangeeta Saxena
New Delhi. 25 July 2020. Building an integrated UK-India Partnership For India's future aerospace & defence platforms lead the series of discussions at the virtual avatar of Farnborough International Air Show 2020. And the fact that the Day1 first half saw this brainstorming showed the strength of the bond shared by the two long standing defence partners.
The UK India Business Council's Aerospace & Defence Industry Group and ADS organised this virtual panel discussion to discuss and explore, in practical terms, how to create that alliance: including subjects like sharing technology, building innovation, opportunities, challenges, and models for genuine collaboration. The topic aligned well with a G2G strategic relationship recently enhanced by the April 2019 Defence Equipment Collaboration MoU between India and the UK.
George Kyriakides, Director of International Industrial Cooperation, MBDA reiterated the history of his company's long association with India's Bharat Dynamics Limited(BDL) through which they have delivered over 40 million missiles to the Indian armed forces since the 1980s. "In the last five to ten years we've used the Indian offset program to enable us to partner with a number of Indian companies that are now part of our global supply chain, some significant technology transfers have occurred during this period and we are currently in the process of transferring to further missile production programs," he informed while speaking on the decades old MBDA – India collaboration.
"We have transferred complete missile control and actuation systems and launchers to other key defense industries in India. These are high-tech systems that devour demand very very sophisticated processes. We have around 50 purchase orders in place and have ordered around 200 Million euros worth of parts from Indian companies in the last five to ten years. These include both DPSUs and MSMEs of the defence sector," he added.
" MBDA has formed a joint venture with Larsen & Toubro (L&T) both specifically to develop and manufacture missile systems for the armed forces Indian as well as for the export market reinforcing our commitment to support the Make in India initiative," said George. MICA, MBDA's air to air missile, it's a major product for India, and it features in Mirage 2000 upgrade and Larsen & Toubro in its Coimbatore site is already making a major contribution to the production of certain elements of the missile, as well as the launch system. But of course, the French missile major is looking at much more than working on the components of a particular missile. It is looking at the potential of making the whole product here in India and that's where the future of ATGM weapons is, which India has expressed a strong requirement for.
George expressed clearly, " we are very supportive of the G2G or rather MOD to MOD collaboration initiative and we look forward to utilizing the agreement that was signed through the defence equipment collaboration, where we not only want to strengthen our existing partnerships but want to expand our Indian partnership footprint. Further we look forward to working even closer with the Government of India and Indian industry on the development of the next light combat aircraft and indeed other programs for the Indian armed forces and the export market."
He recalled , "MBDA was created through a series of multi government collaborations and program power partnerships where a number of governments and defensive industry lead companies shared and created the particular vision. Our conclusion from all of this is that a strong partnership and collaboration is absolutely the key to success. MBDA is part of the next generation future fighter aircraft team also working further on the future fighter programs around the world. It is really important to be thinking about the weapons early on in these programs and it's not just about weapon fit and interface but it's actually how the weapon is going to behave once it's left the aircraft."
And no discussion on MBDA in India can be complete without recalling the fact that next week Indian Air Force will get its Dassault Rafale combat aircraft with MBDA's Meteor, Scalp and Mica, making the fighter neighbour's envy and owner's pride.