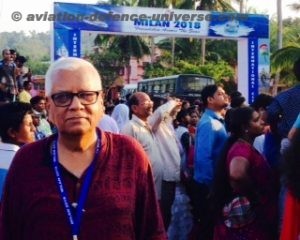 By Brig. VK Atray
Port Blair. 07 March 2018. From the moment you board off the aircraft and walk into the Port Blair Airport , you can see the men in white having taken over the city. Reception parties , Liason Officers, delegates from various nations and expectant taxi-auto services have turned the usually silent airport into a unending hustle and bustle area. A drive into the city and it is clear that  Port Blair is a changed town all together.
MILAN 2018 took off  with the arrival 11 foreign warships in Port Blair escorted into the harbour by the Indian Naval Ships Baratangand Bangaram and also the Fast Interceptor Crafts of the Andaman & Nicobar Command. These ships from Australia, Bangladesh, Indonesia, Malaysia, Myanmar, Singapore, Sri Lanka and Thailand, have been berthed at the Naval and Haddo jetties and are cynosure of all eyes.
Indian Naval Ships Sahyadri, Jyoti and Kirch from the Eastern Naval Command have also reached Port Blair to participate in this multilateral exercise. On their arrival at Haddo Jetty, all foreign warships were received ceremonially in the true naval tradition by the Army and Navy Bands, playing fanfare and martial tunes. Senior Officers from the Andaman and Nicobar Command including school children, waving flags of the participating countries also formed part of the welcome ceremony. Besides these warships, this prestigious international event will also see the participation of 39 delegates from 16 countries, making it the largest gathering since its inception in 1995.
With the underlying theme of 'Friendship Across the Seas' keeping in view India's Look East Policy India had invited  Australia, Bangladesh, Brunei, Cambodia, Indonesia,Kenya, Malaysia, Maldives, Mauritius,  Mozambique, Myanmar, Oman, Newzeland, Papua New Gunea, Phillipines, Seychelles,Singapore, South Africa, Sri lanka, Tanzania, Timor Laste, Thailand and Vietnam.  Oman is participating in this exercise for the first time and Maldives is unable to participate due to the current circumstances of a State of Emergency being in effect.
The theme of International Maritime Seminar being held during MILAN 2018 is 'In Pursuit of Maritime Good Order – Need for Comprehensive Information Sharing Apparatus'. Inaugural address will be delivered by Admiral Sunil Lanba, PVSM, AVSM, ADC, Chairman Chiefs of Staff Committee (COSC) and Chief of the Naval Staff (CNS), besides presentations by eminent speakers.
An International City Parade will be held along the Marina Park Road, with marching contingents from all participating foreign naval ships as well as the Indian Armed Forces.  The parade will include a flypast and aerobatic display by military aircraft and demonstrations of various military operations.   Visiting foreign ships will also be open for visits by school children and local public. MILAN 2018 will culminate with Multi Lat Exercise at sea from 11th to 13 th March by all participating naval ships.
 Foreign warships participating in the exercise are  Australia's HMAS Larrakia (84), Bangladeshi
BNS Dhaleshwari (F36), Indonesian KRI Cut Nyak Dien (375) & KRI Lemadang (632), Malaysian KD Lekiu (30), Myanmar's UMS King Sin Phyu Shin (F14) & UMS Inlay (54) Singapore's RSS Dauntless (99),  Sri Lankan  SLNS Samudura (P621) & SLNS Surnimila (P702) and Thailand's  HTMS Narathiwat (512).
11 ships of Andaman & Nicobar Command, 6 ships of Eastern Fleet, delegates from 18 countries and Flagship  INS Sahyadri with Fleet Commander RAdm DK Tripathi are also a part of the exercise. Defence minister Nirmala Sitharaman and Chief of Naval Staff Admiral Sunil Lanba will be visiting Port Blair for this international event
MILAN has evolved from an initiative of the Indian Navy in the early nineties which aimed to create a forum for the littoral Navies of the region to exchange thoughts in the area of maritime cooperation and 'Humanitarian Assistance and Disaster Relief'. The first MILAN was held in 1995 with five participating nations; India, Indonesia, Singapore, Sri Lanka and Thailand. Since then the event has been held every two years barring few breaks The event achieved strident success during the ensuing years owing to high standards of professional content of the event. The growing participation over the years bears testimony to the success of this multilateral initiative. From an event of sub- regional context, MILAN has now grown into a prestigious international event and encompasses participation by maritime forces from not just the Bay of Bengal and South East Asia but the larger Indian Ocean Region (lOR).